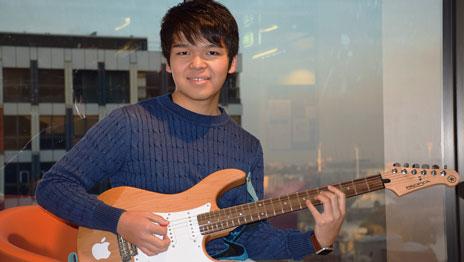 Unbeknown to most students at Victoria University (VU), a celebrity walks among them.
With tracks scoring as many YouTube views as Britney Spears and Beyoncé, Kakeru Osana brings new meaning to the term "star student".
The 20-year-old musician – who is at VU under the study abroad program from Japan's Tamagawa University – has become a YouTube sensation since he started strumming his guitar seven years ago, with his tunes reaching a cumulative audience of 2.5 million views.
Renowned for playing original jazz fusion, Kakeru's songs are so popular they're even played in Japanese cafes.
"I uploaded a video to YouTube four years ago and one year later I went back to check and it had increased to one million views," Kakeru says.
"I couldn't believe it; I was very surprised so I just kept playing."
Kakeru came to VU in August 2015 from Tamagawa University, under a partnership whereby each year about 30 students from Tamagawa's hospitality and tourism faculty complete 20 weeks of English language lessons before moving on to study a semester of VU's business diploma or degree.
As part of the program, Kakeru completed English for Academic Purposes at VU English, the University's English language centre, before moving on to study a semester of the Diploma of Business (Enterprise), which he will finish next month.
During the study exchange, Kareku and his peers were volunteers at Melbourne's annual Japanese festival in March, and in December spent a week with VU English visiting various tourism businesses including the Marriott Hotel, a South Melbourne bed and breakfast, a city café and a winery on the Mornington Peninsula.
"I wanted to study in Australia because my father owns a souvenir shop in Mount Fuji, which I will one day own," he says.
"I needed to know how to manage the shop and speak English because many tourists go there, so I decide to study English and business at VU to help me learn these things.
"The first day I came to Melbourne I couldn't speak anything with my host family – I just said yes or no.
"But now I understand much more information and can speak English pretty well."
Aside from learning new skills in business, economics and English language, Kakeru says has he particularly enjoyed the experience of living abroad.
"Melbourne is very beautiful and I like the people – they're much more friendly and kind.
"When I go to stores or coffee shops the people are so welcoming, and I have made many new friends at my homestay."
Kakeru, who also plays in a Japanese cover band, says he hopes to continue his passion for music while managing his father's gift shop upon his return to Japan.
"When I go home I plan to do more live concerts because I want to be a professional musician and a business manager too – I think I can fit them both in."
Listen to Kakeru's songs on YouTube.