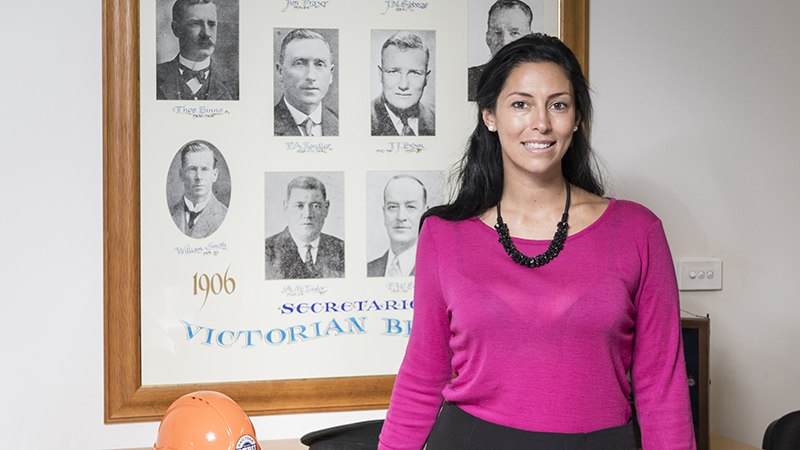 International engagement is a key focus of our teaching and learning, research and knowledge exchange.
With more than 100 years' experience in teaching, learning and research, including more than 55 years delivering international education, VU graduates can be assured that their qualification is being awarded from a university operating in a world-class education system.
International partnerships
Throughout our history we have developed strong partnerships with foreign governments, sponsoring bodies and institutions. Servicing these partnerships and supporting students through specialised services is a particular focus at VU. We aim to provide a high quality service to:
international delivery partners

throughout Asia and worldwide that deliver VU courses in-country
cultural, community and industry organisations to enhance the international focus and cultural relevance of our courses, research and community

international research partners

including education and research organisations, industries, communities and governments

exchange partner institutions

providing overseas study opportunities and supporting the internationalisation of our staff and student community
pathway partner institutions through agreed pathways into VU courses through credit recognition, reducing the time it takes to complete a VU course in Melbourne

scholarship bodies

to provide specialised support for international sponsored students studying in Melbourne
our international

education agent

network that supports prospective students through the application and enrolment process.
Enquire about developing an international partnership with Victoria University.
Cultural, community & industry partnerships
Through unique partnerships with global organisations such as the Confucius Institute or software solutions provider SAP, we provide opportunities for students and staff by:
introducing a customised industry or cultural focus into our courses and units
utilising partner expertise through research or mentorship
organising cultural, community and industry events
providing research and study opportunities in Australia and overseas.
Our diverse student community
In 2020, we had more than 11,000 international students studying a VU qualification in Australia and overseas, including more than:
3,500 studying in Melbourne from more than 100 countries, including international students sponsored by the Australian Government through the

Australia Awards

.
5,500 studying a VU course overseas with one of our

international delivery partners.
Representing more than 100 nationalities, our students are attracted by our revolutionary approach to teaching and learning through the multi award-winning VU Block Model®, our range of entry pathways and study levels, and our strong industry connections. We have great locations in two of the world's best student cities.
We are proud to educate more than 400 international scholarship recipients and sponsored students, who are enrolled in a diverse range of courses, from TAFE through to undergraduate and postgraduate coursework and higher degrees by research.
International student success
The excellence of our international students has been well recognised. In 2020, VU alumus Dr Hamed Al-busaidi was appointed Governor of Al-Buraimi by the Sultanate of Oman, while former student Apelu Sauoaiga Kaio (Bachelor of Paramedicine) became the first qualified paramedic in Samoa in early 2021.
In 2016, VU teaching graduate Christian Williams was named one of the world's top 50 educators in the Varkey Foundation's Global Teacher Prize – an A$1 million competition dubbed the 'Nobel Prize of teaching' - and in 2013, Chinese research student Catherine Xiaocui Lou became the state's top postgraduate international student of the year.
Malaysian national Garry Kuan, studying a PhD in Sport Psychology, was named Australia's international student of the year in 2012 by the Council of International Students Australia.
Internationally-recognised courses
Many of our courses are developed with, and accredited by globally recognised industry bodies including:
Many Australian industry bodies work to ensure that Australian qualifications are relevant for Australian and international students looking to build a career overseas.
For example, our bachelor degrees in engineering are accredited by Engineers Australia, a signatory of the Washington Accord which recognises the equivalence of an accredited Australian engineering degree internationally.
Student & staff exchange
The University encourages students to complete part of their studies overseas by providing a range of short-term study tours and longer-term exchanges. These are often part-funded by the University.
We believe that our students will benefit greatly from completing part of their studies overseas.
Every year close to 400 VU students travel overseas on exchange, a short-term study tour or to conduct research, immersing themselves in another culture. VU has been extremely successful in receiving Australian Government funding to support these initiatives.
With more than 110 global exchange partnerships across 30 countries, we are increasing the opportunities for VU students to undertake an overseas study or internship experience – a strategic priority for the University.
International pathways
We work closely with education institutions in Australia and worldwide to develop pathways into VU courses through credit recognition, allowing students to transfer into the later years of a VU course, and undertake study with VU in Australia.
Some of our pathway models include:
Global alumni network
We have many global alumni chapters throughout Asia, with VU alumni networking events held regularly in Malaysia and China.
Our alumni can be found all over the world in leadership positions in government, business, academic and other sectors. Of our 240,000 registered VU alumni, more than 30,000 are residing overseas – proof that a VU qualification can open up a world of opportunities.