Victoria University (VU) aspires to be an international university making a distinctive contribution to the Asian Century through key partnerships.
Our long standing commitment to Timor-Leste, through contributions to education, economy, society and environment is one such key partnership.
Timor-Leste is referenced in Victoria University's Strategic Plan (2016–2020), showing our deep commitment to continuing collaborative work in Timor-Leste.
Background
The University has been engaged with Timor-Leste continuously for over 30 years. We have hosted the Honorary Consulate of the Democratic Republic of Timor-Leste at our Flinders Lane Campus for many years (with the kind support of the Victorian Government), and have close links with the Timor-Leste National Government and its various departments.
In 2011, VU consolidated its partnership with the National University of Timor-Leste, Universidade Nacional Timor Lorosa'e (UNTL) and the Dili Institute of Technology (DIT).
Prior to this, in 2009, VU Chancellor, Justice Frank Vincent and the President of Dili Institute of Technology (DIT), Kirsty Sword-Gusmao signed a Memorandum of Understanding (MoU) between the two institutions. The MoU recognises the special relationship that has developed between VU and DIT since its inception in 2002.
Joint international conferences
Joint activities with Universidade Nacional Timor Lorosa'e (UNTL), with whom VU have had a partnership since 2002, includes a biennial conference focusing on issues facing Timor-Leste's development.
The conferences came about as a result of an initial invitation in 1998 by the Resistance Coalition, the CNRT, to VU to co-host a conference before the ballot for independence.
The first conference on Strategic Development Planning for Timor-Leste was held at VU's Melbourne Campus and funded by the Australian Government. Further conferences included:
2021 – Higher Education adapting to the COVID era
2019 – Young People planning their future and achieving the Sustainable Development Goals
2017 – Finding Pathways to Achieve Sustainable Development Goals in Timor-Leste
2015 – Finding Pathways in Education
2013 – Future directions for food in Timor-Leste
2011 – Knowledge, Attitudes and Skills for Timor-Leste's Development
2009 – Transforming Timor-Leste for Sustainable Development, Human Rights and Peace.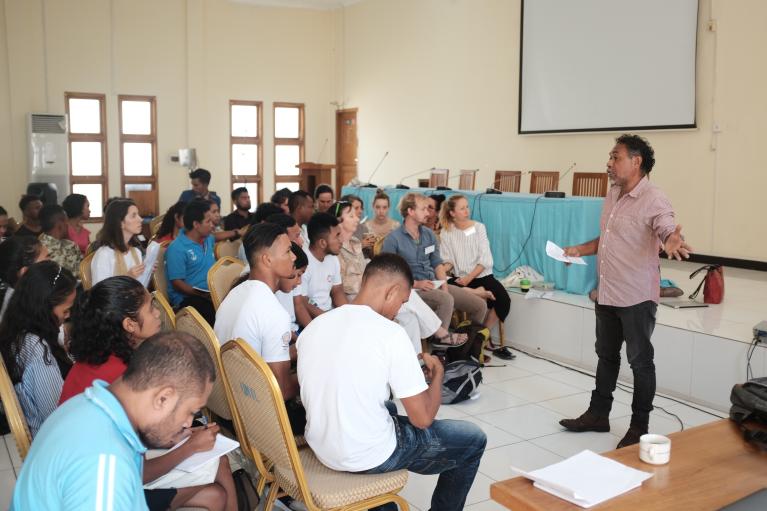 Voz Timor
The 2019 UNTL/VU Conference, Young People and the UN's Sustainable Development Goals (SDGs), inspired a number of opportunities for VU to advocate for action in response to important recommendations from Timorese academics, researchers, community workers and in particular young people, on how they can advance the SDGs in Timor-Leste.
One of those opportunities is the new VU-led magazine, aptly named Voz Timor (Voice Timor). It aims to draw attention to the ways in which Timor-Leste is making, and can continue to make, progress on the Sustainable Development Goals.
It includes articles derived from the Conference and other issues pertaining to Timor-Leste's sustainable development twenty years after the vote for independence in 1999.
People
Our alliance with Timor-Leste brings with it connections to some distinguished and inspiring people.
Kirsty Sword Gusmao
In 2014, Mrs Kirsty Sword Gusmao was awarded an honorary degree by the University. The honour recognises her outstanding community service in championing the importance of education in improving the lives of women and children in the Democratic Republic of Timor-Leste.
Ego Lemos
In 2011, award-winning musician and environmentalist Ego Lemos received his Masters Degree in International Community Development. In 2012, he was a finalist in the Honorary Lifetime Alumni Service Awards. His thesis explores agriculture and rural livelihoods in his homeland of Timor-Leste.
José Ramos-Horta
A highlight of the VU–Timor-Leste partnership is VU's relationship with José Ramos-Horta, a man who won the Nobel Peace Prize in 1996 for his lifelong fight for his country's freedom, and who was the president of his country from 2007 until 2012.
In 2001 he was appointed Distinguished Visiting Professor at VU, an honorary position conferred on those who have achieved national or international eminence in their field. In July 2009, the University bestowed on him an Honorary Doctorate in recognition of his outstanding commitment to the defence of human rights and his contribution to establishing Timor-Leste independence.
Study tours & exchange
VU has supported vocational and higher education development in Timor-Leste for many years.
We foster opportunities for its students in selected discipline areas to include Timor-Leste studies as part of their course, complemented by an opportunity for a planned in-country study experience.
By focusing on the country's intellectual infrastructure, VU provides educational projects, study tours and student exchanges which continue to make a real difference in the ability of the fledgling nation to build its skills and capacities.
Timor-Leste collection
The Timor-Leste Collection in the VU Library features a range of books, reports, journals, newsletters, yearbooks and pamphlets that focus chiefly on Timor-Leste as an independent nation but also cover its occupation by other countries.
The collection's strengths are economics, development and trade, politics, governance and administration, education, culture, society and history.
The collection was formed after an initial donation in March 2012 from the Oxfam Australia Library.
Accessing the Collection
The Timor-Leste Collection is located within the Special Collection room at Footscray Park Library. Items may not be taken out of the library.
Contact
Yvette Petersen
Associate Director, Alumni and Development
Phone: +61 3 9919 1309
Email: [email protected]