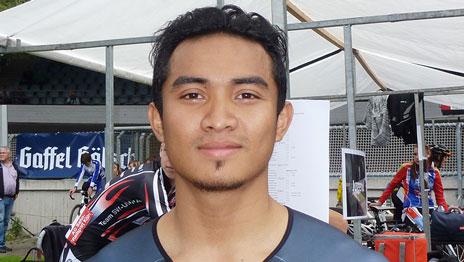 Victoria University (VU) sports science student and elite cyclist Azizulhasni Awang has won Malaysia's first bronze medal at the Rio Olympic Games.
The 28-year-old sprinted his way to third place in the nail-biting final round of the men's keirin on Tuesday, bringing home the first-ever cycling medal for Malaysia.
Originating in Japan, the keirin event is a thrilling track cycling race where riders sprint for victory following a speed-controlled start behind a pacer.
Awang outsprinted the current world champion, Germany's Joachim Eilers, to bring home bronze in the dramatic final round of the eight-lap race, which was restarted twice after technical infringement by the riders. He finished behind Britain's Jason Kenny and Dutchman Matthijs Buchli.
Nicknamed the "pocket rocket", Awang began studying part-time the Bachelor of Exercise Science (Sport Practice) at VU – Australia's leading sports university – in 2011.
He took a year off his studies in 2012 for the London Olympics, and in 2015 was awarded a VU Sport Award to recognise, reward and promote his outstanding sporting performance on the world stage.
Currently on a study break, Awang's performance has been described as a stellar result by Professor Hans Westerbeek, Dean of the College of Sport and Exercise Science.
"I send my deepest congratulations to one of our students on what is an amazing result," Professor Westerbeek said.
"VU is internationally regarded as the best sports university in Australia, and this Olympic medal is a testament to the support we are able to provide our sporting heroes as part of our elite athlete program," he said.
Leaders in sports education, VU offers the largest range of sport and exercise science courses in Australia, spanning vocational education (TAFE), bachelor, honours and postgraduate levels.
VU's $68 million Institute of Sport, Exercise and Active Living precinct at the Footscray Park Campus is equipped with state-of-the-art biomechanics and exercise physiology labs, heat chambers and a high-altitude hotel for use by professional athletes and students.
Ranking well above world standard in human movement and sports science in the latest Excellence in Research Australia (ERA) rankings, VU has 95-plus elite student athletes, many of whom have competed at the Olympics, Commonwealth Games, World University Games and World Championship events.