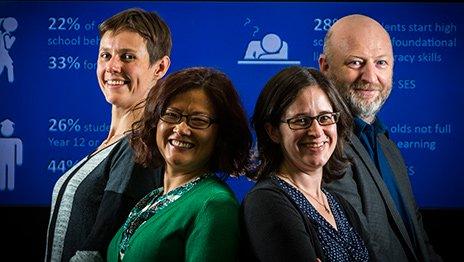 A report compiled by Victoria University researchers aims to improve education outcomes for students.
Educational Opportunities in Australia – Who Succeeds and Who Misses Out presents a picture of the educational opportunity and achievement of young Australians and highlights to policymakers how well, or not, their policies serve different segments of the population.
Compiled by Professor Stephen Lamb, education research chair and director of the Centre for International Research on Education Systems and co-authors Jen Jackson, Anne Walstab and Shuyan Huo, the report taps into a wealth of data from sources including the Australian Early Development Census, NAPLAN and others.
"We wanted to capture each major stage of learning and development, with a particular interest in looking at opportunity and equity," Professor Lamb says.
The team identified four stages – early years (school entry), middle years (high school entry), age 19 (end of schooling) and age 24 (early adulthood) – and used existing data to track who the system was working well for and who it wasn't at each stage, through educational, economic and social lenses.
"The report shows that educational opportunities are inequitably distributed and that these inequalities persist at all levels of learning. It points to the need for policy and funding to better target resources where they are needed most," Professor Lamb says.
Professor Lamb hopes the study sets some educational benchmarks from which change and improvement can be measured over time.
The researchers plan to follow up the study every two years.