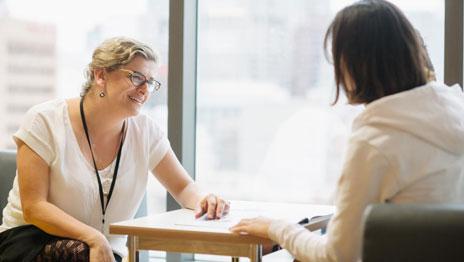 A seven-month study exchange helped spark a lifelong love affair with language for Victoria University English teacher, Carla Bardella.
"It helped me understand the challenges that international students face when living and studying abroad, and that's part of the reason I became an English teacher," Ms Bardella says of her 2005 exchange to Bologna, Italy.
"The loneliness and culture shock at the beginning can be quite overwhelming, yet a lot of English teachers may not get to experience what it's like to be an international student and therefore might not be able to draw from those experiences in their teaching," she says.
A Teachers of English to Speakers of Other Languages (TESOL) for the past nine years, Ms Bardella is now the new Independent Learning Centre Coordinator at VU English, Victoria University's (VU) English language centre.
Based in new purpose-built facilities at VU's City Flinders Campus, VU English offers a variety of courses, delivered in both Australia and China, which are designed to help international students meet the required level of English language proficiency for direct entry into a VU diploma or degree.
As part of her role in the Independent Learning Centre, Ms Bardella plans to implement a number of programs – including free lunchtime workshops and one-on-one academic support – to help English language and higher education diploma students develop their speaking, writing, listening and online learning skills.
She will also work with the Student Life team and the International Student Association to help promote opportunities for students to benefit from a more well-rounded university experience.
"I'm really keen to integrate the services that are currently available, both in terms of academic support and student engagement, and build on these," she says.
"In the past things have been done reasonably well, but because there hasn't been one person in charge, the services provided haven't always been consistent.
"Through my role, there's an opportunity to make these services more cohesive and to focus on delivering a quality service, both support-wise and through student engagement."
Ms Bardella, 36, graduated with a Bachelor of Arts (Honours) from Monash University in 2005 before going on to complete her Graduate Diploma in Education, specialising in TESOL and Italian, from the University of Melbourne in 2006.
A year later, in 2007, she joined VU English as a language teacher. In 2014, she became an IELTS examiner.
Her working life has also encompassed a two-year teaching stint in Hong Kong, and three placements in China as VU's offshore teacher and coordinator at Henan University.
"What I enjoyed most about working in China was the opportunity to learn about the Chinese education system.
"I also developed a great insight into the Chinese culture in general, and I definitely developed respect for the Chinese students and their work ethic."
Alongside her passions for yoga, travel and a 1940s dance routine called Balboa, Ms Bardella says she has always been fascinated by "the building blocks of language".
"English language is much larger than a subject, it's a never-ending process of refinement.
"It's not something you can learn in a month – it takes a long time to develop those skills so lucky for me, I can't say I'm ever bored."