It was a great weekend of football for our partners the Western Bulldogs. For the first time in 55 years the Bulldogs have made it through to the AFL Grand Final.
In a nail-biting game the Dogs beat the GWS Giants by six points at Spotless Stadium. Once again VU student and stand-in captain, Easton Wood showed leadership and class, supported by his tight knit team who all performed at a high level till the dying seconds of the game.
The Bulldogs will now face the Sydney Swans on Saturday in the AFL Grand Final.
Victoria University is extremely proud of the partnership with the Western Bulldogs and we wish them luck as they prepare for the huge week ahead.
VFL Bulldog news
In VFL news, the Footscray Bulldogs defeated Minor Premiers the Casey Scorpions by 31 points. VU students Mitch Honeychurch and Tom Campbell made major contributions to the win.
The story of the afternoon was the best on ground Lin Jong, who only 17 days earlier, in the game against West Coast Eagles, broke his collarbone.
VU has been the major sponsor of the Footscray Bulldogs since they entered the VFL in 2014. This latest victory gives them two VFL premierships in 3 years.
Be more Bulldog – show your support
You can turn red, white and blue this week. Support the Bulldogs on social media with the hashtags #BeMoreBulldog and #BeMoreFinals.
Join in the celebrations at Whitten Oval and the MCG:
Open training session – Thursday 29 September, 10am
AFL Grand Final live site at VU Whitten Oval – Saturday 1 October, 1–6.30pm
Virgin Australia Premiership Party, Saturday 1 October, 6–8pm
Post Grand Final Family Day, Sunday 2 October, 8am–2pm
Find out about the Western Bulldogs events.
VU & Bulldogs partnership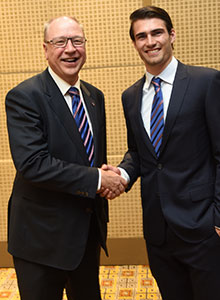 VU has a long-standing partnership with the Bulldogs that began during the 1980s, and Bulldogs players studied here for many years before that.
VU alumni who have played for the Western Bulldogs include Steve Wallis (father of current Bulldog and VU student Mitch Wallis), Kelvin Templeton, Terry Wheeler, Brian Cordy, Neil Cordy, Rick Kennedy, Simon Garlick and Brad Johnson.
The relationship between the two organisations is now a multi-faceted partnership that includes joint research and staff appointments, work placements for students, collaborative education programs and joint community activities.
Ten Bulldogs players have studied at VU in 2016: Easton Wood, Mitch Wallis, Zaine Cordy, Tom Campbell, Tom Boyd, Mitch Honeychurch, Declan Hamilton, Josh Prudden and Bailey Dean.
Find out more about our partnership with the Bulldogs.