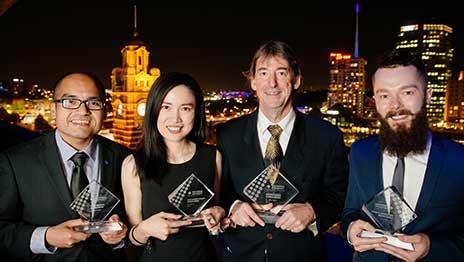 Victoria University is proud to announce the finalists for the 2016 Alumni Awards.
These Awards celebrate and formally recognise the outstanding achievements and contributions of members of the VU Alumni community to industry, VU and the broader community. We congratulate all nominees on being recognised by their peers for their accomplishments and attributes.
The winners in each category will be announced at the VU 2016 Alumni Awards Presentation Dinner on Wednesday 19 October 2016.
Distinguished Alumni Award
This preeminent award recognises the recipient's exceptional contribution to a chosen field of endeavour, and their pursuit of excellence in everything they do.
Mr Brendan Joyce
Head coach of the Opals – the Australian Women's Basketball team
VU Bachelor of Arts (recreation)
Tan Sri Dr Jeffrey Cheah AO
Chairman, Sunway University Malaysia
VU Honorary Doctorate and Diploma of Business
The Honorable Mr Telmo Languiller MP
Speaker in Victorian Legislative Assembly; State Member for Tarneit
VU Bachelor of Arts (Australian Cultural Studies)
Outstanding Leadership Alumni Award
This new award recognises the respect and acknowledgement that the recipient has earned within their profession and the broader community, and that they are well on the path to establishing themselves as am outstanding leader.
Ms Halinka Panzera
Founder and Managing Director – BDC Market Intelligence
VU Master of Business Administration
Mr Paul Booth
Director of Research, Blackrock Inc.
VU Bachelor of Business
Mr Simon Lloyd
Director of Coaching, Geelong Football Club
VU Master of Applied Psychology (Sport), Graduate Diploma in Applied Psychology (Organisational) and Bachelor of Arts (Psychology)
Young Achiever Alumni Award
This award recognises Alumni aged 35 or younger who have demonstrated significant achievements early in their career or chosen field of endeavour.
Ms Celia Tran
Engagement Officer, Capital City Local Learning and Employment Network
VU Master International Community Development
Mr Christian Williams
Primary School Teacher, Catholic Education Office (St Michael's Primary School)
VU Bachelor of Education
Mr Rene Noguiera
Commercial Manager Level Crossings Removal Program, Metro Trains Melbourne
VU Bachelor of Laws, Bachelor of Engineering
Mr Vincent Shin
School Lawyer, WestJustice based at The Grange P12 College
VU Bachelor of Laws
Outstanding Student Alumni Award
This award will be presented to a current student who has demonstrated outstanding qualities in one or more of the following: student leadership, academic success, business initiatives, volunteer or community related work or extracurricular pursuits.
Dr Ancy Ramasamy
VU Doctor Of Philosophy and Master of Business (Industrial Relations and Human Resource Management)
Mr James Sorensen
VU Bachelor of Science (Biomedical Science) Honours
Ms Anna Smith
Mr Francis Killackey
Outstanding Service Alumni Award
The recipient of this award will have offered exceptional service to their local community or the Victoria University, Alumni or student community.
Mr Nasir Sobhani
Barber, Brother Wolf Barbershop
VU Certificate III in Hairdressing
Dr Peter Condliffe
Barrister and Mediator
VU Doctor of Philosophy