Overview
Upgrade your early childhood diploma to a bachelor degree in just two years while working in the sector, with the accelerated Bachelor of Early Childhood Teaching at Victoria University.
If you hold a diploma in early childhood education, you can complete this specialised Bachelor of Early Childhood Teaching in just two years, graduating ready to work as an early-childhood teacher.
Evening classes are held online through Zoom, which means you can work and study at the same time.
The course complements our three-year Bachelor of Early Childhood Education, which caters to applicants without a diploma in the discipline.
Throughout the course, you'll develop expertise in working with children from birth to 5 years, deepening your understanding of:
teaching methods for kindergarten, childcare, and other early-childhood settings
early-childhood learning theories
cultural competency, including Aboriginal perspectives.
Assessments are designed to draw on and develop your current knowledge. You'll complete exercises that relate to your early-childhood education and childcare work, such as creating art-based responses, designing learning opportunities, and reflecting on workplace documentation.
With funded 3-year-old kinder rolling out across Victoria, kindergarten teachers are in great demand. On graduation, you will be well placed to find a rewarding early-childhood teaching role in the sector.
Course delivery
Scheduled with working educators in mind, the accelerated Bachelor of Early Childhood Teaching is delivered online via Zoom, after work.
No classes are taught at St Albans Campus (which is the course administrative centre).
One Saturday per month, you'll also attend a supportive, in-person class, where you can develop networks with educators, to support you throughout your studies and into your first years as an early childhood teacher.
The course addresses the requirements needed to register as an early-childhood teacher as outlined by:
In total, you will benefit from 80 days of supervised teaching experience, half of which can be completed in your current early childhood education and care workplace. Placement hours include:
10 days with infants and toddlers in long daycare
15 days with 3–5 year olds in long daycare
10 days 'Playwork' pedagogy
15 days in an accredited kindergarten program
30 days in an early childhood education setting with a supervising mentor.
We have many exciting projects, partnerships and initiatives to help you learn from experience working with young children.
If you hold a recognised early childhood diploma, you will qualify for 96 credit points advanced standing.
This means that you will only need to undertake the second- and third-year units listed under 'course structure' below, letting you graduate with a degree within two years (full time study).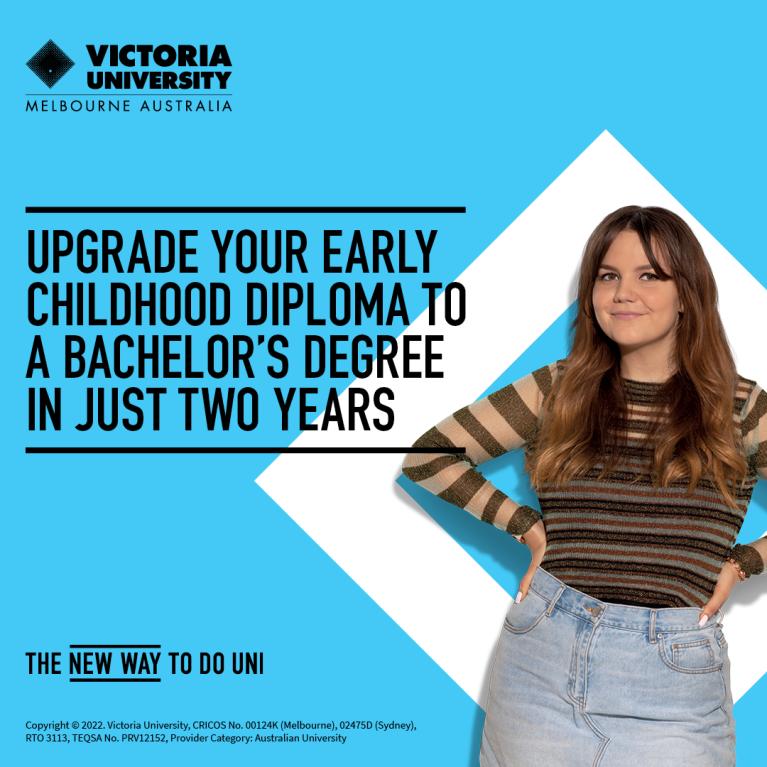 Careers
Early childhood education job openings are expecting massive growth (ACECQA).
Thanks to the essential experience you'll get from reflecting on your practice while working in early childhood settings, you'll be ready to register as a teacher as soon as you graduate.
Typically, our students find work in kindergartens, childcare centres and other early childhood settings, in jobs such as:
kindergarten teacher
early childhood teacher.
Check the salary for early-childhood teachers in Australia on the government site, Labour Market Insights.
Course structure
What's a unit?
A unit or 'subject' is the actual class you'll attend in the process of completing a course.
Most courses have a mixture of compulsory 'core' units that you need to take and optional elective units that you can choose to take based on your area of interest, expertise or experience.
Credits
Each unit is worth a set amount of study credits based on the amount of time you study. Generally, 1 credit is equal to 1 hour of study per week.
Admissions
Victoria University is committed to providing a transparent admissions process. Find out more about how to apply for our courses, and our commitment to admissions transparency.
Applicants for this course will need to have met the academic requirements and prerequisites for this course outlined below.
Meeting the minimum admission criteria does not guarantee entry into this course. Past academic performance may be considered.
Essential requirements for admission
Potential students must live or work in one of the eligible Local Government Areas. They must provide evidence of living and/or working in the LGA (e.g. a letter from their employer, a utility bill with their home address).
Admission criteria
The minimum criteria for admission varies depending on your education background. If you're not sure which criteria applies to you, use the help tool on this page or make an enquiry and we can assist.
Australian Senior Secondary Certificate (e.g. VCE) or
an Australian or overseas equivalent or
an International Baccalaureate (IB).
Importance of ATAR for this course
ATAR+
We consider both ATAR and other criteria
NA
ATAR is not a consideration. We use other criteria
Why is ATAR not applicable?
You will not need an ATAR score to meet the admission requirements for this course. Only the successful completion of your secondary school studies, and any additional prerequisites. Our courses and support programs are designed to prepare students from diverse cultures for success, regardless of their prior experience, ATAR, age, socioeconomic or educational background.
This information is for people who have completed an accredited award at an Australian Registered Training Organisation.
This information is for people whose highest level of study since leaving secondary education is a higher education course.
Admission criteria
Completion of a Diploma of Early Childhood Education and Care, or equivalent.
If the Diploma is more than ten years old, applicants for the course must also submit a CV indicating their work experience in the Early Childhood education and care sector.
This information is for applicants who left secondary school more than two years ago and who have not undertaken VET or higher education study since then.
Additional information
Students will require a Working with Children Check to be eligible to undertake and participate in workplace visits, placements or projects. Use the following site link to obtain additional information:
http://www.workingwithchildren.vic.gov.au/
Students will receive advanced standing of 96 credit points for their Diploma qualification equivalent to first year units.
Students will study in hybrid form, using Online Real Time (ORT) evening classes and in person classes on some weekends. As far as possible students will be grouped according to the local government area.
Pathways & credits
There are many ways you can start your education journey at VU. Pathways offer an easy transition between courses at different levels, so that you can start with a certificate and progress right through to postgraduate study.
Use our credit calculator to find out how much credit you could get towards your course, based on your previous study.
If you have completed study with another university or institution and believe you are eligible to receive credit for skills and past study, you can apply for advanced standing.
Applications for advanced standing can be made after a discussion with your course chair or academic adviser.
How to apply
Applications for this course are not being taken at this time.
Browse our other Education courses or send us an enquiry to be notified of updates relating to this course.
Enquire now
Please fill out the form below, and we'll get back to you shortly.
Information marked with an asterisk "
*
" is required.
At Victoria University, we aim to display accurate and complete course information online. However, we are unable to guarantee that every course change is currently displayed. You may contact the University directly on +61 3 9919 6100 to confirm the most up-to-date course fees, pathways and credit transfer, recognition of prior learning, admission and enrolment procedures, examinations and services available to our students.