Teaching the next generation of learners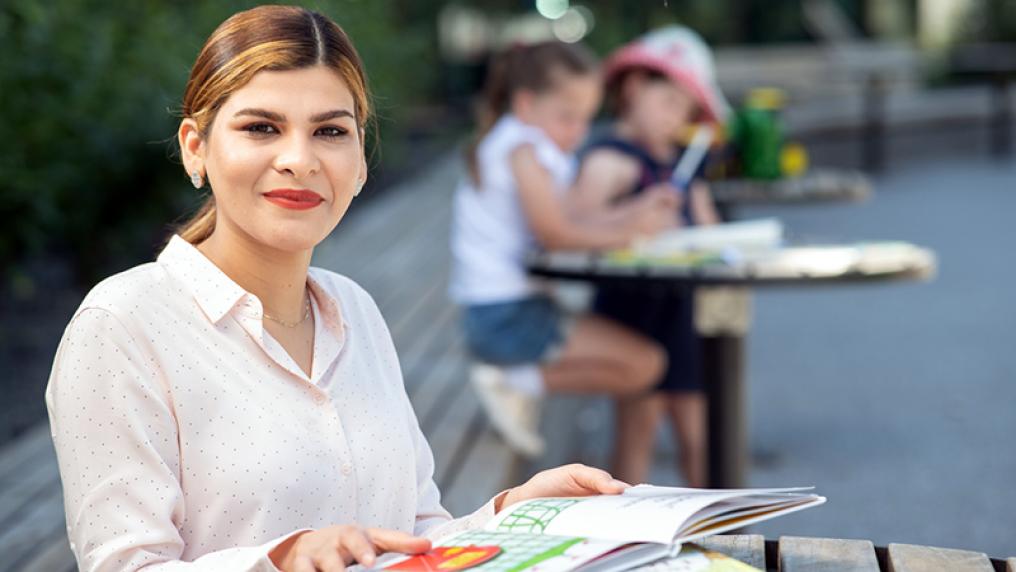 I appreciate everyone's support and assistance throughout my study; I will repay their kindness and generosity by educating young citizens and helping the community.
Sara Hamidavi
Bachelor of Early Childhood Education
Sara was one of the first graduates of the Asylum Seeker Scholarship program.
She left her home country in Iran to pursue a new life in Australia. Sara studied the Diploma of Early Childhood and Care CHC50113 at VU Polytechnic and went on to complete a Bachelor of Early Childhood Education at VU.
Since studying at VU, Sara has been successful in securing employment after completing her placement as part of her diploma qualification at the Polytechnic. Her husband and mother are also currently undertaking courses with VU Polytechnic.
"My name is Sara, and I migrated to Australia in 2013 as a refugee; this is how I started my journey to become an early childhood teacher. Ever since my childhood, I had a desire to become a teacher, I believe teaching is a rewarding career, and teachers can make positive changes in society.
English is my second language and studying education was difficult for me, but not impossible. I decided to study English and undertake the Certificate III in Early Childhood Education and Care. I chose to study the Diploma of Early Childhood Education and Care with VU Polytechnic. The course was blended which meant I could study and work at the same time. While commencing the diploma, I expanded my knowledge in early childhood education and undertook multiple placements, which allowed me to compare different philosophies and practices and helped me to find the right place to work as a kinder teacher. I developed many great skills.
My goal was to become a primary school teacher first. However, this changed during my placements and working in the early childhood industry. Now my passion is to teach young children and take further steps toward positive changes in the early years of education.
After my graduation, I wanted to study a Bachelor of Early Childhood to achieve my goal; however, as a refugee, I was not eligible for HECS-HELP. I could not afford to pay full fees to study, so I applied for Asylum Seeker Scholarship. In July 2018, I was granted a scholarship for the undergraduate course. I met the requirement for Bachelor of Early Childhood Education and I began my study in August 2018.
I chose to study at VU Polytechnic as it supports asylum seekers by providing opportunities for study and the skills to find a job and get involved in the community. I enjoyed studying at the Polytechnic as it has many supportive, friendly and considerate teachers as well as having an Asylum Seeker Officer, Julie Madden, a wonderful person who is always there for me and assisted me through the process of applying for the scholarship.
I graduated in June 2020 and I got the opportunity in my workplace to progress as a three-year-old kinder teacher. I am super excited about my new career and I am always willing to help and inspire other people to fulfill their dreams.
Victoria University has changed my life by providing me with the opportunity to prove myself and pursue my biggest dream. Without receiving this scholarship, I would not have been able to attain my goal, I am eternally grateful. I appreciate everyone's support and assistance throughout my study; I will repay their kindness and generosity by educating young citizens and helping the community."
Sara studied
Certificate III in Early Childhood Education and Care CHC30113
Diploma of Early Childhood Education and Care CHC50113