Overview
Aim for an exciting career in sport management, training and other sport-business roles, with a Bachelor of Sport Management/Bachelor of Business from Victoria University.
A double degree in sport management and business is an excellent way to extend your career options. Follow your passion into the sport and exercise sector as a sport planner, manager, administrator, event organiser, policy analyst, or programmer. Or aim for a business role that suits your interests and ambitions, choosing from our specialisations.
In your dual Bachelor of Sport Management / Bachelor of Business you will learn important skills in:
policy, planning and strategy
team-sport management
player welfare and support
gym and exercise program administration
community-based activity program coordination.
We offer fantastic work experience with sporting organisations. You'll graduate ready to plan, organise and lead activities at elite and community level.
Study core skills in management, marketing, business practices and sports practices. Then choose your own path in one of our majors:
During your degree, you'll take part in a placement program which give you valuable work experience and industry contacts.
Placements are hosted by 350 different organisations in the following fields:
sport and exercise science
sport management
sport coaching
recreation
outdoor education.
We have over 200 partnerships and affiliations with peak sporting bodies, professional and community sporting clubs, and public-health and education groups. Our partners offer work placements and contacts within the industry. They include:
AFL
Melbourne Storm
Melbourne Rebels
Hockey Victoria
Cricket Victoria
Western Bulldogs Football Club
Coburg Football Club
Western Jets Football Club
Greyhound Racing Victoria
Football Federation Victoria
Richmond Football Club
Victorian Institute of Sport.
Our Career Development & Employability program is designed to help you choose your career direction, and to teach you to market yourself.
VU's College of Business also offers work experience opportunities.
Our Sport and Recreation Industry Pathway (SARIP) program supports secondary-school students to achieve their aspirations in sport. It is available to all secondary-school students and their teachers.
The SARIP program offers a sport-based curriculum supporting students' study in the Victorian Certificate of Education (VCE).
If you're a student with a passion for sport, it gives you invaluable experience and industry links. You'll be offered a pathway to additional qualifications, tertiary study and workplace opportunities.
As part of the SARIP program, students come to VU to participate in physiology and biomechanics testing and other exciting projects.
At VU you can spend part of your degree studying overseas all while gaining credits towards your course.
Immerse yourself in a new culture and learn from a new perspective, while building experiences that will help you to stand out in the competitive job market.
Need some advice?
Request a call back from one of our experienced VUHQ course advisers to get your questions answered.
Request a call back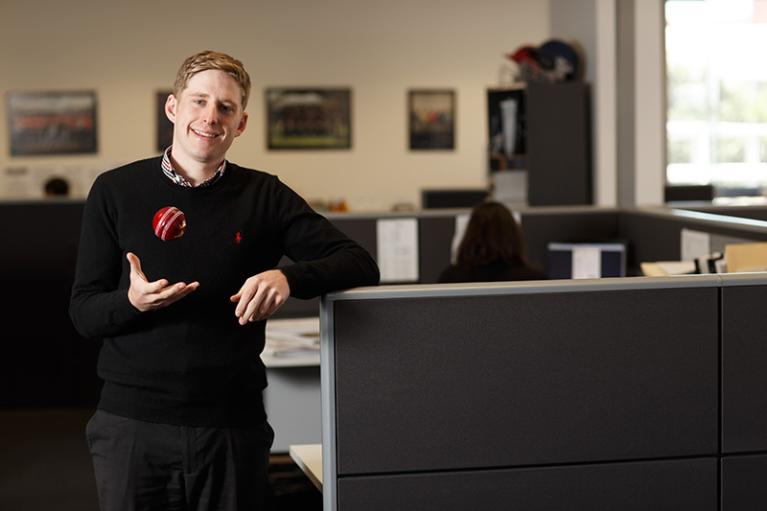 Combine your passion for sport and business with VU's Bachelor of Sport Management/Bachelor of Business.
Careers in sport management and business
Your understanding of planning, finance, marketing and people management will prepare you for a range of careers. Aim for a role in business, sporting organisations, local government, or outdoor adventure that matches your interests.
Areas where you may find exciting opportunities include:
business consulting
government agencies
sport governing bodies
sports clubs
stadiums and arenas
gyms and leisure centres
leisure planning and sport development units
community welfare development agencies
sports and leisure consultancies
motor racing industry
horse racing industry
schools
outdoor adventure camps
adventure sport businesses
corporate training consultancies
local government community leisure units
health education agencies
youth work programs.
Salaries
Use Labour Market Insights to find average salaries in Australia for various professions:
Course structure
What's a unit?
A unit or 'subject' is the actual class you'll attend in the process of completing a course.
Most courses have a mixture of compulsory 'core' units that you need to take and optional elective units that you can choose to take based on your area of interest, expertise or experience.
Credits
Each unit is worth a set amount of study credits based on the amount of time you study. Generally, 1 credit is equal to 1 hour of study per week.
Fees & scholarships
Fee type for this course: Commonwealth Supported Place (CSP)
Fee type definitions
The amount you pay for your course depends on whether you're offered a Commonwealth supported place (CSP) or a full fee-paying place.
Students who enrol in a:
In addition to your tuition fees, you may also be charged a Student Services & Amenities Fee (SSAF).
Scholarships & assistance
Apply for a scholarship to help with your study costs.
We can help with fee assistance and advice.
Admissions
Victoria University is committed to providing a transparent admissions process. Find out more about how to apply for our courses, and our commitment to admissions transparency.
Applicants for this course will need to have met the academic requirements and prerequisites for this course outlined below.
Meeting the minimum admission criteria does not guarantee entry into this course. Past academic performance may be considered.
Admission criteria
The minimum criteria for admission varies depending on your education background. If you're not sure which criteria applies to you, use the help tool on this page or make an enquiry and we can assist.
Australian Senior Secondary Certificate (e.g. VCE) or
an Australian or overseas equivalent or
an International Baccalaureate (IB).
Importance of ATAR for this course
ATAR+
We consider both ATAR and other criteria
NA
ATAR is not a consideration. We use other criteria
Admission criteria
Completion of an Australian Senior Secondary Certificate (VCE or equivalent) including Units 3 and 4: a study score of at least 25 in English (EAL) or 20 in any other English.
Why is ATAR not applicable?
You will not need an ATAR score to meet the admission requirements for this course. Only the successful completion of your secondary school studies, and any additional prerequisites. Our courses and support programs are designed to prepare students from diverse cultures for success, regardless of their prior experience, ATAR, age, socioeconomic or educational background.
This information is for people who have completed an accredited award at an Australian Registered Training Organisation.
Admission criteria
Completion of an Australian Advanced Diploma or Diploma (or equivalent).
OR:
Completion of the Certificate IV in Tertiary Preparation (or equivalent).
This information is for people whose highest level of study since leaving secondary education is a higher education course.
Admission criteria
Full or partial completion of an Australian Higher Education award (or equivalent).
OR:
Completion of two units of Higher Education studies.
OR:
Completion of a bridging or enabling course eg. Foundation course or equivalent.
This information is for applicants who left secondary school more than two years ago and who have not undertaken VET or higher education study since then.
Admission criteria
Five years (minimum) work/life experience in Health or Human Sciences, Training & Development, Community Sports, Business, Commerce or similar.
OR:
Completion of an Australian Senior Secondary Certificate more than two years ago.
PLUS:
Units 3 and 4: a study score of at least 25 in English (EAL) or 20 in any other English (or equivalent).
Pathways & credits
There are many ways you can start your education journey at VU. Pathways offer an easy transition between courses at different levels, so that you can start with a certificate and progress right through to postgraduate study.
If you have completed any of the following course(s), you will be guaranteed a place in this course. In some cases you may receive credit for your previous study, reducing the time it takes to complete your course.
Find out more about pathways and credits.
If you have completed any of the following course(s), you will be guaranteed a place in this course. In some cases you may receive credit for your previous study, reducing the time it takes to complete your course.
Diploma of Business
SEDA Group, Australia
You will be credited for up to 48 credit points of study.
Find out more about pathways and credits.
Use our credit calculator to find out how much credit you could get towards your course, based on your previous study.
If you have completed study with another university or institution and believe you are eligible to receive credit for skills and past study, you can apply for advanced standing.
Applications for advanced standing can be made after a discussion with your course chair or academic adviser.
How to apply
Before you apply
Before applying, you should consider whether you also want to apply for:
Special admission programs: Depending on your life circumstances you may be eligible for special consideration of your application.
Advanced standing: If you have significant experience or studies elsewhere you may be eligible for credit for some units of your course and not have to undertake them.
Find out more about applying for our courses.
Apply direct to VU
Direct applications are due on 23 April 2023 for our next intake which starts on 1 May 2023.
---
Already a VU student?
If you are already a VU student, apply direct to VU using our Admissions centre to transfer into this course. Remember it's best to be accepted into your new course before withdrawing from your current one.
After you apply
It's important to check for emails from us (which may go to your spam/junk folder).
Complete any requests for information by the given dates, otherwise your application may not be considered
Enquire now
Please fill out the form below, and we'll get back to you shortly.
Information marked with an asterisk "
*
" is required.
At Victoria University, we aim to display accurate and complete course information online. However, we are unable to guarantee that every course change is currently displayed. You may contact the University directly on +61 3 9919 6100 to confirm the most up-to-date course fees, pathways and credit transfer, recognition of prior learning, admission and enrolment procedures, examinations and services available to our students.