Overview
Aim for a career supporting community health, and helping athletes achieve their best. Our double degree in sport and psychological studies gives you specialised understanding of the human body and mind.
The Bachelor of Sport Science (Human Movement)/Bachelor of Psychological Studies includes subjects in the biological sciences, social sciences and humanities. It prepares you for a career in the sport and exercise professions, with a focus on psychology.
You'll acquire knowledge and skills for rewarding work in the following areas:
exercise and sport science
rehabilitation
community fitness and health
sport policy
psychological counselling.
VU has world-class facilities, including sports labs to study biomechanics and physiology, and interaction labs for counselling practice.
You'll also benefit from extensive work experience with sporting and community organisations.
With further graduate study, you can become a registered psychologist or teacher.
Victoria University has been ranked number 9 in the world for sport science education.
Our ground-breaking research, world-class facilities and partnerships with some of the world's top sporting clubs have rocketed us to this position.
Studying with us means you benefit from all of the opportunities that come with our elite status – learning from academics who are connected with top organisations, researching with national sporting bodies and accessing our cutting-edge sport-science equipment.
The College of Sport & Exercise Science has a $68 million high-technology teaching and research facility at Footscray Park.
Our 29 new labs are fitted with the latest technology and equipment. They are used by professional sports team and community organisations. Facilities include biomechanics, biochemistry, and exercise physiology labs, and our Altitude Hotel.
Learn from expert staff, including researchers in the Institute for Health and Sport (IHES). Our research in sports science achieved 'well above world standard' in the Excellence in Research for Australia (ERA) assessment.
We offer placement programs during your degree which give you invaluable work experience and industry contacts.
You'll complete a compulsory 70-hour placement in second year and/or a 140-hour placement in the final year of your degree.
Placements are hosted by 350 different organisations in the following fields:
sport and exercise science
sport management
sport coaching
recreation
outdoor education.
Our Career Development & Employability program is designed to help you choose your career direction, and to teach you to market yourself.
We have over 200 partnerships and affiliations with peak sporting bodies, professional and community sporting clubs, and groups that focus on public health and education.
Our partnerships give you the best possible opportunities and networks to advance your career.
Partner organisations offer you placements and internships in Australia, and contacts within the industry to help you find a dream job on graduation.
Our Sport and Recreation Industry Pathway (SARIP) program supports secondary-school students to achieve their aspirations in sport. It is available to all secondary-school students and their teachers.
The SARIP program offers a sport-based curriculum supporting students' study in the Victorian Certificate of Education (VCE). If you're a student with a passion for sport, it gives you invaluable experience and industry links. You'll be offered a pathway to additional qualifications, tertiary study and workplace opportunities.
As part of the SARIP program, students come to VU to participate in physiology and biomechanics testing and other exciting projects.
At VU you can spend part of your degree studying overseas all while gaining credits towards your course.
Immerse yourself in a new culture and learn from a new perspective, while building experiences that will help you to stand out in the competitive job market.
Course e-Brochure
Create a customised brochure in a few simple steps. Your brochure will include country-specific information.
Create an e-brochure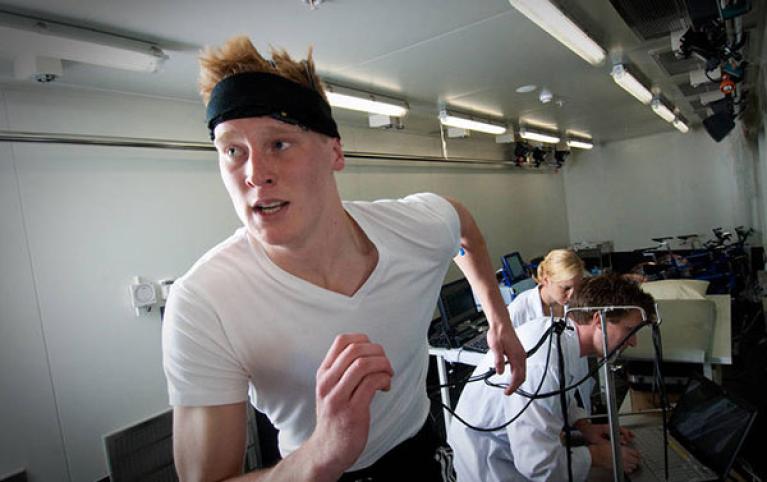 Learn in our cutting-edge labs when you study the Bachelor of Sport Science (Human Movement) / Bachelor of Psychological Studies.
Careers in sport & psychology
Graduates will have the skills to work in many areas, including the following:
exercise and sport sciences
fitness
athlete counselling
coaching
welfare
community services
human resources.
With an added postgraduate qualification, you can become a registered psychologist, teacher or social worker. For example, you can also study our: 
Salaries
Use Labour Market Insights to find average salaries in Australia for various professions:
Starting salaries for graduates may be different. 
Course structure
What's a unit?
A unit or 'subject' is the actual class you'll attend in the process of completing a course.
Most courses have a mixture of compulsory 'core' units that you need to take and optional elective units that you can choose to take based on your area of interest, expertise or experience.
Credits
Each unit is worth a set amount of study credits based on the amount of time you study. Generally, 1 credit is equal to 1 hour of study per week.
Admissions
Victoria University is committed to providing a transparent admissions process. Find out more about how to apply for our courses, and our commitment to admissions transparency.
Applicants for this course will need to have met the academic requirements and prerequisites for this course outlined below.
Meeting the minimum admission criteria does not guarantee entry into this course. Past academic performance may be considered.
Entry requirements
Completion of an Australian Senior Secondary Certificate (VCE or equivalent) including Units 3 and 4: a study score of at least 25 in English (EAL) or 20 in any other English (or equivalent).
OR:
Completion of an Australian Advanced Diploma or Diploma (or equivalent).
PLUS:
IELTS (or equivalent): Overall score or 6.0 (with no band less than 6.0 in Listening, Reading, Writing and Speaking).
OR:
Completion of a Foundation course or equivalent.
Find out if you meet the entry requirements, including English language and academic requirements.
Pathways & credits
There are many ways you can start your education journey at VU. Pathways offer an easy transition between courses at different levels, so that you can start with a certificate and progress right through to postgraduate study.
If you have completed any of the following course(s), you will be guaranteed a place in this course. In some cases you may receive credit for your previous study, reducing the time it takes to complete your course.
You will be guaranteed entry only.
You will be guaranteed entry only.
Find out more about pathways and credits.
If you have completed any of the following course(s), you will be guaranteed a place in this course. In some cases you may receive credit for your previous study, reducing the time it takes to complete your course.
Diploma of Sport
SEDA Group, Australia
You will be guaranteed entry only.
Find out more about pathways and credits.
Use our credit calculator to find out how much credit you could get towards your course, based on your previous study.
If you have completed study with another university or institution and believe you are eligible to receive credit for skills and past study, you can apply for advanced standing.
Applications for advanced standing can be made after a discussion with your course chair or academic adviser.
How to apply
We are currently accepting international applications, and we welcome you to apply for this course.
Click 'apply' to begin, and we will guide you through the application process.
If you have questions, please get in touch:
Information and fees listed above are for non-resident students. Fees are accurate at the time of viewing and will be subject to annual increases. Some courses require students to purchase equipment or clothing that they will need in the course. These equipment or clothing costs are not included in the course fees listed above – check your Letter of Offer for an estimate on non-tuition-fee-related expenses.
VU takes care to ensure the accuracy of this course information, but reserves the right to change or withdraw courses offered at any time. Please check that course information is current with the Student Contact Centre.