Overview
Develop management and leadership capabilities and increase your prospects of getting a senior position in the industry with the Associate Degree in Hospitality and Hotel Management.
You will develop your business management potential, get hands-on experience in our hospitality training centre and gain a thorough understanding of the industry's trends and issues.
This course prepares you to join the fast growing hospitality and tourism job sector. You will gain an applied knowledge of the major operational, managerial and organisational areas in the industry.
You'll learn from teachers who are directly involved in the industry, and develop skills in:
hotel operations management
food, wine and catering operations
accounting principles for management
marketing and business communications
contracts, risk and business law
resort management
rooms division management.
You will gain hands-on experience working with industry-standard equipment in the Footscray Nicholson hospitality training centre.
This simulated work environment includes:
four commercial kitchens with individual stainless steel workstations
two demonstration kitchens
a training bar
an award-winning training restaurant, VenU.
Victoria University Polytechnic is connected with the hospitality industry through a range of partnerships. Select students from this course have the opportunity to engage in a practical placement at:
Delaware North
Sebastian Restaurant and Bar
Lucas Restaurants
Melbourne Convention Exhibition Centre
Contiki
Riverland Group.
This course is delivered through Victoria University Polytechnic's award-winning interactive e-learning model that combines face-to-face workshops with flexible, user-friendly eLearning activities.
VU's Learning Hubs are welcoming spaces where you can improve your study and employability skills.
Our students can attend Learning Hubs at one of five VU campuses, including Footscray Nicholson.
We offer maths, writing, careers and English-language advice, and show you effective ways to study and manage your time.
Our programs include:
workshops
drop-in sessions
peer mentoring
maths and writing resources
resume and career guidance.
We also have accessibility support services and counselling services available for all students.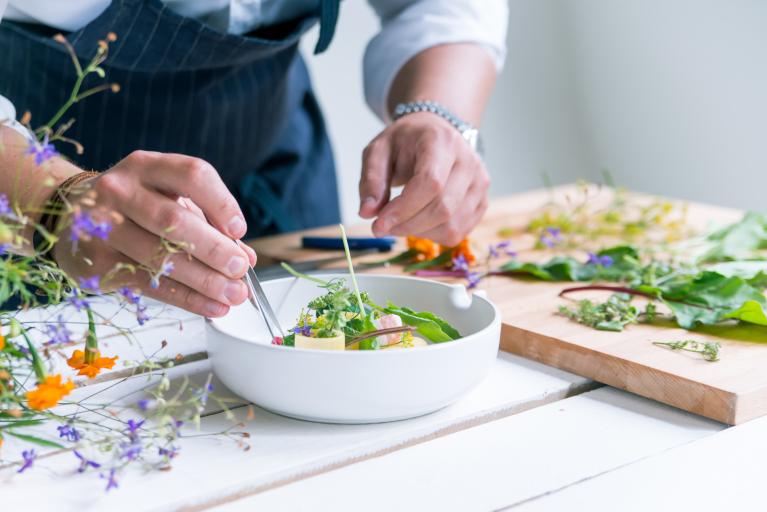 School for the Visitor Economy
This course is part of VU's School for the Visitor Economy - a new cross-university school providing qualified graduates to Victoria's rapidly expanding tourism and hospitality sectors.
Careers
After graduating, you could find employment in the following positions:
food and beverage manager
hotel manager
restaurant manager
accommodation manager
operations manager
function manager
small business operator
event manager.
Course structure
To attain the Associate Degree in Sustainable Hospitality and Hotel Management, students will be required to complete:
192 credit points of core units.
Year One
Unit code

VHH1001

Credits

12

Unit code

VHH1002

Credits

12

Unit code

VHH1003

Credits

12

Unit code

VHH1004

Credits

12

Unit code

VHH1005

Credits

12

Unit code

VHH1006

Credits

12

Unit code

VHH1007

Credits

12

Unit code

VHH1008

Credits

12
Year Two
Unit code

VHH2001

Credits

12

Unit code

VHH2002

Credits

12

Unit code

VHH2003

Credits

12

Unit code

VHH2004

Credits

12

Unit code

VHH2005

Credits

12

Unit code

VHH2006

Credits

12

Unit code

VHH2007

Credits

12

Unit code

VHH2008

Credits

12
On successful completion of this course, students will be able to:
| | | | |
| --- | --- | --- | --- |
|   | 1. | Analyse, interpret and apply a range of management, hospitality and business theories to solve complex work-based problems in a variety of contexts; |   |
|   | 2. | Demonstrate autonomy, judgement and defined responsibility when selecting the appropriate tools and strategies to support decision-making in hotel and hospitality management; |   |
|   | 3. | Exhibit a broad range of cognitive, technical and communications skills to select and apply methods and technologies to evaluate competing priorities and articulate key issues in hotel and hospitality management settings; |   |
|   | 4. | Demonstrate a broad knowledge of internal and external environmental factors that impact on hotel and hospitality management; |   |
|   | 5. | Contribute to the effective management of teams, demonstrating: accountability; the ability to transmit information and skills to others; and an understanding of individual and shared goals; and |   |
|   | 6. | Exhibit personal awareness, self-motivation, change readiness and resilience in response to the dynamic work environment of the hotel and hospitality management sector. |   |
What's a unit?
A unit or 'subject' is the actual class you'll attend in the process of completing a course.
Most courses have a mixture of compulsory 'core' units that you need to take and optional elective units that you can choose to take based on your area of interest, expertise or experience.
Credits
Each unit is worth a set amount of study credits based on the amount of time you study. Generally, 1 credit is equal to 1 hour of study per week.
Fees & scholarships
Fee type for this course: Commonwealth Supported Place (CSP)
Fee type definitions
The amount you pay for your course depends on whether you're offered a Commonwealth supported place (CSP) or a full fee-paying place.
Students who enrol in a:
In addition to your tuition fees, you may also be charged a Student Services & Amenities Fee (SSAF).
Scholarships & assistance
Apply for a scholarship to help with your study costs.
We can help with fee assistance and advice.
Admissions
Victoria University is committed to providing a transparent admissions process. Find out more about how to apply for our courses, and our commitment to admissions transparency.
Applicants for this course will need to have met the academic requirements and prerequisites for this course outlined below.
Meeting the minimum admission criteria does not guarantee entry into this course. Past academic performance may be considered.
Admission criteria
The minimum criteria for admission varies depending on your education background. If you're not sure which criteria applies to you, use the help tool on this page or make an enquiry and we can assist.
Australian Senior Secondary Certificate (e.g. VCE) or
an Australian or overseas equivalent or
an International Baccalaureate (IB).
Importance of ATAR for this course
ATAR+
We consider both ATAR and other criteria
NA
ATAR is not a consideration. We use other criteria
Admission criteria
Completion of an Australian Senior Secondary Certificate (VCE or equivalent) including Units 3 and 4: a study score of at least 25 in English (EAL) or 20 in any other English.
Why is ATAR not applicable?
You will not need an ATAR score to meet the admission requirements for this course. Only the successful completion of your secondary school studies, and any additional prerequisites. Our courses and support programs are designed to prepare students from diverse cultures for success, regardless of their prior experience, ATAR, age, socioeconomic or educational background.
This information is for people who have completed an accredited award at an Australian Registered Training Organisation.
Admission criteria
Completion of an Australian Advanced Diploma or Diploma (or equivalent).
OR:
Completion of the Certificate IV in Tertiary Preparation (or equivalent).
This information is for people whose highest level of study since leaving secondary education is a higher education course.
Admission criteria
Full or partial completion of an Australian Higher Education award (or equivalent).
OR:
Completion of a single unit of Higher Education studies.
OR:
Completion of a bridging or enabling course eg. Foundation course or equivalent.
This information is for applicants who left secondary school more than two years ago and who have not undertaken VET or higher education study since then.
Admission criteria
Five years (minimum) work/life experience in Hospitality or similar.
OR:
Applicants that completed an Australian Senior Secondary Certificate more than two years ago.
PLUS:
Units 3 and 4: a study score of at least 25 in English (EAL) or 20 in any other English (or equivalent).
Pathways & credits
There are many ways you can start your education journey at VU. Pathways offer an easy transition between courses at different levels, so that you can start with a certificate and progress right through to postgraduate study.
If you have completed any of the following course(s), you will be guaranteed a place in this course. In some cases you may receive credit for your previous study, reducing the time it takes to complete your course.
You will be credited for up to 144 credit points of study.
Find out more about pathways and credits.
Use our credit calculator to find out how much credit you could get towards your course, based on your previous study.
If you have completed study with another university or institution and believe you are eligible to receive credit for skills and past study, you can apply for advanced standing.
Applications for advanced standing can be made after a discussion with your course chair or academic adviser.
On completion of this course you will be guaranteed entry into the following degree and in some cases receive credit for your study:
You will be credited for up to 144 credit points of study.
You will be credited for up to 192 credit points of study.
Find out more about our study pathways to VU
How to apply
Before you apply
Before applying, you should consider whether you also want to apply for:
Special admission programs: Depending on your life circumstances you may be eligible for special consideration of your application.
Advanced standing: If you have significant experience or studies elsewhere you may be eligible for credit for some units of your course and not have to undertake them.
Find out more about applying for our courses.
Apply direct to VU
Direct applications are due on 11 February 2024 for our next intake which starts on 19 February 2024.
---
Already a VU student?
If you are already a VU student, apply direct to VU using our Admissions centre to transfer into this course. Remember it's best to be accepted into your new course before withdrawing from your current one.
After you apply
It's important to check for emails from us (which may go to your spam/junk folder).
Complete any requests for information by the given dates, otherwise your application may not be considered
Enquire now
Please fill out the form below, and we'll get back to you shortly.
Information marked with an asterisk "
*
" is required.
At Victoria University, we aim to display accurate and complete course information online. However, we are unable to guarantee that every course change is currently displayed. You may contact the University directly on +61 3 9919 6100 to confirm the most up-to-date course fees, pathways and credit transfer, recognition of prior learning, admission and enrolment procedures, examinations and services available to our students.