Overview
Turn your passion for hospitality into a rewarding career and get qualified for senior management positions in the industry with the Advanced Diploma of Hospitality Management SIT60322 from Victoria University.
You'll learn and apply your skills in our fully equipped hospitality training centre under the guidance of passionate industry experts. You will develop advanced skills in hospitality operations and leadership, including:
human resource management
financial management
marketing strategies
business planning.
You will learn the skills to use the system and manage hotel front office operations, including creating reservations, managing accounts and check out
Important information about elective unit: SITHCCC036 Prepare meat dishes
Students will be expected to follow standard recipes to prepare meat dishes using each of the following meat items: beef, game (kangaroo, venison, specialty meats), lamb, pork, veal and offal (kidney, liver). Students will be unable to successfully complete unit 'SITHCCC036 Prepare meat dishes' without meeting this requirement.
You will gain hands-on experience working with industry-standard equipment in the Footscray Nicholson hospitality training centre.
This simulated work environment includes:
four commercial kitchens with individual stainless steel workstations
two demonstration kitchens
a training bar
an award-winning training restaurant, VenU.
Victoria University Polytechnic is connected with the hospitality industry through a range of partnerships. Select students from this course have the opportunity to engage in a practical placement at:
Delaware North
Sebastian Restaurant and Bar
Lucas Restaurants
Melbourne Convention Exhibition Centre
Contiki
Riverland Group.
This course is delivered through Victoria University Polytechnic's award-winning interactive e-learning model that combines face-to-face workshops with flexible, user-friendly eLearning activities.
VU's Learning Hubs are welcoming spaces where you can improve your study and employability skills.
Our students can attend Learning Hubs at one of five VU campuses, including Footscray Nicholson.
We offer maths, writing, careers and English-language advice, and show you effective ways to study and manage your time.
Our programs include:
workshops
drop-in sessions
peer mentoring
maths and writing resources
resume and career guidance.
We also have accessibility support services and counselling services available for all students.
Need some advice?
Request a call back from one of our experienced Victoria University Polytechnic course advisers to get your questions answered.
Request a call back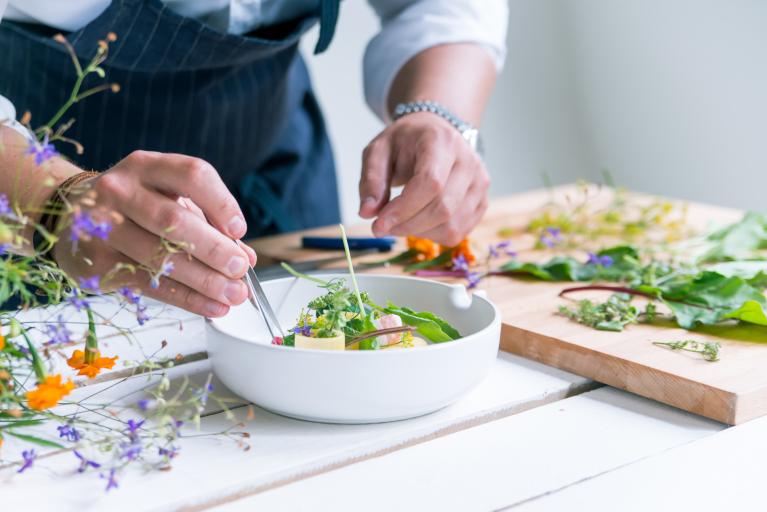 School for the Visitor Economy
This course is part of VU's School for the Visitor Economy – a cross-university school providing qualified graduates to Victoria's rapidly expanding tourism and hospitality sectors.
Careers in hospitality
After graduating, you could find employment in the following positions:
area manager or operations manager
café owner or manager
club secretary or manager
food and beverage manager
motel owner or manager
rooms division manager.
Course structure
The course structure comprises the following core and elective units. These electives have been selected based on industry needs, graduate pathways and/or student and teacher feedback.
To be awarded the SIT60322 Advanced Diploma of Hospitality Management, a student must successfully complete a total of thirty-three (33) units of competency, comprising of:
- fourteen (14) core units, and;
- nineteen (19) elective units, of which:
one (1) unit must be from Group A
one (1) unit must be from Group B
eleven (11) units must be from Group C
six (6) units from Group C, Group D, or elsewhere in the SIT Training Package, or any other current Training Package or accredited course.
Elective units must be relevant to the work environment and the qualification, maintain the integrity of the AQF alignment and contribute to a valid, industry-supported vocational outcome.
VU Polytechnic delivers the electives listed in the 'course structure and units' below. These electives have been selected based on industry needs, graduate pathways and/or student and teacher feedback. Alternative suitable electives are only available via Recognition of Prior Learning (RPL) and Credit Transfer (CT).
Unit code

BSBFIN601

Unit code

BSBOPS601

Unit code

SITXCCS016

Unit code

SITXFIN009

Unit code

SITXFIN010

Unit code

SITXFIN011

Unit code

SITXGLC002

Unit code

SITXHRM009

Unit code

SITXHRM010

Unit code

SITXHRM012

Unit code

SITXMGT004

Unit code

SITXMGT005

Unit code

SITXMPR014

Unit code

SITXWHS008
Cookery Hospitality Focus
Unit code

SITHCCC043

Unit code

SITHKOP013
Group C - Hospitality - Asian Cookery
Group C - Hospitality - Commercial Cookery and Catering
Unit code

SITHCCC023

Unit code

SITHCCC027

Unit code

SITHCCC028

Unit code

SITHCCC029

Unit code

SITHCCC030

Unit code

SITHCCC031

Unit code

SITHCCC035

Unit code

SITHCCC036

Unit code

SITHCCC037

Unit code

SITHCCC038

Unit code

SITHCCC040

Unit code

SITHCCC041

Unit code

SITHCCC042
Group C - Hospitality - Patisserie
Unit code

SITHPAT014

Unit code

SITHPAT016
General Hospitality Focus
Group C - Accommodation Services - Front Office, Housekeeping and Portering
Group C - Hospitality - E-Business
Group C - Hospitality- Events
Group C - Hospitality- Food and Beverage
Unit code

SITHFAB021

Unit code

SITHFAB023

Unit code

SITHFAB025

Unit code

SITHFAB027

Unit code

SITHFAB029

Unit code

SITHFAB031

Unit code

SITHFAB034

Unit code

SITHFAB037

Unit code

SITHFAB038
Group D - General Electives - Management and Leadership
Group D - General Electives - Communication and Teamwork
Group D - General Electives - Human Resource Management
Group D - General Electives - Marketing and Public Relations
Unit code

SITXMPR011

Unit code

SITXMPR012
The following unit is available as Credit only.
Alternate unit Group C - Hospitality- Food and Beverage
Recognition of Prior Learning and/or Credit Transfers:
Previous completion of units at the VU Polytechnic or any other Registered Training Organisation and/or previous attainment of skills and knowledge may be credited towards this course. Units must satisfy the completion rules of the qualification and be assessed as appropriate by the Polytechnic.
This qualification reflects the role of highly skilled senior managers who use a broad range of hospitality skills combined with specialised managerial skills and substantial knowledge of the industry to coordinate hospitality operations. They operate with significant autonomy and are responsible for making strategic business management decisions with a strong focus on senior managers in commercial cookery or catering operations.
Fees & scholarships
Fee type for this course: VET
Fee type definitions
The amount you pay for your course depends on whether you're offered a government subsidised place or a full fee-paying place.
Students who enrol in a:
government subsidised place pay subsidised tuition fees (the government contributes the rest), and may be required to pay a Student Services and Amenities Fee along with any material fees
full fee-paying place pay the full fee tuition rate (which includes Student Services and Amenities Fee and any material fees).
Calculate your VET course fees.
Find out more about:
Scholarships & assistance
Apply for a scholarship to help with your study costs.
We can help with fee assistance and advice.
Admission & pathways
Meeting the minimum admission requirements does not guarantee you entry into this course. Some courses receive more applications than the number of places available. In this situation we will also assess your education, work and other relevant experience.
If you do not meet the minimum requirements you may be eligible for one of our special admission programs.
Find out more about how to apply for our courses, and our commitment to admissions transparency.
Entry requirements

There are no formal entry requirements for this course.As part of the application process, applicants must complete a Pre-training Review (PTR) and undertake a literacy and numeracy (LN) assessment to determine suitability.

There are many ways you can start your education journey at VU. Pathways offer an easy transition between courses at different levels, so that you can start with a certificate and progress right through to postgraduate study.
If you have completed any of the following course(s), you will be guaranteed a place in this course. In some cases you may receive credit for your previous study, reducing the time it takes to complete your course.
You will be credited for up to 144 credit points of study.
Find out more about pathways and credits.
Use our credit calculator to find out how much credit you could get towards your course, based on your previous study.
You may be able to complete your qualification sooner through formal recognition of your existing skills. This is known as Recognition of Prior Learning (RPL).
To receive RPL, we assess your previous work, education and life experiences against recognised qualifications. Applications for RPL can be made prior to enrolling.
Call us on 1300 TAFE VP (1300 823 387) to discuss RPL options with the course manager.
On completion of this course you will be guaranteed entry into the following degree and in some cases receive credit for your study:
You will be credited for up to 144 credit points of study.
You will be credited for up to 144 credit points of study.
Find out more about our study pathways to VU
How to apply
Prior to enrolment, all applicants will be required to complete a literacy and numeracy assessment to assist with determining eligibility and to identify learning support needs.
Available start dates:
5 February 2024
15 July 2024
Before you apply
Before starting your application, please read through the step-by-step VU Polytechnic application process to make sure you have all the necessary documents and information ready to successfully complete your application.
Before applying, you should consider whether you also want to apply for:
Apply direct to VU
Apply direct to VU using our admission centre, submit applications for one or more courses, track and save your progress and upload additional information.
---
Already a VU student?
If you are already a VU student, apply direct to VU using our Admissions centre to transfer into this course. Remember it's best to be accepted into your new course before withdrawing from your current one.
After you apply
It's important to check for emails from us (which may go to your spam/junk folder).
Complete any requests for information by the given dates, otherwise your application may not be considered
Enquire now – TAFE
Please fill out the form below, and we'll get back to you shortly.
Information marked with an asterisk "
*
" is required.
Please note that if changes to this course occur, VU will notify students as soon as possible.
At Victoria University, we aim to display accurate and complete course information online. However, we are unable to guarantee that every course change is currently displayed. You may contact the University directly on +61 3 9919 6100 to confirm the most up-to-date course fees, pathways and credit transfer, recognition of prior learning, admission and enrolment procedures, examinations and services available to our students.