Clubs & societies

Make new friends by joining a university club or society. Meet other people studying your subject, students who live near your campus or just people with similar interests.
You can join an existing group or start your own.
Join the VU Student Life Facebook page today!
You can also contact your campus recreation officer to volunteer at an upcoming VU event.
Art & music
VU A'Capella Singers
VU A'Capella Singers is a club that brings people together and explores the world of large variety of musical genres and focuses primarily on a capella – singing without instruments. We encourage students to expand their vocal abilities and to meet new people in the creative arts field.
For more information, please contact: vuacapella@outlook.com
Victoria University Photography Club
This club is for all VU students who are interested anything regarding photography. It creates a playground specialised in photography, builds a network for photography related jobs, provides career advice, promotes local talents through exposure of personal works and projects.
For more information, please contact: vuphotoclub.info@gmail.com.
VU Theatre Company
A group of arty students running a range of events from small fund raisers and performances at Orientation events to a large musical production for all students to attend!
Like VU Theatre Company on Facebook or email theatrecompany.vu@gmail.com to join!
Colleges
College of Arts Society (VUAS)
The peak representative body for all students within VU's College of Arts.
Annually we hold social events ranging from our yearly toga party in semester 1 to a charity comedy night in semester 2. Aside from the social aspect, we currently are building a petition to bring back languages to VU and are establishing communication with the Dean of Arts and the College itself with the hope to work closer together in the future.
If you are interested in getting involved with VUAS, please do not hesitate to contact us via our Facebook page or email: vuas@live.vu.edu.au or collegeofarts@gmail.com.
College of Business Society
The society for students of the College of Business at VU.
We aim to enrich the social and study experiences for students in VU's College of Business, by providing support through proactive engagement in a fun and professional environment. We have networking nights, movie nights, presentation workshops, mentoring for first-year students and much more. We also have competitions with sweet prizes and benefits for you guys so sign up, it's free!
Contact us via Facebook or email: cobs@live.vu.edu.au or cobsvu@gmail.com.
College of Education Society
VU's College of Education Society works to encourage, engage and enrich the experience of students studying Education courses at VU.
Our goal is to create a fun atmosphere and bring further enjoyment to university life. We organise social get-togethers, barbecues, and education-based learning experiences to generate further involvement and entertainment across VU campuses.
Join today to get involved and be in the know about future events: facebook.com/vueducationsociety or contact us at vues@live.vu.edu.au or vu.educationsociety@gmail.com.
College of Engineering & Science Society
A representative body for students in VU's College of Engineering & Science.
We hold forums and social events to find out what is important to you and make uni life more enjoyable.
Contact us through the Engineering & Science Society Facebook page or cess@live.vu.edu.au or vuengscisociety@gmail.com.
College of Health & Biomedicine Society
A student-run society aimed at elevating the student experience through academic and social events and opportunities.
We are aimed at those studying: anatomy & cell biology, dermal science, food, nutrition & dietetics, medical physiology, midwifery & women's health, nursing, osteopathic medicine, paramedicine and public health. We provide support to students by organising social, academic, up-skilling and networking events along with providing a fun and professional environment for all students. Becoming a member is FREE! As a member we provide you with exclusive invitations to events, discounted/free events, networking opportunities, leadership opportunities.
For more information on anything, contact CHABS via email chabs@students.vu.edu.au or check us out on Facebook CHABS VU Facebook.
Dictum Society
The student society for VU's College of Law & Justice.
Dictum Society strives to provide academic, professional and social development for all students studying at the College of Law and Justice. We do this by organising seminars, workshops, publications and competitions that can help hone your skills as a lawyer and help build your connection with the industry. We also endeavour to organise social events from big to small and do our very best to bring some spirit and cohesion to everyone studying at the Queen Street campus. You can also visit the Dictum Society website: www.dictumsocietyvu.com for more information.
Connect with Dictum Society through the Dictum Facebook page or email dictumsociety@students.vu.edu.au for any queries about the society.
College of Sport & Exercise Science Society
The student society for VU's College of Sport & Exercise Science.
Studying a sport or exercise related degree? Passionate about sport?
The College of Sport & Exercise Science Society at Victoria University is a student-run society that aims to bring together all students with an interest in sport; we organise a variety of social, networking and sport-themed events throughout the year.
To discuss membership and for more information please contact us via email: vusess@live.vu.edu.au or vu.ses.society@gmail.com. Like our page Facebook for updates: 'VU College of Sport and Exercise Science Society'.
Community
Community Development Association
Bringing people together who are passionate about community development, with the purpose to empower, inspire and learn in an environment where students can also connect with others who have similar interests.
Email: cdavu@outlook.com.au or like the Community Development Association on Facebook.
Enactus (previously Students in Free Enterprise)
We encourage you to take what you learn in the classroom and apply it to real working situations. Enactus students can make a difference in their local community. Being involved with Enactus can increase your employability and further enhance your university experience.
Email: enactus@students.vu.edu.au or join Enactus on Facebook.
Sustainable Living & Urban Gardening Group (SLUGG)
A collection of students across different colleges with a desire to implement sustainable principals and practices.
Email: sluggvu@gmail.com or like SLUGG on Facebook.
Courses
Accounting, Finance & Investment Student Society (AFISS)
AFISS is Victoria University's largest business student society. We aim to ensure that Victoria University business graduates are empowered to successfully enter the competitive market with confidence and a network of support for the future. Our industry guests include managing directors, partners and senior staffs from multi-billion dollar companies such as CPA Australia, NAB, Westpac, Commonwealth Bank, ANZ, PwC, EY, Deloitte, KPMG, Bloomberg, BDO, Telstra, AMP and many more.
Take a look at the AFISS website.
Like the AFISS Facebook page.
Email us for more information: AFISSinfo@gmail.com.
Electronic & Electrical Engineering Syndicate (EEE-S)
Established in 2014 we are a community consisting of, but not limited to, electric and electronic engineers. We hope to unite university students and provide a support network and entertainment to the student body.
Contact Tyson R. Skiba: triple_e_syndicate@yahoo.com.au or like us on Facebook.
VU Motorsport
Victoria University Motorsport (VUM) is a student group led by mechanical engineering undergraduate students, and is open to all undergraduates studying at VU. Students design, build and race a race car.
Email: VUMotorsport@students.vu.edu.au.
Student Osteopathic Medicine Association (SOMA)
SOMA is a club that provides social and educational opportunities to the students of Victoria University, with a direct focus on students enrolled in osteopathy.
SOMA offers a range of beneficial seminars that are not offered within the osteopathy course, allowing students to expand their knowledge and skills. These seminars are open to all students.
For more information, please email lachlan.cossens@live.vu.edu.au or luci.hedley@students.vu.edu.au.
VU Student Paramedic Association (VUSPA)
A faculty based club which invites all paramedic students to take part in both social and educational activities.
Email: vuspaevents@gmail.com or join VUSPA on Facebook.
VU Psychology Society (VUPS)
The VUPS is an inclusive student psychology society that welcomes student members who are currently studying or have an interest in psychology. The VUPS intends to better link psychology students with each other and with VU psychology staff in a relaxed and fun environment.
Email: aron.micallef@live.vu.edu.au, vups.committee@gmail.com or like VUPS on Facebook.
Victoria University Social Work Society
A forum where social work students at all stages of their learning can come together to discuss relevant social, political and personal concerns and concepts. VUSWS enables interaction between social work students and staff to become actively involved in the community. There are mentoring opportunities as well as the ability to connect with local organisations, fundraising and workshops.
For more information, please contact: swsociety.vu@gmail.com.
Victoria University Sports Engineering Society
A society for sports engineering students to explore social, professional and personal development while preparing to be industry-ready through the club's organised events.
Email: jasmine.proud@live.vu.edu.au.
Youth Work Student Association
This club represents and supports youth work students at VU. It provides mentoring opportunities for new students, supports students and their needs, and runs social events for students to keep them engaged in university life.
To find out more about us and receive updates on events we run at VU, like the Youth Work Student Association on Facebook or email us at brianna.stevenson@live.vu.edu.au.
Fun & friendship
Aussie Mates Events Club
We welcome exchange students from across the world and organise social events on campus and across Victoria. Aussie Mates Events Club is a great place to meet amazing people from a range of disciplines across the university. We support a strong welcoming culture within our campuses. If you are a local VU student and would like to be an Aussie Mate please go to our information page. If you are coming to Victoria University on exchange or on a study abroad program and you would like to connect with an Aussie Mate when you arrive, please connect with us through our page.
Email: lindsey.meldrum@live.vu.edu.au if you have any enquires.
VU Games Club
This club is about the love of games and the playing of games, both of which are worthwhile causes; we love board games, card games, role-playing games and video games! The club wishes to provide a place outside of the home for gaming and for members to make new friends who they have a common connection with.
Email: julian.moore1@live.vu.edu.au or just join VU Games Club on Facebook.
VU International Student Association (ISA)
VU-ISA is currently affiliated with the Victoria University Student Union (VUSU) and was founded in 2002. It is the peak representation of all international students within VU, acting to provide guidance and advice when students need it most. We are committed to running diverse events for students from multicultural backgrounds; aiming to ensure international students enjoy their new life at VU, through our innovative activities and practical advice in career and academic opportunities.
Please check the VU-ISA website regularly to find the activities you are interested in. Join the VU ISA Facebook page or email: ISA@vu.edu.au.
The ISA office is located in Building M 119, Footscray Park Campus and Room FLG27 at 301 Flinders Lane in the CBD.
VU Pride
VU Pride recognises there is a range of sexualities and genders at Victoria University and we aim to celebrate such diversity. VU Pride plans to combat negative attitudes towards LGBTQIA people at Victoria University by creating support networks between LGBTQIA people and straight-identifying students. We also aim to create a socially inclusive environment which helps generate unity among all students.
Email: VictoriaUniversityPride@gmail.com or join the VU Pride Facebook group.
Multicultural
Greek Society (VUGS)
Proud and loud, VUGS is a Greek cultural club which focuses on uniting Greek and Philhellene students together with the aim of preserving and expressing our rich culture for all to enjoy.
Email: kyriacos.karaolides@live.vu.edu.au and join the VUGS Facebook page and the VUGS Facebook group.
Indonesian Students Association
VUISA (Victoria University Indonesian Students Association) is an organisation for Indonesian students to share knowledge and experience both in academic and non-academic issues. We build social networks between students and lecturers from all parts of Indonesia and learn about leadership and communication skills. Come and join us. Social activities (with lots of fun and foods) are regularly arranged to help you cope with challenges during your studies.
Contact: putuindah.rahmawati@live.vu.edu.au.
Malaysian Association (VUMA)
VUMA aims to represent the interest of the Malaysian students while promoting social and cultural exchange with other students in Victoria University. Be a part of our family and get to know more about our beautiful country that is filled with exotic culture. We welcome everyone to be a part of us.
Email us at vuma.victoria@gmail.com or like VUMA on Facebook and join the VUMA Facebook group.
Pacific Students Association
We are a network of students who offer moral, social and academic support to local and international Pacific students. We run sports activities like tennis and volleyball at the Student Village and many cultural activities.
Find out more about the VU Pacific Students Association.
Email: vupsa2014@gmail.com.
Victoria University Vietnamese Association
VUVA is an association of Vietnamese students that are studying in Victoria University, a home for Vietnamese students. We take care of the welfare of Vietnamese students and bring entertaining experiences to Vietnamese students through music and outdoor activities at VU.
For more information please contact vuva.melbourne@gmail.com.
Political
VU Student Union (VUSU)
The Victoria University Student Union is the peak student body representing all students at Victoria University. The objectives of VUSU are to provide a range of representation and general services to a student population of approximately 45,000, across all campuses, and all educational disciplines of the University.
Keep a look out for the VUSU Annual Ball, weekly breakfasts, and our famous O-Week parties! It's going to be an awesome year for "FUN AND REPRESENTATION"!
Contact us via the VUSU Facebook page or email President.vusu@live.vu.edu.au.
VU Greens Group
VU Greens Group is made up of like-minded people who share similar political views about social justice, human rights and the environment. The group provides a supportive atmosphere where students are able to discuss these important topics and create awareness about other Greens' aligned issues. VU Greens Group also offers a safe space for alternative policy debate.
You don't need to have a political affiliation to join us.
For more information please email: vugreensgroup@gmail.com or connect with VU Greens on Facebook.
Labor Club
The Victoria University Labor Club aims to promote politics within the student population. It brings together students with similar political interests, while acting to promote networking capabilities and provide a general forum for discussion.
Join us on the VULaborClub Facebook page or by email: nathan.ivetic@live.vu.edu.au.
Labor Left Students
Labor Left Students stand to support students who believe in the key principles of the left of the Australian Labor Party. We provide a forum for debate and discussion of key current political issues and provide networking opportunities for students with a similar ideology and an interest in politics.
Email: michael.albert.ford@gmail.com.
Victoria University Liberal Club
Our club holds regular meetings, social gatherings and meets frequently with prominent Liberal figures from across the country.
Email: Celal.sahin@live.vu.edu.au.
International Youth & Students for Social Equality
Aims to develop a movement of students against militarism, war and social inequality.
Email: goma.ghimire@gmail.com.
The Socialist Alliance
The Socialist Alliance is an anti-capitalist political organisation with members throughout Australia. We support a democratic society run by and working for people, not the destructive elite that currently rules. Members of the socialist alliance are active in campaigns on a wide range of issues.
Contact us today to get involved. Email: nick.j.fredman@gmail.com or join the Socialist Alliance society on Facebook.
Professional development
Student Leadership Council
The Student Leadership Council comprises members of all of the VU activities that involve Student Leadership.
Members meet on a regular basis to discuss their Student Leadership program and any issues or initiatives undertaken within the program.
VU Toastmasters Club
Toastmasters helps men and women improve their public speaking, presentation and leadership skills in a mutually supportive and positive learning environment. Members deliver prepared and impromptu speeches and develop skills related to timekeeping, chairing and facilitating meetings.
Email: sara.abbay@live.vu.edu.au.
Spiritual & religious
ACF Christian Fellowship
A Christian club at Victoria University to touch the lives of VU students with God's love, bonding and growing together as a family in order to serve and glorify God.
Email: uloveacf@gmail.com like us on our Facebook page.
Islamic Society of Victoria University (ISVU)
A student body that represents Muslim students at VU, with cultural, social and religious events both on and off campus. The aim of the society is to bring together Muslim students at weekly, monthly and annual events.
Email: isvu@live.com or like us on Facebook.
Sport & recreation
VU Vipers Cheerleading
The VU Vipers are a co-ed cheerleading squad that compete In both cheer and dance disciplines. In the past few years Vipers have had great success, gaining national titles in cheer and dance. Vipers train four times a week: Monday and Thursday (6:50-8:45am cheer), Wednesday (6:50-8:45am dance) and Friday (6:50-8:45am stunt).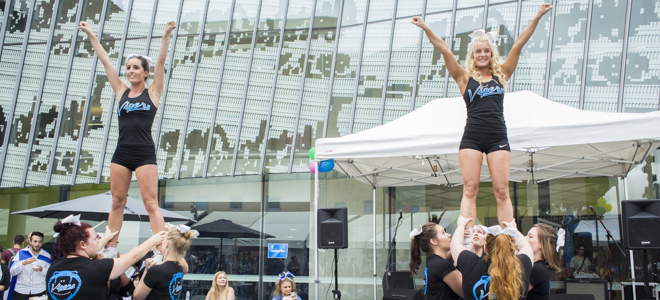 It is a fantastic environment to make new friends, have fun and get fit! Males and females accepted and no experience required!
The Vipers have been around since 2009 - read more about the background of the Vipers Cheerleaders and contact us by email: vuvipers@live.com.au or visit us on Facebook.
Outdoor Adventure Club
For those interested in participating in a range of outdoor adventure and recreational activities and trips.
Email: vuoutdooradventureclub@gmail.com
Victoria University Social Sport Society (VUSSS)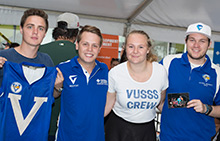 VUSSS is a social sport club at Victoria University, which aims to create social, sporting and network opportunities. We aim to run over five events each year, with the desire to attract both new and existing students from an array of courses. We encourage involvement in university sport in a number of different capacities.
Email: vusss@live.com.au or join VUSSS on Facebook.
Other sport clubs
There are a number of sport clubs affiliated with VU Sports.
A full list of sport clubs can be found on the Sport & Fitness page.
Start your own club
If you're interested in starting a new club, the first step is to meet up with your campus recreation officer. Your Student Life officer will discuss a range of options to be involved with a club and if you decide to start your own the next stage will be to complete the club affiliation document. Once these have been completed they should be delivered to your campus recreation officer.
Once you have successfully completed your club affiliation documents your club will be automatically allocated some funding.
Funding is dependant on:
membership numbers
attendance at relevant events
several other factors - check with your campus recreation officer for a detailed explanation.
Show some initiative
There is also another path if you wish to apply for funding. Show some initiative is a grant which is given out to groups of students, individuals or clubs that encourage students to actively participate in self-driven student-student engagement activities and events which are socially inclusive.
Download the Show some initiative application form and make an appointment to chat with your campus recreation officer about your project. The Show Some Initiative Grant Committee meets monthly so make sure you leave plenty of time to complete your application prior to your event or activity.
Contact us
Phone: +61 3 9919 2654
Email: studentlife@vu.edu.au
ASKVU Find answers and ask questions
General enquiries: +61 3 9919 6100