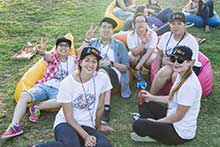 Victoria University offers many opportunities for students to volunteer both within the University and in the community.
The best way to keep up to date with all these opportunities is to sign up to the VU Vollies Program, where you receive fortnightly emails detailing these opportunities.
Register to become a VU Vollie in 2017.
Keep in touch
Like the VU Student Life Facebook page to keep up with what's on at VU!