Overview
Prepare for a rewarding career as a secondary school teacher with the practical experience offered through a Master of Teaching (Secondary Education) at Victoria University.
You will gain significant workplace experience to prepare you for the real world of teaching. Through our extensive partnerships, you will undertake supervised teaching placements and have access to many professional-experience opportunities.
Our classes are smaller than many other universities', allowing our tutors to tailor the learning experience to our students. As education experts, we understand how students learn best. You won't be asked to sit in large lectures and take regular tests. Instead, you'll learn in practical workshops, with applicable tasks that prepare you to be an excellent teacher, such as creating lesson plans and presenting relevant research findings.
We offer a range of disciplines, so you can become a teacher in the area you love. Choose from dozens of options, including:
arts
design & technology (wood, metal and plastics, textiles, food, robotics)
languages
maths
music
outdoor education
PE
science.
Commonwealth Supported Places in 2023
Fees are heavily subsidised and HECS-HELP loans available for eligible students in 2023. Apply now or register your interest - there's never been a better time to study!
In the Master of Teaching, units that are 12 credit points will be delivered over a four-week period, while units that are 24 credit points will be delivered over an eight-week period, using the VU Block Model. With focused timetables and smaller, collaborative classes, you'll have more time to connect with your peers, lecturers and industry partners, helping you to build strong professional networks.
The VU Block Model has improved our student results and engagement, and has won multiple international awards for innovation and excellence.
You will gain extensive work experience, supervised by experienced teachers and supported to take on increasing responsibility. We also offer a range of additional professional experience opportunities, including:
teaching in rural/remote areas
international placements
partnerships with local sports or arts organisations.
The Victorian Government is investing more than $93.2 million to deliver scholarships to support secondary teaching degree students with the cost of studying and living. Scholarships will be available to Victorian students who enrol in Victorian secondary school teaching degrees in 2024 and 2025, with further payments if they then work in Victorian government secondary or specialist school settings after they graduate.
As a postgraduate student you can take up one of many opportunities to further develop your academic language and study skills. VU's Learning Hubs are welcoming spaces where you can improve your study and employability skills.
We offer maths, writing, careers and English-language advice, and show you effective ways to study and manage your time.
Our programs include:
workshops
drop-in sessions
peer mentoring
maths and writing resources
resume and career guidance.
We also have accessibility support services and counselling services available for all students.
In addition to the standard Master of Teaching (Secondary Education), we offer an eighteen-month, internship-style Master of Applied Teaching (Secondary Education) to domestic students from under-represented groups (Victoria's African-Australian, Indigenous, and CALD communities in rural and regional areas).
Successful applicants will receive a $15,000 Department of Education and Training scholarship along with a paid teaching internship.
Need some advice?
Request a call back from one of our experienced VUHQ course advisers to get your questions answered.
Request a call back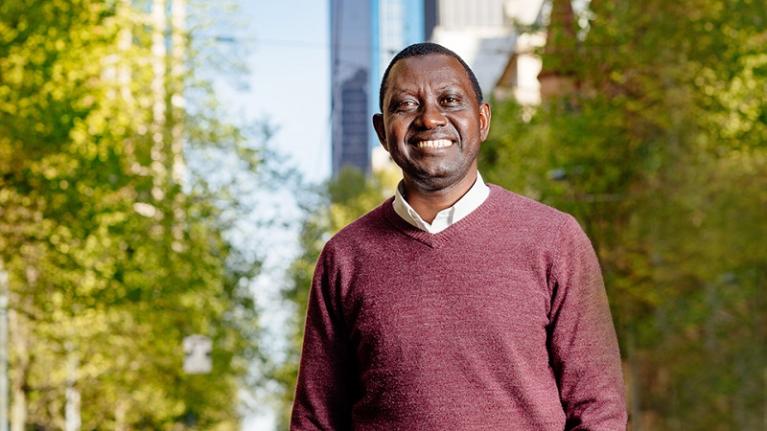 Fast-track your studies
Domestic students from groups that are under-represented in the teaching profession – African-Australian, Indigenous and rural/regional CALD communities – may be eligible for the 18-month intensive Master of Applied Teaching (Secondary Education), with financial support.  
Careers in teaching
Graduates of the Master of Teaching (Secondary Education) who have passed the National Literacy and Numeracy Test for Initial Teacher Education (LANTITE) are eligible for registration as secondary teachers with the Victorian Institute of Teaching (VIT). 
You'll be ready to work as a secondary teacher in your chosen discipline area, including:
business
computing
creativity and the arts
English
health
humanities
languages other than English (LOTE)
mathematics
music
outdoor education
physical education
psychology
technology
teaching English as a second language
science
student welfare.
You'll also be able to pursue careers in a range of education-related industries and organisations, that could include:
special-education teacher
educational-publishing editor or writer
museum or gallery educator
corporate learning and development
tutor
education-supply liaison officer
outdoor education specialist
student welfare officer.
Salaries & job prospects
Find salary information and employment predictions for secondary school teachers on the government job-data site, Labour Market Insights.
Find salary and other job information for special education teachers in Australia on Labour Market Insights.
Course structure
To attain the Master of Teaching (Secondary Education) students will be required to complete 192 credit points in total consisting of:
168 Credit points of Core studies;
24 credit points of Capstone Studies;
Capstone Research Investigation and Engaging the Profession can only be taken towards the end of the course.
Students must successfully complete 60 practicum days in a secondary school.
Students are required to pass the Literacy and Numeracy Test for Initial Teacher Education (LANTITE) in order to be eligible to graduate from their Victorian Institute of Teaching-accredited program.
Unit code

AEK7001

Credits

12

Unit code

EED5102

Credits

12

Unit code

EED6103

Credits

12

Unit code

EED6104

Credits

12

Unit code

EED6105

Credits

12

Unit code

EED7001

Credits

12

Unit code

EED7002

Credits

12

Unit code

EED7004

Credits

24

Unit code

EED7108

Credits

24

Unit code

ETS5002

Credits

12

Unit code

ETS5003

Credits

12

Unit code

ETS5004

Credits

12

Unit code

ETS5005

Credits

12

Unit code

ETS5006

Credits

12
On successful completion of this course, students will be able to:
| | | | |
| --- | --- | --- | --- |
|   | 1. | Critically examine historical and contemporary issues in post-primary education at a local, national and international level; |   |
|   | 2. | Review different pedagogical theories and academic concepts of teaching that support the diversity of learners found in post primary educational settings; |   |
|   | 3. | Critically review curriculum materials and resources that support the inclusion of Aboriginal and Torres Strait Islander perspectives across the curriculum in schools with a view to promoting reconciliation in today's society; |   |
|   | 4. | Analyse the literacy and numeracy learning needs of students across the full range of abilities including students with disabilities and special learning needs; |   |
|   | 5. | Plan, implement and evaluate a range of educational practices that support the diversity of students in post primary education; |   |
|   | 6. | Analyse the efficacy of classroom teaching practices through reflective discussion that draws upon pedagogical theories; |   |
|   | 7. | Employ advanced skills in research to work with educational stakeholders in educational settings; |   |
|   | 8. | Apply knowledge and skills within classrooms and the school community to develop inclusive cultures of learning where all school students are supported to achieve. |   |
What's a unit?
A unit or 'subject' is the actual class you'll attend in the process of completing a course.
Most courses have a mixture of compulsory 'core' units that you need to take and optional elective units that you can choose to take based on your area of interest, expertise or experience.
Credits
Each unit is worth a set amount of study credits based on the amount of time you study. Generally, 1 credit is equal to 1 hour of study per week.
Fees & scholarships
Fee type for this course: Commonwealth Supported Place (CSP)
Fee type definitions
The amount you pay for your course depends on whether you're offered a Commonwealth supported place (CSP) or a full fee-paying place.
Students who enrol in a:
In addition to your tuition fees, you may also be charged a Student Services & Amenities Fee (SSAF).
Scholarships & assistance
Apply for a scholarship to help with your study costs.
We can help with fee assistance and advice.
Admission & pathways
Meeting the minimum admission requirements does not guarantee you entry into this course. Some courses receive more applications than the number of places available. In this situation we will also assess your education, work and other relevant experience.
If you do not meet the minimum requirements you may be eligible for one of our special admission programs. We also encourage you to explore our study pathways to help you reach your goal.
Find out more about how to apply for our courses, and our commitment to admissions transparency.
Entry requirements
Completion of an Australian Bachelor degree (or equivalent) in two discipline areas that meets AITSL specialised requirements available at:
https://www.aitsl.edu.au/docs/default-source/default-document-library/accreditation_guidelines_2021_17-feb-2021_contents_web_final.pdf?sfvrsn=9276dd3c_0
Applicants will also be asked to complete an assessment of their non-academic attributes. Applicants with a Bachelor's degree from countries other than Australia, New Zealand, the United Kingdom, United States of America, Canada or the Republic of Ireland will be required to complete IELTS (or equivalent): Overall 7.0 with Listening 7.5, Reading 6.5, Writing 6.5, Speaking 7.5.
All students need to pass a CASPer test or VU ANAA interview prior to admission.
All students need a 3.5 GPA average for entry into the course.
There are many ways you can start your education journey at VU. Pathways offer an easy transition between courses at different levels, so that you can start with a certificate and progress right through to postgraduate study.
Find out more about pathways and credits.
Use our credit calculator to find out how much credit you could get towards your course, based on your previous study.
If you have completed study with another university or institution and believe you are eligible to receive credit for skills and past study, you can apply for advanced standing.
Applications for advanced standing can be made after a discussion with your course chair or academic adviser.
Additional information
Prior to entry into the second year of full time study, students in this course will have to sit the LANTITE test in order to demonstrate that their literacy and numeracy skills are within that expected of the top 30% of the population in Australia. The LANTITE test is a national government requirement for initial teacher education programs.
Students should note that they will be subject to a Working With Children Check before practice placements, in accordance with Department of Education and Training policy.
Satisfactory achievement of the benchmark for literacy and numeracy is a requirement to graduate from the program.
How to apply
Apply direct to VU
Direct applications are due on 11 February 2024 for our next intake which starts on 19 February 2024.
---
Already a VU student?
If you are already a VU student, apply direct to VU using our Admissions centre to transfer into this course. Remember it's best to be accepted into your new course before withdrawing from your current one.
After you apply
It's important to check for emails from us (which may go to your spam/junk folder).
Complete any requests for information by the given dates, otherwise your application may not be considered
Enquire now
Please fill out the form below, and we'll get back to you shortly.
Information marked with an asterisk "
*
" is required.
At Victoria University, we aim to display accurate and complete course information online. However, we are unable to guarantee that every course change is currently displayed. You may contact the University directly on +61 3 9919 6100 to confirm the most up-to-date course fees, pathways and credit transfer, recognition of prior learning, admission and enrolment procedures, examinations and services available to our students.