Overview
Achieve your dream of becoming a teacher – even if you missed selection for the Bachelor of Education. This education course prepares you to enter the second year of a teaching degree.
This teaching program has been designed for students who didn't meet the entry requirements for the Bachelor of Education through the VTAC (or direct) selection process.
This Victorian Institute of Teaching (VIT) accredited education pathway course will help you build the skills needed for a career in education.
Progress to a bachelor degree
Successful completion earns you a place in the second year in one of these specialised courses:
After completing additional requirements, you will also be eligible for:
If you continue to the Bachelor of Education (P-12), you'll be job-ready before you graduate – thanks to your extensive experience teaching in a classroom. You'll be ready to work locally or overseas in a profession with increasing demand around the world.
Our teaching degrees offer exciting opportunities for professional experience through work placements, including:
teaching in rural/remote locations
overseas study tours in Malaysia, China, Timor Leste and more
sports, literacy and leadership programs with sporting organisations including the Western Bulldogs
mentoring school students in university-ready skills
creative art projects.
VU's Learning Hubs are welcoming spaces where you can improve your study and employability skills.
Our students can attend Learning Hubs at one of five VU campuses.
We offer maths, writing, careers and English-language advice, and show you effective ways to study and manage your time.
Our programs include:
workshops
drop-in sessions
peer mentoring
maths and writing resources
resume and career guidance.
We also have accessibility support services and counselling services available for all students.
Need some advice?
Request a call back from one of our experienced VUHQ course advisers to get your questions answered.
Request a call back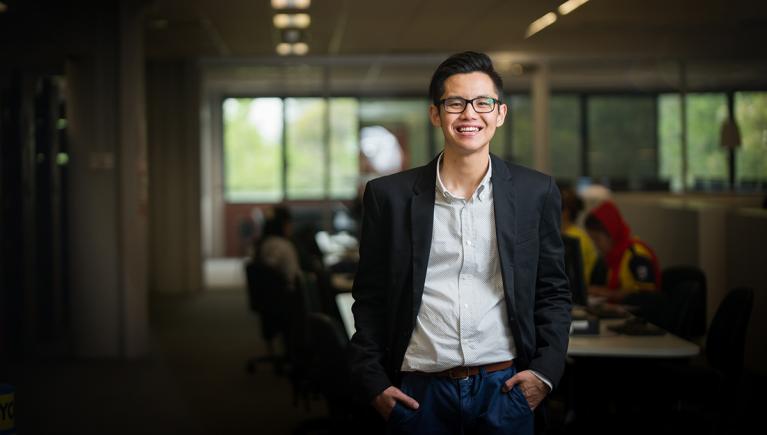 Build essential literacy and numeracy skills for a career in education, and prepare to enter the second year of a teaching degree.
Careers in education
This course may help you find work as a teacher aide, supporting teachers in their work.
Once you've completed the Bachelor of Education (P-12), you could find a rewarding career in a public or private primary or secondary school.
Demand for teachers in Melbourne's west is high – and set to continue rising. The Department of Planning and Community Development figures predict greater than 40%  increase in births in the region in the next five years.
Salaries & job growth
Find salaries, employment predictions and more across the teaching professions:
Course structure
To attain the Diploma of Education Studies students will be required to complete:
96 credit points (equivalent to 8 units) of Core studies
Unit code

AEK1006

Credits

12

Unit code

EDC1000

Credits

12

Unit code

EDC1001

Credits

12

Unit code

EDC1004

Credits

12

Unit code

EDC1005

Credits

12

Unit code

EDC1007

Credits

12

Unit code

EDC1008

Credits

12

Unit code

EDC1010

Credits

12
On successful completion of this course, students will be able to:
| | | | |
| --- | --- | --- | --- |
|   | 1. | Appraise a broad and coherent body of knowledge of in relation to the changing nature of education in a rapidly-evolving global context; |   |
|   | 2. | Apply knowledge of educational issues to improve educational practices; |   |
|   | 3. | Discuss a range of learning theories and identify how they enhance student learning; |   |
|   | 4. | Develop students' capabilities and capacity in literacy and numeracy that enhance communication for academic contexts, including in the use of Information and Communication Technologies; |   |
|   | 5. | Foster creative skills and thought processes so as to prepare to confront and pro-actively engage with 21st Century challenges; |   |
|   | 6. | Develop contextual understandings of contemporary life in a global community, and collaborate with colleagues to promote principles of peace, sustainability, ethical conduct, and political and economic freedom; |   |
|   | 7. | Articulate and review the concepts of inclusion, equity and access for socially just education; |   |
|   | 8. | Investigate the changing nature of society to prepare for the development of educational policies and processes relevant to students' needs. |   |
What's a unit?
A unit or 'subject' is the actual class you'll attend in the process of completing a course.
Most courses have a mixture of compulsory 'core' units that you need to take and optional elective units that you can choose to take based on your area of interest, expertise or experience.
Credits
Each unit is worth a set amount of study credits based on the amount of time you study. Generally, 1 credit is equal to 1 hour of study per week.
Fees & scholarships
Fee type for this course: Commonwealth Supported Place (CSP)
Fee type definitions
The amount you pay for your course depends on whether you're offered a Commonwealth supported place (CSP) or a full fee-paying place.
Students who enrol in a:
In addition to your tuition fees, you may also be charged a Student Services & Amenities Fee (SSAF).
Scholarships & assistance
Apply for a scholarship to help with your study costs.
We can help with fee assistance and advice.
Admissions
Victoria University is committed to providing a transparent admissions process. Find out more about how to apply for our courses, and our commitment to admissions transparency.
Applicants for this course will need to have met the academic requirements and prerequisites for this course outlined below.
Meeting the minimum admission criteria does not guarantee entry into this course. Past academic performance may be considered.
Admission criteria
The minimum criteria for admission varies depending on your education background. If you're not sure which criteria applies to you, use the help tool on this page or make an enquiry and we can assist.
Australian Senior Secondary Certificate (e.g. VCE) or
an Australian or overseas equivalent or
an International Baccalaureate (IB).
Importance of ATAR for this course
ATAR+
We consider both ATAR and other criteria
NA
ATAR is not a consideration. We use other criteria
Admission criteria
Completion of an Australian Senior Secondary Certificate (VCE or equivalent) including Units 3 and 4: a study score of at least 25 in English (EAL) or 20 in any other English.
Why is ATAR not applicable?
You will not need an ATAR score to meet the admission requirements for this course. Only the successful completion of your secondary school studies, and any additional prerequisites. Our courses and support programs are designed to prepare students from diverse cultures for success, regardless of their prior experience, ATAR, age, socioeconomic or educational background.
This information is for people who have completed an accredited award at an Australian Registered Training Organisation.
Admission criteria
Certificate IV in Liberal Arts (or equivalent).
OR
Certificate IV in Tertiary Preparation (or equivalent)

This information is for people whose highest level of study since leaving secondary education is a higher education course.
This information is for applicants who left secondary school more than two years ago and who have not undertaken VET or higher education study since then.
Admission criteria
Applicants with relevant work, education and/or community experience will be considered for admission to the course.
Additional information
International students from non-English speaking countries are required to demonstrate a minimum IELTS of 6.0 overall (with no score below 6.0 in any of the four skills areas on entry to the program.
Pathways & credits
There are many ways you can start your education journey at VU. Pathways offer an easy transition between courses at different levels, so that you can start with a certificate and progress right through to postgraduate study.
Enquire now
Please fill out the form below, and we'll get back to you shortly.
Information marked with an asterisk "
*
" is required.
At Victoria University, we aim to display accurate and complete course information online. However, we are unable to guarantee that every course change is currently displayed. You may contact the University directly on +61 3 9919 6100 to confirm the most up-to-date course fees, pathways and credit transfer, recognition of prior learning, admission and enrolment procedures, examinations and services available to our students.