Overview
Prepare for a career supporting life and bringing new life into the world. Our double degree in midwifery and nursing gives you the knowledge and skills for two distinct, in-demand professions.
Studying our Bachelor of Midwifery/Bachelor of Nursing you'll learn the practical skills for each profession – and the healthcare knowledge common to both.
We make sure you're job-ready when you graduate. We have workspaces and technology to simulate patient care in a safe environment. You'll also undertake many weeks' clinical practice, including care for individual women through pregnancy, childbirth, and post-birth.
We will teach you to understand your patients' health needs, as well as their social need to feel safe in your care, based on:
up-to-date and evidence-informed health care
awareness and understanding of cultural safety and sensitivity with women and patients
woman-centred and person-centred quality care
development of professional relationships and workplace integration.
Nursing and midwifery complement each other perfectly, and give you choice and flexibility in your career. After graduating from this course, you'll be able to register and practise as a registered midwife or registered nurse.
Our state-of-the-art technology lets you participate in classroom simulation learning, practising your new skills in a safe environment.
We have nursing lab facilities designed to simulate a hospital environment. You can practise your nursing and midwifery on models before you move on to real people.
Through simulation-based education (SBE), you'll have repeated opportunities to learn in situations you might not encounter in your placements. You'll try out your inter-professional skills, with specific and immediate feedback to help you learn quickly.
Video recording from fixed cameras helps you improve your learning through greater understanding of your approach.
You'll graduate career-ready, having spent 25 per cent of your course working in clinical placements.
We have practical nursing-placement opportunities in over 200 clinical venues. Our strong partnerships with Western Health and Werribee Mercy Hospital give you access to acute teaching and training hospitals for nursing and midwifery students.
You'll also meet and follow at least 10 women through:
pregnancy
childbirth
post-birth.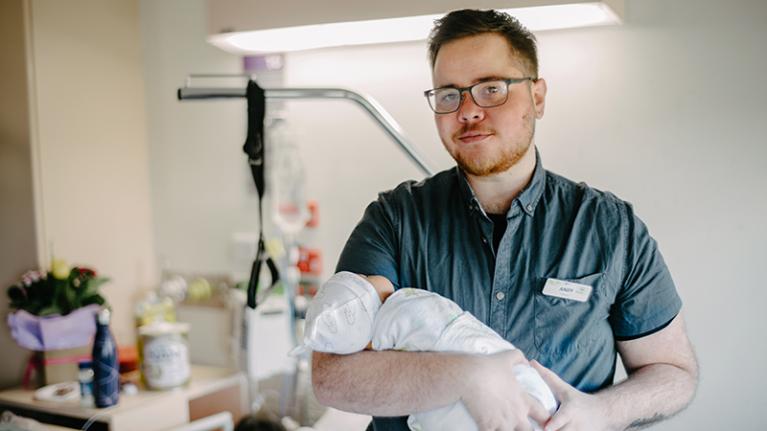 VU midwifery graduate Andy Ackerly is passionate about delivering the next generation with the highest level of care.
Careers in midwifery and nursing
Registered midwives work in hospitals, group practices and the community sector in antenatal, birthing and postnatal units.
Nursing graduates work in general practice, acute care, aged care, rehabilitation, mental health, palliative care and health education.
Many of our graduates hold nursing positions at Sunshine Hospital (Western Health) and the Royal Women's Hospital.
Job titles
registered midwife / registered nurse
nursing manager
nursing educator
clinical nurse specialist.
Salaries
Midwives in Australia earn an average salary of A$66,700 (Job Outlook).
Registered nurses in Australia earn an average salary of A$70,000 (Job Outlook).
An in-demand profession
The nursing and midwifery professions need qualified employees. More than three-quarters (76 per cent) of nursing graduates find full-time employment within four months of graduation (GradStats).
There are currently regional shortages of midwives in most states (Department of Employment). In nursing, there are large demands for aged-care nurses, nurse educators and nurse managers (HealthTimes).
The number of job openings for midwives (Job Outlook), and registered nurses (Job Outlook) is expected to continue to grow over the next five years.
Become a registered nurse & midwife
When you graduate, you'll be eligible to register with the Nursing and Midwifery Board of Australia to practise as a nurse/midwife in the Australian healthcare system.
You'll also meet the standards of midwifery and nursing practice to register with the Australian Health Practitioners Regulation Agency (AHPRA).
Course structure
What's a unit?
A unit or 'subject' is the actual class you'll attend in the process of completing a course.
Most courses have a mixture of compulsory 'core' units that you need to take and optional elective units that you can choose to take based on your area of interest, expertise or experience.
Credits
Each unit is worth a set amount of study credits based on the amount of time you study. Generally, 1 credit is equal to 1 hour of study per week.
Fees & scholarships
Fee type definitions
The amount you pay for your course depends on whether you're offered a government subsidised place or a full-fee paying place.
If you enrol in a:
Government subsidised place pay a VET tuition fee and may be required to pay a Student Services and Amenities Fee and course materials contribution. This training is delivered with Victorian and Commonwealth Government funding.
Full-fee paying place pay the full-fee tuition rate (which includes Student Services and Amenities Fee and any material fees).
To calculate the total cost of your course either use our fee calculator, or:
Select which units you'd like to study.
Look up the individual unit costs in the higher education unit of study fees list.
Add up the relevant amounts.
Scholarships & assistance
Apply for a scholarship to help with your study costs.
We can help with fee assistance and advice.
Admissions
Victoria University is committed to providing a transparent admissions process. Find out more about how to apply for our courses, and our commitment to admissions transparency.
Applicants for this course will need to have met the academic requirements and prerequisites for this course outlined below.
Meeting the minimum admission criteria does not guarantee entry into this course. Past academic performance may be considered.
Admission criteria
The minimum criteria for admission varies depending on your education background. If you're not sure which criteria applies to you, use the help tool on this page or make an enquiry and we can assist.
Australian Senior Secondary Certificate (e.g. VCE) or
an Australian or overseas equivalent or
an International Baccalaureate (IB).
Importance of ATAR for this course
ATAR+
We consider both ATAR and other criteria
NA
ATAR is not a consideration. We use other criteria
Admission criteria
Completion of an Australian Senior Secondary Certificate (VCE or equivalent) including Units 3 and 4: a study score of at least 30 in English (EAL) or 25 in any other English other than EAL.
PLUS:
Units 3 and 4: a study score of at least 20 in one of Biology, Chemistry, any Mathematics or Physics.
Subject adjustments
A study score of 25 in Biology, Chemistry, Health And Human Development, any Mathematics, Physics or Psychology equals 5 aggregate points per study. Overall maximum of 20 points.
ATAR profile
VTAC course code: 4301310681
Campus: St Albans
ATAR profile of people who received an offer for the Bachelor of Midwifery/Bachelor of Nursing in 2020.
ATAR
(Excluding adjustment factors)
Selection Rank
(ATAR plus any adjustment factors)
Highest rank to receive an offer
80.90
91.35
Median rank to receive an offer
69.35
82.70
Lowest rank to receive an offer
64.40
77.90
This information is for people who have completed an accredited award at an Australian Registered Training Organisation.
Admission criteria
Completion of an Australian Advanced Diploma or Diploma (or equivalent) in Health Science or Nursing.
This information is for people whose highest level of study since leaving secondary education is a higher education course.
Admission criteria
Completion of at least one semester of an Australian Higher Education award (or equivalent) in Health Science or Nursing.
This information is for applicants who left secondary school more than two years ago and who have not undertaken VET or higher education study since then.
Admission criteria
Completion of an Australian Senior Secondary Certificate more than two years ago.
PLUS:
Units 3 and 4: a study score of at least 30 in English (EAL) or 25 in any other English (or equivalent) other than EAL.
AND:
Units 3 and 4: a study score of at least 20 in one of Biology, Chemistry, any Mathematics or Physics.

Additional information
Police check: Students must complete a National Police Records check prior to undertaking hospital/agency placements on an annual basis.
Working with Children Check: Students must complete a Working with Children Check prior to undertaking clinical placements.
Health status: Students must be prepared to declare their fitness for practice and immunization status prior to undertaking hospital/agency placements.
A Clinical Placement fee applies in all situations where the student is enrolled in a unit with a clinical placement component and/or has been provided with a clinical placement opportunity and fails to meet minimum standards for external placement, this can include late cancellations, failure to attend, student and professional misconduct, failure to provide mandatory documentation, regardless if the student discontinues prior to the enrolled Census Date. For placement fee details relevant to your course refer to https://www.vu.edu.au/current-students/your-course/fees/additional-fees-...
Pathways & credits
There are many ways you can start your education journey at VU. Pathways offer an easy transition between courses at different levels, so that you can start with a certificate and progress right through to postgraduate study.
If you have completed study with another university or institution and believe you are eligible to receive credit for skills and past study, you can apply for advanced standing.
Applications for advanced standing can be made after a discussion with your course coordinator or academic adviser.
How to apply
Applications for this course are not being taken at this time.
Browse our other Midwifery courses or send us an enquiry to be notified of updates relating to this course.
Enquire now
Please fill out the form below, and we'll get back to you shortly.
Information marked with an asterisk "
*
" is required.
At Victoria University, we aim to display accurate and complete course information online. However, we are unable to guarantee that every course change is currently displayed. You may contact the University directly on +61 3 9919 6100 to confirm the most up-to-date course fees, pathways and credit transfer, recognition of prior learning, admission and enrolment procedures, examinations and services available to our students.