Overview
Prepare for a career supporting life and bringing new life into the world. Our double degree in midwifery and nursing gives you the knowledge and skills for two distinct, in-demand professions.
During your Bachelor of Midwifery/Bachelor of Nursing degree, you'll acquire practical skills for each profession – and the healthcare knowledge common to both.
You'll practise your new skills in a safe environment on campus, using technology that simulates patient care. You'll also undertake many weeks' supported clinical practice, working with real patients. By the time you graduate, you'll be work-ready – with genuine experience caring for women through pregnancy, childbirth, and post-birth.
We will teach you to understand your patients' health needs, as well as their social need to feel safe in your care, based on:
up-to-date and evidence-informed health care
awareness and understanding of cultural safety and sensitivity 
woman-centred and person-centred quality care
development of professional relationships and workplace integration.
Nursing and midwifery complement each other perfectly, and give you choice and flexibility in your career. After graduating from this course, you'll be able to register and practise as a registered midwife and registered nurse.
Location: Please note that you will study at St Albans Campus for years 1-2, and at Sunshine Clinical School for years 3-4. 
Our state-of-the-art technology lets you participate in classroom simulation learning, practising your new skills in a safe environment.
We have nursing lab facilities designed to simulate a hospital environment where you can practise your nursing and midwifery on models before you move on to real people.
Through simulation-based education (SBE), you'll have repeated opportunities to learn in situations you might not encounter in your placements. You'll try out your inter-professional skills, with specific and immediate feedback to help you learn quickly.
Video recording from fixed cameras helps you improve your learning through greater understanding of your approach.
You'll graduate career-ready, having spent 25 per cent of your course working in clinical placements.
We have practical nursing-placement opportunities in over 200 clinical venues. Our strong partnerships with Western Health and Werribee Mercy Hospital give you access to acute teaching and training hospitals for nursing and midwifery students.
You'll also meet and follow at least 10 women through:
pregnancy
childbirth
post-birth.
Course e-Brochure
Create a customised brochure in a few simple steps. Your brochure will include country-specific information.
Create an e-brochure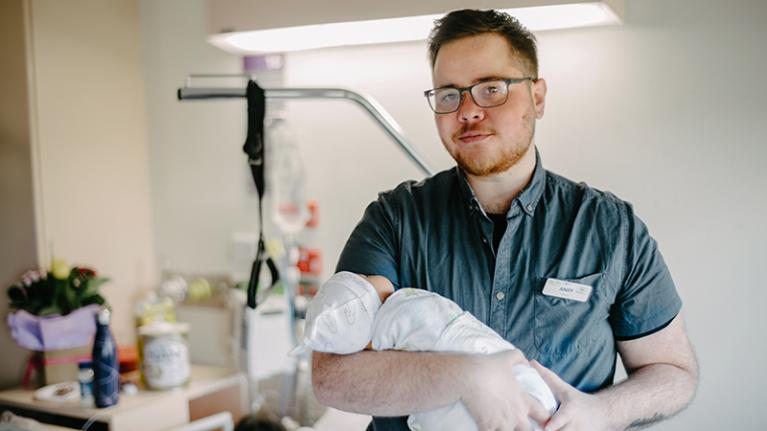 VU midwifery graduate Andy Ackerly is passionate about delivering the next generation with the highest level of care.
Careers in midwifery and nursing
Registered midwives work in hospitals, group practices and the community sector in antenatal, birthing and postnatal units.
Nursing graduates work in general practice, acute care, aged care, rehabilitation, mental health, palliative care and health education.
Many of our graduates hold nursing positions at Sunshine Hospital (Western Health) and the Royal Women's Hospital.
Job titles
registered midwife
registered nurse
nursing manager
nursing educator
clinical nurse specialist.
Salaries
Use Labour Market Insights to find average salaries in Australia:
An in-demand profession
The nursing and midwifery professions need qualified employees.
In 2021 the State of the World's Midwifery report identified a global shortage of midwives. In nursing, there are large demands for aged-care nurses, mental health nursing and critical care (HealthTimes).
The number of job openings for midwives and registered nurses is expected to continue to grow over the next five years (Labour Market Insights).
Become a registered nurse & midwife
When you graduate, you'll be eligible to register with the Nursing and Midwifery Board of Australia to practise as a registered nurse and registered midwife in the Australian healthcare system.
You'll also meet the standards of midwifery and nursing practice to register with the Australian Health Practitioners Regulation Agency (AHPRA).
Course structure
What's a unit?
A unit or 'subject' is the actual class you'll attend in the process of completing a course.
Most courses have a mixture of compulsory 'core' units that you need to take and optional elective units that you can choose to take based on your area of interest, expertise or experience.
Credits
Each unit is worth a set amount of study credits based on the amount of time you study. Generally, 1 credit is equal to 1 hour of study per week.
Pathways & credits
There are many ways you can start your education journey at VU. Pathways offer an easy transition between courses at different levels, so that you can start with a certificate and progress right through to postgraduate study.
Use our credit calculator to find out how much credit you could get towards your course, based on your previous study.
If you have completed study with another university or institution and believe you are eligible to receive credit for skills and past study, you can apply for advanced standing.
Applications for advanced standing can be made after a discussion with your course chair or academic adviser.
How to apply
We are currently accepting international applications, and we welcome you to apply for this course.
Click 'apply' to begin, and we will guide you through the application process.
If you have questions, please get in touch:
Information and fees listed above are for non-resident students. Fees are accurate at the time of viewing and will be subject to annual increases. Some courses require students to purchase equipment or clothing that they will need in the course. These equipment or clothing costs are not included in the course fees listed above – check your Letter of Offer for an estimate on non-tuition-fee-related expenses.
VU takes care to ensure the accuracy of this course information, but reserves the right to change or withdraw courses offered at any time. Please check that course information is current with the Student Contact Centre.