Overview
Prepare for a science career contributing solutions to today's biggest challenges, with Bachelor of Science at Victoria University.
You'll gain a solid foundation in science, along with valuable skills that are transferable to many different sectors.
You can specialise in one of these areas:
biotechnology
ecology and environmental management.
These specialisations are aligned with industry need and opportunity – so you'll graduate with a qualification that is well-matched with current career opportunities.
You'll have the flexibility to customise your learning based on career interests. You will enhance your chosen speciality with minor studies in areas such as statistics, cell biology/microbiology, physics, or units from other disciplines. 
This degree offers hands-on learning in modern facilities and opportunities for work placements. You can progress from this course into an honours year or other postgraduate study (subject to academic performance).
Practical learning is a key part of all studies at Victoria University. Our Bachelor of Science features hands-on work in our state-of-the-art laboratories. You'll also undertake practical fieldwork to enhance and demonstrate your theoretical knowledge.
You'll learn in modern laboratories with the latest equipment. Our science facilities include:
Shimadzu Analytical Laboratory at Werribee Campus which features state-of-the-art chemical instrumentation.
A supercritical nuclear magnetic resonance spectrometer at Footscray Park Campus.
These two laboratories enable complete chemical analyses to be performed, such as:
pesticides in waste water
impurity profiling in pharmaceutical products
structure determination
heavy metal analysis.
Advanced food systems research laboratories offer you resources for advanced food research, including:
food processing
shelf-life enhancement
microbial and enzyme technology and engineering
functional foods and nutraceuticals.
As part of this course, you'll have the opportunity to undertake industry projects and placements with VU industry partners.
We have partnerships with a range of organisations that will allow you to gain professional experience and up-to-date skills. We use these partnerships to inform our courses, share resources and give you the chance to learn in a workplace setting.
Your studies will be enhanced by our partnerships, which include:
Department of Environment, Land, Water and Planning
Fosters
Clariant
Modern Olives Laboratories
National Measurement Institute.
We also collaborate with Greater Western Water on several projects, especially in the areas of water and sustainability.
At VU you can spend part of your degree studying overseas all while gaining credits towards your course.
Immerse yourself in a new culture and learn from a new perspective, while building experiences that will help you to stand out in the competitive job market.
Need some advice?
Request a call back from one of our experienced VUHQ course advisers to get your questions answered.
Request a call back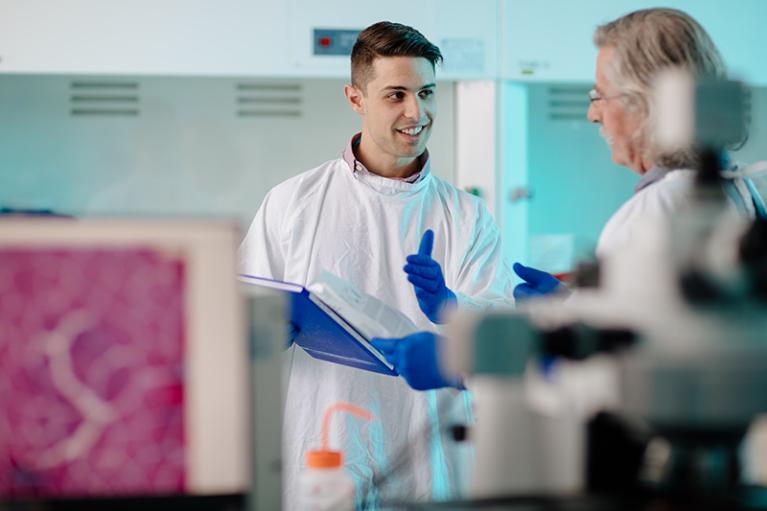 Careers in science
Science graduates are increasingly responsible for helping find technological solutions to global issues such as the impact of climate change and the use of stem cells in medical research.
Our Bachelor of Science will ensure you develop a broad range of skills (technical and otherwise) that will make you highly sought after upon graduation.  These skills can be used to pursue roles within the sciences, or associated with the sciences, such as science editors, educators or journalists. Skills and processes learnt as part of this course (e.g. mathematics) are also transferable to a wide range of sectors. This flexibility means you can adapt your career according to your interests and experience.
This course will ensure you have a thorough knowledge of contemporary science for careers in industry, government, community or education.
Depending on your specialisation, you'll be able to pursue a career in the following areas:
Biotechnology specialisation
medical and pharmaceutical research
forensic science
agriculture and aquaculture
the food and beverage industry
education.
Ecology & environmental management specialisation
landcare/bushcare
environmental planning
restoration ecology and land management
marine and freshwater ecosystem management
environmental education
botany/zoology/ecology
ecological and resource assessment.
Salary
Career options with this qualification are varied. See average annual salaries in Australia for various professions via Labour Market Insights:
Course structure
What's a unit?
A unit or 'subject' is the actual class you'll attend in the process of completing a course.
Most courses have a mixture of compulsory 'core' units that you need to take and optional elective units that you can choose to take based on your area of interest, expertise or experience.
Credits
Each unit is worth a set amount of study credits based on the amount of time you study. Generally, 1 credit is equal to 1 hour of study per week.
Fees & scholarships
Fee type for this course: Commonwealth Supported Place (CSP)
Fee type definitions
The amount you pay for your course depends on whether you're offered a Commonwealth supported place (CSP) or a full fee-paying place.
Students who enrol in a:
In addition to your tuition fees, you may also be charged a Student Services & Amenities Fee (SSAF).
Scholarships & assistance
Apply for a scholarship to help with your study costs.
We can help with fee assistance and advice.
Admissions
Victoria University is committed to providing a transparent admissions process. Find out more about how to apply for our courses, and our commitment to admissions transparency.
Applicants for this course will need to have met the academic requirements and prerequisites for this course outlined below.
Meeting the minimum admission criteria does not guarantee entry into this course. Past academic performance may be considered.
Admission criteria
The minimum criteria for admission varies depending on your education background. If you're not sure which criteria applies to you, use the help tool on this page or make an enquiry and we can assist.
Australian Senior Secondary Certificate (e.g. VCE) or
an Australian or overseas equivalent or
an International Baccalaureate (IB).
Importance of ATAR for this course
ATAR+
We consider both ATAR and other criteria
NA
ATAR is not a consideration. We use other criteria
Admission criteria
Completion of an Australian Senior Secondary Certificate (VCE or equivalent) including Units 3 and 4: a study score of at least 25 in English (EAL) or 20 in any other English.
PLUS:
A study score of at least 20 in Mathematics (any).
Why is ATAR not applicable?
You will not need an ATAR score to meet the admission requirements for this course. Only the successful completion of your secondary school studies, and any additional prerequisites. Our courses and support programs are designed to prepare students from diverse cultures for success, regardless of their prior experience, ATAR, age, socioeconomic or educational background.
This information is for people who have completed an accredited award at an Australian Registered Training Organisation.
Admission criteria
Completion of an Australian Advanced Diploma or Diploma (or equivalent).
OR:
Completion of the Certificate IV in Tertiary Preparation (or equivalent).
OR:
Completion of a Certificate IV in a related Science/Health discipline.
This information is for people whose highest level of study since leaving secondary education is a higher education course.
Admission criteria
Full or partial completion of an Australian Higher Education award (or equivalent).
OR:
Completion of two units of Higher Education studies.
OR:
Completion of a bridging or enabling course eg. Foundation course or equivalent.
This information is for applicants who left secondary school more than two years ago and who have not undertaken VET or higher education study since then.
Admission criteria
Five years (minimum) work/life experience in the Health Sciences or similar.
OR:
Applicants that completed an Australian Senior Secondary Certificate more than two years ago..
PLUS:
Units 3 and 4: a study score of at least 25 in English (EAL) or 20 in any other English (or equivalent).
PLUS:
A study score of at least 20 in Mathematics (any).
Pathways & credits
There are many ways you can start your education journey at VU. Pathways offer an easy transition between courses at different levels, so that you can start with a certificate and progress right through to postgraduate study.
If you have completed any of the following course(s), you will be guaranteed a place in this course. In some cases you may receive credit for your previous study, reducing the time it takes to complete your course.
You will be guaranteed entry only.
Find out more about pathways and credits.
Use our credit calculator to find out how much credit you could get towards your course, based on your previous study.
If you have completed study with another university or institution and believe you are eligible to receive credit for skills and past study, you can apply for advanced standing.
Applications for advanced standing can be made after a discussion with your course chair or academic adviser.
Enquire now
Please fill out the form below, and we'll get back to you shortly.
Information marked with an asterisk "
*
" is required.
At Victoria University, we aim to display accurate and complete course information online. However, we are unable to guarantee that every course change is currently displayed. You may contact the University directly on +61 3 9919 6100 to confirm the most up-to-date course fees, pathways and credit transfer, recognition of prior learning, admission and enrolment procedures, examinations and services available to our students.