VU College

VU College brings together the University's delivery of English language courses, pathway diplomas and courses at VU Sydney and with international education partners.
Our courses are designed to meet the needs of international students who choose to complete part or all of their studies in Australia, or complete a VU qualification with one of our international education partners.
The College delivers:
Higher Education (HE) diplomas in Australia and with our international education partners in China
English language courses, in Australia and China,  to prepare our students for academic study, or improve general English literacy
bachelor and masters degrees internationally withour international education partners in China, Malaysia, Singapore, Myanmar and Vietnam
courses for international students at our VU Sydney campus.
Currently we have more than 7000 students around the world, studying in one of these courses.
By focusing the management, development and delivery of these activities through one specialist area, we can:
offer tailored study pathways to international students through a 'one-stop-shop' approach
build on existing successful partnerships to continue to develop a customised education opportunities overseas
continue to develop our engagement with Asia expand, through programs, partnerships and research opportunities
expand the courses offered at our Sydney campus, in collaboration with the Education Centre of Australia (ECA).
VU Sydney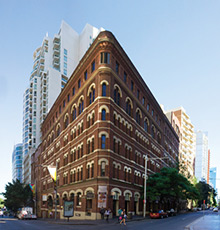 VU Sydney campus is situated in the heart of Sydney's city centre, and offers courses to international students in business and technology.
Accounting courses
Bachelor of Business (Accounting)
Graduate Diploma in Professional Accounting
Master of Business (Accounting)
Computer science courses
Bachelor of Business (Information Systems Management)
Graduate Diploma of Computer Science
Master of Science in Computer Science
Master of Applied Information Technology
Master of Business (Information Systems and ERP Systems)
English language study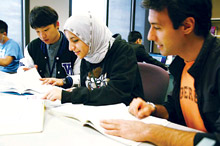 VU English, our English language centre provides nationally accredited English language courses, specifically designed to assist in achieving the required level of English for direct entry into a VU diploma or degree.
English language courses available:
English for BULATS Preparation
These courses are taught in Melbourne's city centre, less than 5 minutes' walk from Flinders Street station, the main train station.
VU ELICOS has 9 intakes per year, which means that VU can ensure that you complete your required English study, just prior to commencing your academic studies.
Our Cambridge Examinations Centre is an authorised Cambridge University English Language examination centre, located within the University. We are the only Cambridge exam centre located at a Victorian university. Students from any language centre in Melbourne are welcome to take their tests with us.