Overview
Enhance your career options as a digital media practitioner and become a leader in a global industry.
Our course specialises in delivering the latest in industry practices and processes. Informed by our course advisory panel industry practitioners from industry and government, our curriculum is flexible and regularly updated.
You will study developments such as 'app' development, search engine optimisation, content strategy and social network analytics.
Based in studio facilities at our City campus, timetables are designed for the busy professional.
In the second year of study, students undertake a research project (both practical and written components are assessed) . There is the option to link your research project with an industry problem.
This graduate certificate is the first stage of a nested suite of three courses that make up the Master of Digital Media. Successful completion of this course will lead you to admission into our Graduate Diploma in Digital Media.
An admission requirement for this course is a Bachelor degree in any discipline.
Students studying Digital Media now have the chance to bring their children, of all ages, to class.
The Kids in Class program offers students four kid-friendly tutorials for every unit they study. The remainder of units can be completed online, with the option to attend tutorials in person. Participating units:
Contact Natasha Dwyer for more information - natasha.dwyer@vu.edu.au.
As a postgraduate student you might want to take up one of many opportunities to further develop your academic language and study skills. VU's Learning Hubs are welcoming spaces where you can improve your study and employability skills.
We offer maths, writing, careers and English-language advice, and show you effective ways to study and manage your time.
Our programs include:
workshops
drop-in sessions
peer mentoring
maths and writing resources
resume and career guidance.
We also have accessibility support services and counselling services available for all students.
Our campus libraries offer career advice, academic resources and learning and IT support in relaxed lounge-like settings. You'll have access to photocopying, computing and printing facilities as well as electronic and print resources.
You'll have access to a rich collection of online resources at any time of the day or night, including databases, e-learning content for courses, student email, student software packages and social networking tools.
VU has one of the best campus-wide WiFi networks. We also have more than 4000 computers (PCs and Apple Mac) spread across our campuses. A central IT helpdesk is also available for support.
Need some advice?
Request a call back from one of our experienced VUHQ course advisers to get your questions answered.
Request a call back
Already a VU student?
To transfer into this course from another apply online at our Admissions centre.
Remember it's best to be accepted into your new course before withdrawing from your current one.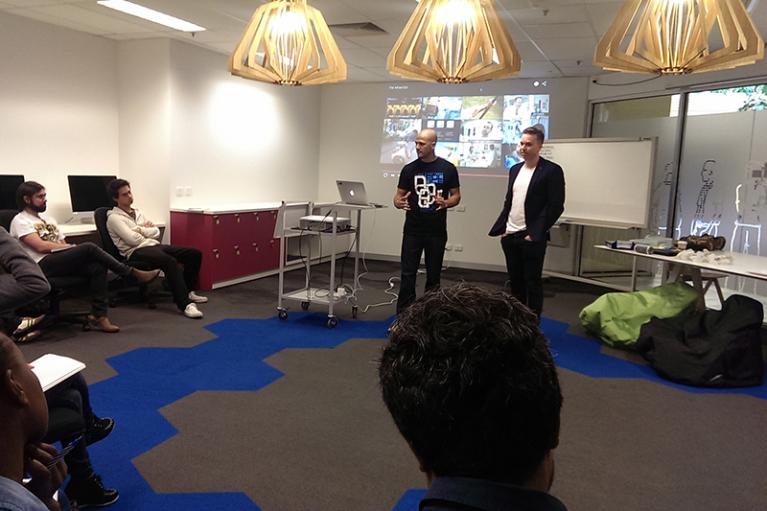 Careers in digital media
This course could lead to a career in:
digital media production and post-production
digital marketing management
mobile and web design
digital media strategy.
Course structure
The Graduate Certificate in Digital Media is a 48 credit points (4 unit), one semester full-time award which may be studied in part-time mode.
Select 36 credit points (equivalent to 3 units) from the following
Unit code

ADM5001

Credits

12

Unit code

ADM5002

Credits

12

Unit code

ADM5003

Credits

12

Unit code

ADM5004

Credits

12

Unit code

ADM6002

Credits

12

Unit code

ADM6003

Credits

12
Plus 12 credit points (equivalent to 1 unit) of an Elective from the list below
Unit code

ACG5215

Credits

12

Unit code

ACG5010

Credits

12

Unit code

ACG5100

Credits

12

Unit code

ACG5203

Credits

12

Unit code

ADM6005

Credits

12

Unit code

ASA5002

Credits

12

Unit code

BCO6007

Credits

12

Unit code

BHO6505

Credits

12
On successful completion of this course, students will be able to:
| | | | |
| --- | --- | --- | --- |
|   | 1. | Communicate complex knowledge to a variety of audiences, using known and yet to be developed tools in several contexts; |   |
|   | 2. | Analyse and critique different theoretical positions within the field; |   |
|   | 3. | Critically and creatively apply domain knowledge across a range of contexts; |   |
|   | 4. | Exhibit effective problem solving in the management and delivery of digital media projects; |   |
|   | 5. | Critically apply cognitive, technical and creative skills to identify, investigate, analyse, evaluate and scope complex problems, concepts and theories in a wide range of industry settings; and |   |
|   | 6. | Demonstrate understandings of different cultures, values and dispositions by developing designs for niche audiences. |   |
What's a unit?
A unit or 'subject' is the actual class you'll attend in the process of completing a course.
Most courses have a mixture of compulsory 'core' units that you need to take, and optional \'elective\' units that you can choose to take based on your area of interest, expertise or experience.
Credits
Each unit is worth a set amount of study credits based on the amount of time you study. Generally, 1 credit is equal to 1 hour of study per week.
Fees & scholarships
Fee type: Full-fee
The amount you pay for your course depends on whether you're a Commonwealth supported student or full-fee paying.
If you enrol in a:
To calculate the total cost of your course:
Select which units you'd like to study.
Look up the individual unit costs in the higher education unit of study fees list.
Add up the relevant amounts.
Scholarships & assistance
Apply for a scholarship to help with your study costs.
We can help with fee assistance and advice.
Admission & pathways
Meeting the minimum admission requirements does not guarantee you entry into this course.
Some courses receive more applications than the number of places available. In this situation we will also assess your education, work and other relevant experience.
If you do not meet the minimum requirements you may be eligible for one of our special admission programs. We also encourage you to explore our study pathways to help you reach your goal.
Bachelor/Honours degree: Completion of an Australian Bachelor degree (or equivalent) in a similar discipline
OR
Applicants with a minimum five (5) years approved work experience will be considered for admission to this course.
There are many ways you can start your education journey at VU. Pathways offer an easy transition between courses at different levels, so that you can start with a certificate and progress right through to postgraduate study.
Find out more about pathways and credits.
If you have completed study with another university or institution and believe you are eligible to receive credit for skills and past study, you can apply for advanced standing.
Applications for advanced standing can be made after a discussion with your course coordinator or academic adviser.
How to apply
Before you apply, consider whether you also wish to apply for:
You will need to create an account (or use your existing VU one).
Direct applications are due on 15 July 2018 for our next intake which starts on 23 July 2018.
Apply direct to VU
Use our Admissions centre to
Save incomplete applications to finish later
Submit applications for one or more courses
Track the progress of your applications
Upload any additional information we request
After you apply
It's important to check for emails from us (remember to check your Spam folder).
Complete any requests for information by the given dates, otherwise your application may not be considered
Enquire now
Please fill out the form below, and we'll get back to you shortly.

Information marked with an asterisk

*

is required.
At Victoria University, we aim to display accurate and complete course information online. However, we are unable to guarantee that every course change is currently displayed. You may contact the University directly on +61 3 9919 6100 to confirm the most up-to-date course fees, pathways and credit transfer, recognition of prior learning, admission and enrolment procedures, examinations and services available to our students.