Wednesday 22 October 2014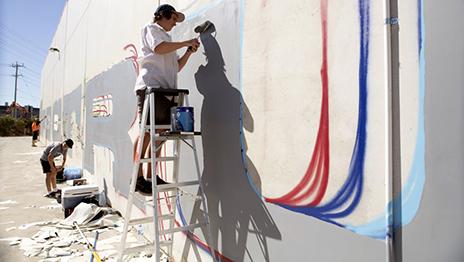 A 2014 Youth Affairs Council of Victoria Inc. award recognises the positive impact community arts projects can have on marginalised young people's wellbeing and education.
The B-Creative program, initiated by Brimbank Council's Youth Services, is a youth-led street art program which has been nominated as a finalist in this year's Recognising Excellence Awards for Delivery of Youth Services (READYS).
The Victoria Institute's Dr Alison Baker served as a research consultant on the project to conduct an evaluation to explore participants' experiences of the program and document the outcomes for young people.
Increasingly, local councils and community groups employ creative programs as a gateway to moni­tor and improve the welfare of vulnerable young people whilst simultaneously introducing them to educational and employment opportunities.
The B-Creative program hired professional artists to mentor the program participants to create 6 street-art styled murals in sanctioned spaces across the local government authority's region. Over the course of the project the young people involved developed their aspirations, commitment to civic activities and connections to the community.
Alison believes the program's success stems from its ability to create a hub of professional and creative development which also helps to introduce participants to new social connections and support services.
"The program channels the participants' energies into creative avenues, helping them to produce community art and improve their career prospects. At the program they have access to mentors who serve as role models and help them to hone their artistic skills," said Alison.
In a recent video interview, the program's participants spoke about the value and benefits the program add to their lives.
"The fact that I have people caring about me is something that I love. It [painting] brings me happiness. It's another world to me. It's freedom and you get to meet a lot of friends," said one of the participants.
"It's a time when you get to express yourself, your true self," said another participant.
The mentors, who are artists themselves and in some cases took part in similar street-art programs in their youth, unanimously agree that the program offers young artists the skills and knowledge to eventually turn their passion into a career.
"It's almost like a clandestine art school. They are being schooled and encouraged in this environment," said Sebastian, one of the mentors.
The broad range of skills taught in the program means that participants have the confidence and know-how to achieve their aspirational goals.
"I've always wanted to become an architect or graphic designer. I'd like to do something in art or design," said one participant.
"I've actually got a life where I realise the ins and outs of what you can do when you put your mind to it," said another.
Community engagement projects
Community engagement programs can include a variety of activities to provide important support to young people, particularly those experiencing disadvantage as Alison witnessed in recent visit to Brazil.
"Aqurela was one of the community engagement hubs I visited in the interior of the country. In one expansive site they have an education focus and another area dedicated to specific classes in arts and cultural activities," she said.
"Young people can also participate in sports such as karate and capoeira, a famous Brazilian dance combining acrobatics and martial arts with music. Young people choose their activities each semester and attend daily after school. This model has been really successful for them, providing young people with exciting opportunities, education support and the chance to transition and become program mentors after they finish school.
"With over 150 young people aged 6 through 21, this space aims to foster a sense of belonging and pride among young people, involving them in community life through public performances and events."
The Brimbank Community Soccer Hub project, an initiative by Brimbank City Council's Sports and Recreation Unit, aims to bridge the gap between informal social sport participation and mainstream competitions by giving newly arrived communities access and insight into operating a sports club.
Alison will once again explore participant's experiences of this initiative to document progress and gain a better understanding of participants' experiences of the program as well as identifying how it can potentially be improved.
Alison believes the common thread to success in any engagement program is allowing participants to express themselves and involving participants in decision making processes.
"These programs give young people a chance to be heard and a chance to develop positive social connections," said Alison.
"A mix of psychosocial and educational benefits flow from these informal learning settings, which also play an invaluable role for participants in establishing a sense of civic identity and a sense of belonging. The support in these settings cultivates their passion and triggers aspirations."
Dr Alison Baker welcomes enquiries regarding the commissioning of related research.