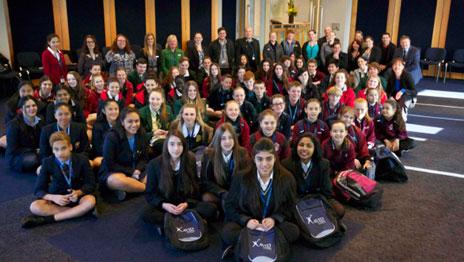 Hundreds of educators from across Australia will gather this week over a remarkable program that inspires young people to go to and succeed at university, and the workplace beyond.
The group will celebrate the fifth anniversary in Australia of AVID – 'Advancement via Individual Determination' – a program started in the USA more than 35 years ago to help under-achieving students go to university.
Victoria University's Victoria Institute for Education, Diversity and Lifelong Learning introduced AVID to Australia in 2010. Today 25,000 students in nearly 40 schools across Australia are involved in AVID, 2000 Australian teachers have received formal education in AVID's teaching strategies, and hundreds of university students have trained as AVID tutors.
AVID's 2015 summer institute will feature guest speaker Adam Mostogl, founder of Illuminate educational experiences and Tasmania's 2015 Young Australian of the Year. Adam will share insights on how his organisation – which will partner with AVID from next year – can empower young people.
The conference will also see AVID students explain how the program has helped them. Palmer United Party Senator Dio Wang will attend the summer institute to speak to teachers and students and observe AVID's immersion model of supported professional learning.
Julie Myers, principal at AVID school Wyndham Central College in Melbourne's west said student performance data at her school is showing a steady improvement as it focuses on "creating a community of high expectations."
Year 12 student and three-year AVID participant Laxmi Singh said AVID's extra support, practical skills, and university excursions motivated her to pursue a nursing degree starting next year.
The AVID Australia program was awarded a highly commended national prize in the Australian Tertiary Education Managers Association awards last year.
ABOUT AVID IN AUSTRALIA
AVID was created in the 1980s by Mary-Catherine Swanson, an English teacher in San Diego, USA to help the largely black and Hispanic inner-city students who were being bussed-in from less privileged areas to integrate into her school. Thirty-five years later, AVID has spread across America to more than 5,000 schools in 46 states, serving over one million students.
Victoria University's Victoria Institute of Education, Diversity and Lifelong Learning has been at the forefront of adapting the AVID program for Australian schools and conducting Australia-specific research with the assistance of a $1.4 million federal government Higher Education Participation and Partnerships Program (HEPPP) grant it received in 2011.
Recognising the strong correlation between students from disadvantaged backgrounds and lower university aspiration and enrolment, AVID's holistic philosophy raises the aspirations of all, but particularly diverse, disadvantaged, and under-achieving students by building specific academic, social and emotional skills from primary school onwards.
Since AVID was piloted at a single rural school in Wodonga, it has spread quickly across Australia. Today, 25,000 students across Australia in almost 40 schools are involved in AVID, 2000 Australian teachers have received formal education in AVID's teaching strategies, and hundreds of university students have trained as AVID tutors.
AVID develops explicit skills in writing, reading, inquiry-based and collaborative learning, and critical thinking. It teaches both teachers and students practical strategies such as Cornell note-taking and 'Socratic seminars', which help examine attitudes, knowledge and problem-solving abilities.
Trainee teachers and other students from local universities serve as AVID tutors and mentor younger students about university life. AVID students have opportunities to visit university campuses and sit in on lectures well before they graduate from high school.
Data are now being analysed from the nearly 40 schools in Victoria, Western Australia, New South Wales, Queensland and the Northern Territory that currently participate in AVID. They have reported significant academic, cultural, and aspirational improvements in students and their likely post-school destinations.
2016 will see Australia's first set of AVID-trained students graduate from secondary school.
Victoria University holds the license for AVID in Australia. Australia is the only country outside the USA to have been granted an AVID license.