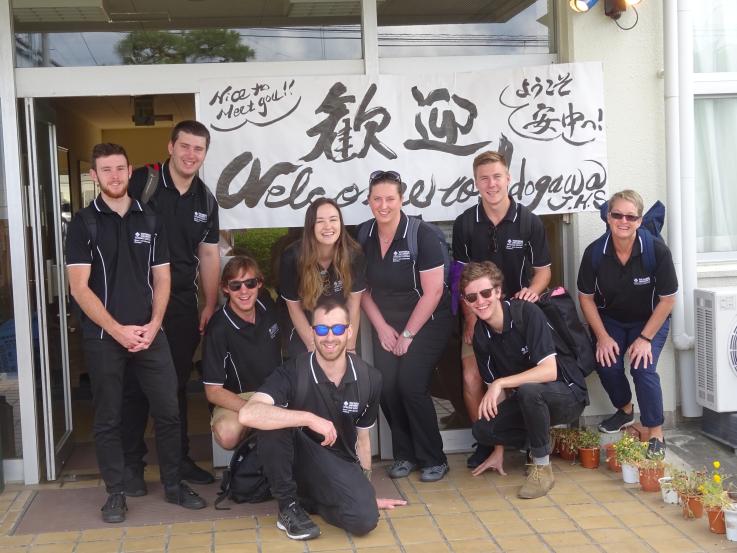 Understanding Japanese culture through sport is the aim of a new Victoria University (VU) study tour currently taking place in Japan's Shiga Prefecture and Kyoto.
Ten students from VU's various sports and exercise science programs arrived in Japan in early June on a mission to better understand the construction of sport in diverse countries and cultures.
Supported by the Federal Government's New Colombo Plan, the 18-day tour sees the students undertaking a range of activities to enhance their understanding of sport in the context of Japanese culture. Activites include:
teaching English and physical education at Adogawa Junior High School
participating in English, Judo, biomechanics, tennis and basketball lessons at VU's sister university, Biwako Seikei Sports University (BSSC)
camping, rock-climbing, canoeing and cycling with BSSC outdoor education students
attending seminars with Doshisha University students on sport injury, insurance, gambling and culture
watching a Nippon Professional Baseball game and a J League soccer match
completing an "amazing race" around Kyoto
hiking in the northern mountains of Kyoto
networking activities with Doshisha and BSSC students.
The tour counts as two units of study, therefore contributing to the students' degrees.
Tour leader Brent McDonald, a senior lecturer in the College of Sport and Exercise Science, says the expedition aims to increase students' cultural awareness of sport across the world.
"A lot of Australian students take for granted the meaning of sport because they're so deeply immersed in it. By taking them somewhere completely different, where they don't have English as a common ground, they get to see how sport operates and how its meaning differs deepening on the cultural context.
"One of the major outcomes of the tour is that students return with the ability to challenge some of the cultural constructs of Australian sport, and alter some of their practices accordingly," he says.
Aside from deepening the group's understanding of sport, Mr McDonald says the trip enhances graduate outcomes. For VU, the flow-on effect is the opportunity to strengthen our international engagement.
"We ran a similar tour in 2015 and it proved advantageous for the students when they graduated.
"In job interviews, the students were able to talk about how the experience of working in a different cultural context has enhanced their ability to engage with diversity."
The tour originates from Mr McDonald's experiences as a rugby player in Japan from 1994-1996, and his subsequent PhD on the ethnography of a Japanese university rowing club.
The tour is one of several VU international study tours funded by the New Colombo Plan mobility grant, which aims to enhance Australia's relationships with, and knowledge of, the Indo-Pacific by supporting Australian undergraduate students to study and undertake internships in the region.