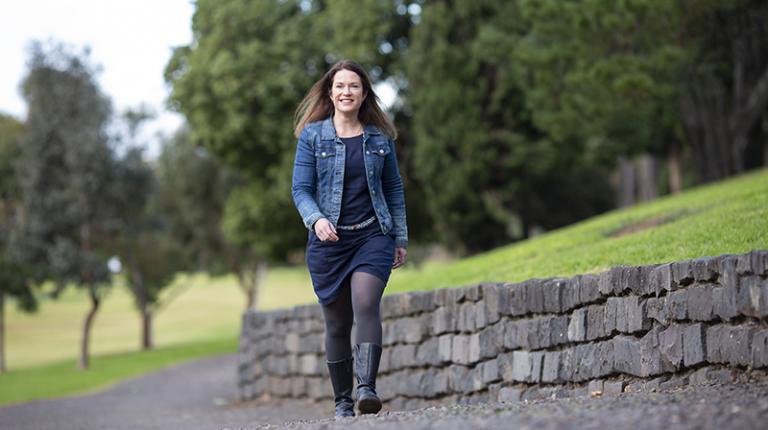 Victoria University's Professor Alexandra Parker shared her expertise on the physical and mental-health benefits of physical activity at a recent university and government forum.
Nearly 200 people, representing more than 80 organisations, participated in the inaugural ignite+VU, a partnership with the Victorian Chamber of Commerce and Industry (VCCI) and Victorian State Government.
The new initiative, which took place in July, promoted collaboration between VU's mental health experts and a range of businesses, industries and government leaders.
Alexandra's area of research includes measuring, understanding and promoting exercise and physical activity to optimise mental well-being and to prevent and treat mental illness in young people.
"We know that lack of physical activity is a global issue. The World Health Organization calls it a 'disaster in slow motion'. From a clinical and research perspective we're interested in further understanding the important role physical activity has to play in the prevention and treatment of mental health problems."
Physical activity has such a broad range of physical and mental health benefits. "Being more physically active can lead to better sleep patterns, which leads to more energy, which helps with concentration, which can prevent the onset of mental health problems or help people with diagnosed mental disorders achieve better treatment outcomes."
"The statistics around mental health and young people in particular are so alarming. We're talking about the well being of a generation; our future workforce. That's why I'm passionate about working with young people and having an early-intervention approach before problems become more difficult to treat," said Alexandra.
"The ignite+VU event was an amazing opportunity to speak directly to organisations who are actively looking for new ways to make improvements to the complex issue of mental health. Having the chance to talk about my work and share insights into my area of focus means organisations can discover the various ways we can work with a range of businesses to focus on the role of physical activity in mental well being."
As a direct result of Alexandra's address, around 25 organisations expressed interest in partnering with VU to explore ways to implement and improve mental health strategies.