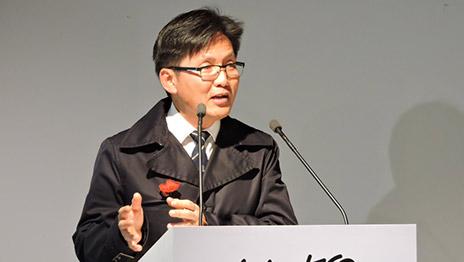 Emotions were raw at our recent Game Changers event at VU at MetroWest, discussing how Vietnamese settlement has changed the face of Footscray and Australia.
Phong Nguyen brought the audience to tears as he recounted personal stories of 40 years of Vietnamese settlement in Footscray and Australia, explaining why he left Vietnam by boat at age 18 with his mother.
"The dismissal of Australian Prime Minister Gough Whitlam changed the fate of hundreds of thousands of Vietnamese people fleeing human rights abuses being inflicted by the communist government", said Phong at VU at MetroWest in Footscray on 21 April.
Now President of the Vietnamese Community in Australia, Phong listed many reasons for his community's gratitude. But the stand out, he said, was Whitlam's successor, Malcolm Fraser, who defied public opinion and set up a system of offshore processing that enabled 55,000 refugees to enter Australia from 1975 to 1981.
Life was tough in Vietnam, he said, after communists took over. His father, a brigadier in the armed forces, was imprisoned for 13 years in a hard labour camp.
"The communist regime lured every South Vietnamese person who was in hiding and put them into prison gulag camps where they were stripped of all rights - of movement, education and trade. My mother struggled hard to care for us."
The 'game changer' for his mother, he said, happened while travelling on a bus stopped by soldiers looking for contraband. They found two kilograms of rice hidden in a woman's belongings, a gift from her sister to feed her seven starving children, and pulled her off the bus. "She fell to her knees begging them not to take it. They didn't care". The woman walked onto the road, was hit by a car travelling at speed and left fatally wounded 'with blood everywhere'.
Phong's mother vowed to risk dying at sea rather than continue living under communist rule.
"The new generation of Vietnamese Australians", Phong said, "are betwixt and between".
In response to an audience question asking if he felt Vietnamese or Australian, Phong Nguyen answered: "Both. It takes time to be accepted. And that's what it needs with this new community I see in Footscray now, the African community - time. But it will happen. It's just like it was for us years ago in Richmond".
"For the younger second generation Vietnamese in Australia it's different. All they know is Australia and the Vietnamese language is becoming lost. There's a joke in our community that says the young ones are yellow on the outside and white on the inside".
"That doesn't matter. It's inevitable".
"But the one thing that needs to remains strong in our culture is gratitude. We have so much to be grateful for".
Footscray University Town events & activities
This was one of a range of Footscray Uni Town events & activities brought to you as part of the ongoing Footscray University Town partnership between VU and Maribyrnong City Council.
Join the VU at MetroWest mailing list to receive regular updates about upcoming events, or find out about or other Game Changers events on the Footscray Uni Town news & events page.