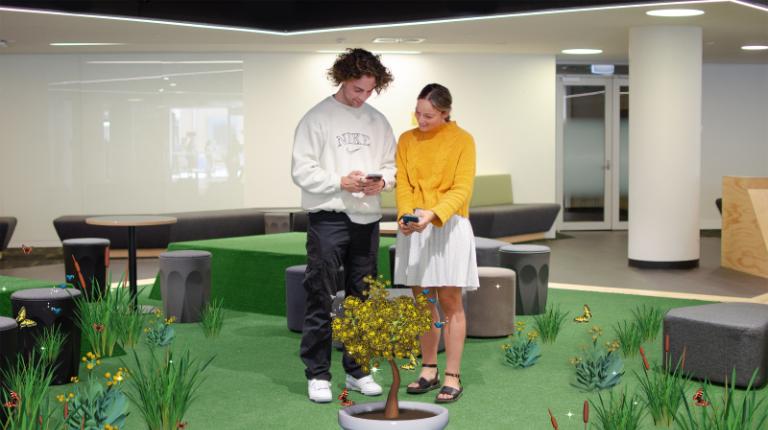 Victoria University's new augmented reality tour of its Footscray Park campus via its mobile app as been named finalist for the Best Education Project category of the 2022 iTNews Benchmark Awards for its innovative use of technology.
This new VU Explore feature is hosted on the Victoria University App, and was created with metaverse-ready elements not seen before in online tours at other institutions.
Campus visitors can use their phones as a gateway into an immersive virtual environment as they encounter collectible augmented reality (AR) holograms of indigenous plants while learning about key campus facilities and services, their locations, and VU courses.
VU Hive Lab Product Manager Kati Elizabeth said VU Explore's unique AR capability offers a truly mixed-reality experience.
"Users who collect all the native plant holograms during campus events can receive a free native seedling provided by the Iramoo Grassland Centre and Nursery located at VU's St Alban's Campus."
The virtual world of the app leads to a rewarding experience in real life.
Drawing on VU's commitment to Protecting Country, and informed by the University's Iramoo Nursery and Moondani Balluk Indigenous Unit, VU Explore has translated flora native to the Maribyrnong area into collectible holograms across campus.
While exploring the campus, users can also discover and scan decals to unlock an array of native plants including Bidgee Widgee, Gold Dust Wattle and Minnie Daisy in mixed reality.
VU Explore is latest feature of award-winning VU App 
VU Explore was developed as collaborative initiative between VU's Hive Lab, Information Technology Services, Future Students, and Connected Learning.
The local flora holograms were designed by VU Hive Lab digital designer Khuyen Phung and resident Indigenous digital artist Elijah Mcdonald.
"It was a very rewarding experience for our team to collaborate with the VU Future Students team and ITS on this new AR tour feature tour where the Indigenous natural history of the campus location is acknowledged within the virtual space – and then brought to life in people's hands" said Kati.
VU Explore is the latest innovation developed by the VU Hive Lab.
Their VU App, which was developed entirely in-house, has earned over 40,000 users and seven awards for digital design, innovation and entrepreneurship since launching in 2018.
In addition to hosting VU Explore, the VU App offers everything students need to navigate their life at VU in one place, including a digital student ID card, printing, course readings, assessments and results, timetable, learning activities, interactive directories and personalised notifications.
Winners of the 2022 iTnews Awards will be announced in early June.