Western Bulldogs
The association between Victoria University (VU) and the Western Bulldogs Football Club began during the 1980s. 
Our partnership is unique among Australian universities and sporting clubs. The multi-faceted relationship includes:
joint research and staff appointments
work placements for students
collaborative education programs
joint community activities.
In 2016 we're especially proud of our Bulldogs partners:
the VFL Footscray Bulldogs who won the 2016 VFL premiership.

 

Premier VFL partners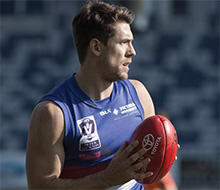 VU became the major sponsor of the Western Bulldogs VFL team Footscray Bulldogs in 2014.
They won the VFL final in their first year and in 2016,  giving them two VFL premierships in 3 years. 
As premier partners of the Western Bulldogs we have naming rights to Victoria University Whitten Oval. The oval is a legendary location in the west of Melbourne which has virtually become another VU campus.
This development builds on our reputation as Australia's leading sports university, a leader in sport science research, and an iconic institution of Melbourne's west.
Training & research
VU's internationally renowned sport scientists work side by side with the Bulldogs' coaching, medical and performance teams to develop players' skills and fitness in a structured research program. We have two sports scientists permanently embedded in the Western Bulldogs club, researching areas such as game analytics, player performance, skills acquisition and recruiting.
The partnership also gives the Bulldogs a unique opportunity to tap into world class sports science and elite sport best practice at home in the west to give them a winning edge. This includes their use of our cutting-edge sports science, training, research and world-class facilities.
Our sports science expertise will further help to develop the young football players in an ethical, moral and responsible manner.
VU research staff have been appointed to work specifically on Bulldogs research projects encompassing the areas of football performance, sport, active living and community development and sport management. Our research in human movement and sport science benefits from access to professional athletes and is rated well above world standard by the Australian Research Council.
About 30 VU students from sports science, marketing, accounting, community development and other disciplines also conduct research or complete cadetships at the club's Victoria University Whitten Oval headquarters.
Workplace learning
As a leading Australian sport university, VU works closely with elite sporting organisations including the Bulldogs to deliver industry focused education.
Students have the opportunity to take up placements with the Bulldogs in areas including biomechanics, exercise physiology, remedial massage and exercise rehabilitation, making VU sport graduates among the most in demand across the industry.
Cadetships
Our College of Sport and Exercise Science and the Western Bulldogs currently offer up to three cadetships each year in the area of sport science and exercise physiology . The Bulldogs accept cadets exclusively from VU, meaning that our graduates are a first choice for future employment and have the hands-on skills to pursue a successful career in the elite sports industry.
Clinics
Students of massage therapy and myotherapy gain hands-on experience treating players and members of the public at a student-run, public access clinic located at Victoria University Whitten Oval.
Students in other disciplines, such as business, administration, event management, marketing, tourism and hospitality also have the opportunity for work placements at the Bulldogs.
Find out more about sport and exercise science sport and exercise science placements available to our students.
Community programs
Both VU and the Bulldogs have a shared commitment to the development of the western region through collaborative community building programs.
Bulldogs Friendly Schools (BFS) program
VU pre-service teachers help to facilitate the BFS 'Footy in Schools' program in primary schools in the west. Primary students gain leadership and teamwork skills on the field they can apply to all aspects of their lives. At the same time, pre-service teachers benefit from valuable communication, leadership and coaching experience.
Sons of the West Men's Health Program
VU collaborates with the Western Bulldogs' Sons of the West Men's Health Program. The Program is designed to improve the health of men aged 18 years and over in the west of Melbourne and is the first program of its kind in Australia.
The Whitten Project
A regional collaboration across organisations in Melbourne's west, The Whitten Project aims to develop civic leadership and young leaders' confidence to contribute to their community and local council.
VU Achievement Scholarships
The Bulldogs were among the first supporters of the VU Achievement Scholarships and donate $1 for every club member towards the scholarships.
Western Bulldogs PhD collaborations
Seven current VU PhD students are conducting joint research projects with the Western Bulldogs. Areas of investigation include injury monitoring, skill acquisition, recruitment, physical training and physiology.
VU, in collaboration with the Western Bulldogs, has also announced two PhD scholarships offered for the first time in 2015.
Each scholarship project must be dedicated to one of the following topics:
"sleep, training and recovery"
"the physiology of heat training"
"development of athlete tracking and monitoring tools."
Bulldogs study support & professional development
The Bulldogs encourage their players to be well-rounded individuals, prepared for a career after football. VU's Elite Athlete program helps support players balance university with training and competition demands by offering flexible study options and career development support
The Western Bulldogs and Victoria University Professional Development Support Program helps staff of the Western Bulldogs continue their professional development through further study. Under the scheme, Victoria University makes a contribution to the fees of a small number of Bulldogs staff selected for the program each year.
Bulldogs VU Alumni
Many current and former Bulldogs players and staff are studying at Victoria University or are VU Alumni.
VU alumni who have played for the Bulldogs include Steve Wallis (father of current Bulldog and VU student Mitch Wallis), Kelvin Templeton, Terry Wheeler, Brian Cordy, Neil Cordy, Rick Kennedy, Simon Garlick and Brad Johnson.
Ten Bulldogs players have studied at VU in 2016: Easton Wood, Mitch Wallis, Zaine Cordy, Tom Campbell, Tom Boyd, Mitch Honeychurch, Declan Hamilton, Josh Prudden and Bailey Dean.
Contact us
Please contact our sponsorship team on +61 3 9919 1014 or email vu.sponsorships@vu.edu.au.
You can visit the Western Bulldogs website for more information about the club.