VU & Western Bulldogs renew partnership for five years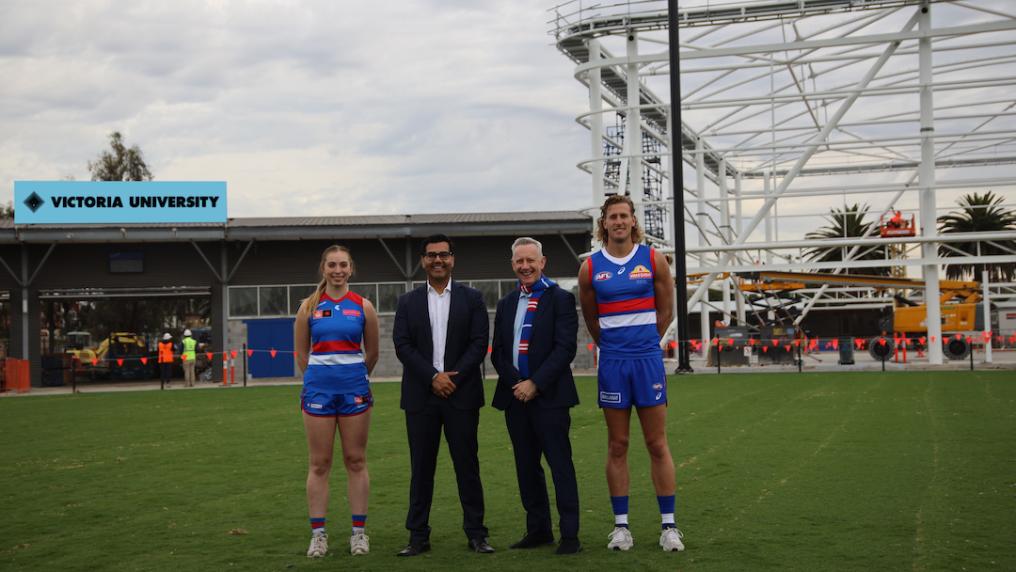 Renewed partnership agreement with the Western Bulldogs strengthens VU's position as a leader in sport.
Monday 29 May 2023
Victoria University (VU) has boosted its support for the AFLW Western Bulldogs team, and secured naming rights to the brand-new high-performance centre at Whitten Oval as part of a commitment to elite sport.
The renewed partnership was announced today and also included other significant opportunities for both Western Bulldogs staff and players, VU students and the western suburbs community.
VU and the Western Bulldogs originally partnered up in the 1980s, in one of the longest-standing relationships for both organisations.
Speaking of the five-year renewal, Victoria University's Vice-Chancellor Professor Adam Shoemaker emphasised the many benefits of the partnership for both organisations.
"We are very excited to expand our deep relationship with the Western Bulldogs to an even greater scale. Not only does this partnership strengthen the University's position as a leader in sports, but it embeds our students within the Western Bulldogs high performance team. The result is a learning experience unlike any other," Professor Shoemaker said.
With our research and advocacy for women in sport, we are also incredibly proud to add AFLW Western Bulldogs to our Sports Science Program. This is a natural step for us to boost our support for the team and the many players who are VU students.
Western Bulldogs President Kylie Watson-Wheeler said the club is immensely proud of its association with VU and is excited about the future with the University.
"Everyone at the Western Bulldogs is extremely proud of our partnership with VU, both for the longevity of our relationship and the way we have grown our connection over the years," Ms Watson-Wheeler said.
"Our relationship with VU has many touchpoints across the Club, which have positively impacted our players, coaches, staff and the community of the west.
VU's elevated commitment to include increased support for our women's football program is exciting for the Club, as we continue to lead the way in the AFLW space. We look forward to working alongside VU for the next five years and beyond, and we thank them for the successes our partnership has already delivered.
The partnership agreement spans a number of opportunities in the areas of sponsorship, education offerings, student and staff development, player pathways, as well as expertise in sports science and remedial massage.
AFL player Aaron Naughton and AFLW player Elisabeth Georgostathis , both currently studying Bachelor of Education (P-12) are the 2023 Player Student ambassadors.
VU and the Western Bulldogs will continue to offer the Graduate Certificate in Strength and Conditioning - a joint venture course designed for professionals working in the industry as well as recent graduates looking to develop their careers.
VU and Western Bulldogs partnership in numbers:
10 AFL players and 1 AFLW player studying at VU
18 students conducting work integrated learning within the Western Bulldogs
3 physiotherapy students conducting cadetships with the Western Bulldogs in AFL and AFLW teams
Joint-funded sports science role, 10 undergraduate roles, 4 honours students and 2 PhD's each year
17 pre-services teachers (VU students) delivering the Bulldogs Friendly Schools Program to 9 schools in 2023
8 students per year completing massage or myotherapy cadetship with the AFL team 
Approximately 20 students performing massage treatment on AFL, AFLW, VFL and VFLW players once per week