Overview
Advance your career in the fields of transport, logistics and supply chain management, with the Graduate Certificate in Transport Systems at Victoria University.
This graduate certificate will expand your transport-systems knowledge and skills, helping you prepare for further postgraduate study or a leadership position in the field.
Update and expand your knowledge of general business in the context of transport and infrastructure management, and discover strategies for addressing contemporary challenges in this rapidly growing sector. 
You'll gain expertise in:
transport and logistic systems
public transport and strategy
transport policy governance and safety
future transport and infrastructure strategies.
The graduate certificate provides an admissions pathway into the Master of Supply Chain Management if you are unable to enrol directly into that course. 
With our Graduate Certificate in Transport Systems, you will gain real-world experience through top companies in the logistics and ERP professions.
We have strong industry partnerships that benefit our business students, including with SAP.
Benefit from our specialised School for Transport Systems and Civic Infrastructure – a cross-university school, uniting teaching and learning, research and innovation under one banner.
The school's focus is building and sustaining Australia's capabilities in transport systems and civic infrastructure. Working with transport organisations and their communities, the School for Transport Systems and Civic Infrastructure finds ways to respond to social, technical and environmental changes.
Supply chain and logistics is one of Victoria University's research focus areas providing independent, industry-focused study and development.
Need some advice?
Request a call back from one of our experienced VUHQ course advisers to get your questions answered.
Request a call back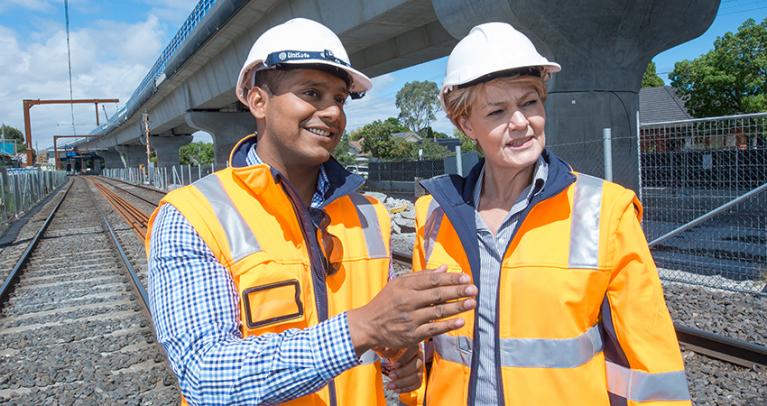 Careers in transport systems
Graduates may find careers in operator and management-level positions in transport across sectors, third-party service provider, intermodal goods warehousing and distribution, and public transports. 
We encourage you to progress to our masters degree, and aim for one of the following roles:
supply chain manager
logistics professional
global procurement specialist
sourcing/distribution manager
enterprise resource planning developer
project leader
transport coordinator
warehouse supervisor
import/export manager
customs manager.
Course structure
To attain the Graduate Certificate in Transport Systems, students will be required to complete 48 credit points consisting of:
48 credit points of professional core units
Unit code

BMO6001

Credits

12

Unit code

BMO6002

Credits

12

Unit code

BMO6003

Credits

12

Unit code

BMO6004

Credits

12
On successful completion of this course, students will be able to:
| | | | |
| --- | --- | --- | --- |
|   | 1. | Exemplify initiative, ethical practices and social responsibility when leading in a contemporary transport systems work environment; |   |
|   | 2. | Critically analyse, reflect on and synthesise complex transport operations, safety compliance, governance and challenges in contemporary logistics and public transport systems; |   |
|   | 3. | Resolve complex transport issues through networks of interconnected businesses and stakeholders collaboration to develop strategies and execute action plan for an integrated transport systems; |   |
|   | 4. | Articulate complex knowledge and ideas to a variety of audiences in a culturally diverse communities and businesses; |   |
|   | 5. | Exhibit accountability in autonomous and collaborative judgements and innovative thinking in response to contemporary and future intelligent transport systems and challenges; and |   |
|   | 6. | Analyse and evaluate research findings applicable to business environments as part of the course work. |   |
What's a unit?
A unit or 'subject' is the actual class you'll attend in the process of completing a course.
Most courses have a mixture of compulsory 'core' units that you need to take and optional elective units that you can choose to take based on your area of interest, expertise or experience.
Credits
Each unit is worth a set amount of study credits based on the amount of time you study. Generally, 1 credit is equal to 1 hour of study per week.
Fees & scholarships
Fee type for this course: Commonwealth Supported Place (CSP)
Fee type definitions
The amount you pay for your course depends on whether you're offered a Commonwealth supported place (CSP) or a full fee-paying place.
Students who enrol in a:
In addition to your tuition fees, you may also be charged a Student Services & Amenities Fee (SSAF).
Scholarships & assistance
Apply for a scholarship to help with your study costs.
We can help with fee assistance and advice.
Admission & pathways
Meeting the minimum admission requirements does not guarantee you entry into this course. Some courses receive more applications than the number of places available. In this situation we will also assess your education, work and other relevant experience.
If you do not meet the minimum requirements you may be eligible for one of our special admission programs. We also encourage you to explore our study pathways to help you reach your goal.
Find out more about how to apply for our courses, and our commitment to admissions transparency.
Entry requirements
Completion of an Australian Bachelor degree (or equivalent) in a similar discipline
OR
Applicants with a minimum five (5) years approved work experience will be considered for admission to this course.
There are many ways you can start your education journey at VU. Pathways offer an easy transition between courses at different levels, so that you can start with a certificate and progress right through to postgraduate study.
Find out more about pathways and credits.
Use our credit calculator to find out how much credit you can receive toward Victoria University higher education courses based on your previous studies.
If you have completed study with another university or institution and believe you are eligible to receive credit for skills and past study, you can apply for advanced standing.
Applications for advanced standing can be made after a discussion with your course chair or academic adviser.
How to apply
Before you apply
Before applying, you should consider whether you also want to apply for:
Special admission programs: Depending on your life circumstances you may be eligible for special consideration of your application.
Advanced standing: If you have significant experience or studies elsewhere you may be eligible for credit for some units of your course and not have to undertake them.
Find out more about applying for our courses.
Apply direct to VU
Direct applications are due on 17 April 2022 for our next intake which starts on 26 April 2022.
---
Already a VU student?
If you are already a VU student, apply direct to VU using our Admissions centre to transfer into this course. Remember it's best to be accepted into your new course before withdrawing from your current one.
After you apply
It's important to check for emails from us (which may go to your spam/junk folder).
Complete any requests for information by the given dates, otherwise your application may not be considered
Enquire now
Please fill out the form below, and we'll get back to you shortly.
Information marked with an asterisk "
*
" is required.
At Victoria University, we aim to display accurate and complete course information online. However, we are unable to guarantee that every course change is currently displayed. You may contact the University directly on +61 3 9919 6100 to confirm the most up-to-date course fees, pathways and credit transfer, recognition of prior learning, admission and enrolment procedures, examinations and services available to our students.