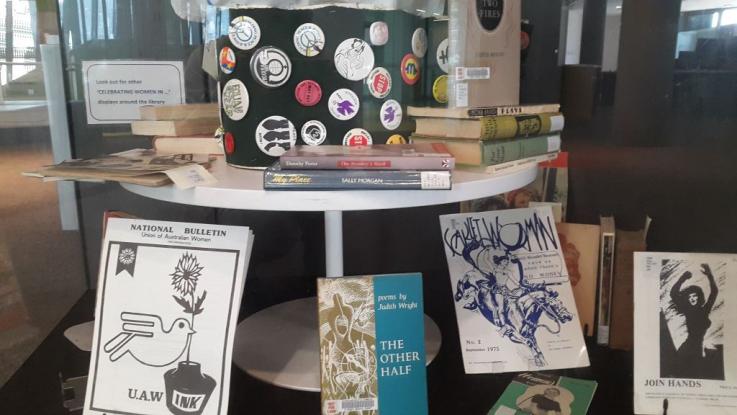 Footscray Park Library is showcasing the works and achievements of women associated with Victoria University.
'Celebrating Women in Special Collections, Print and Sport' draws on our special collections, work by VU academics, and books and articles by and about notable women. The display complements the current MetroWest exhibition Her Place: Women in the West, where items from our Crow Collection are exhibited.
On exhibition are items from several Special Collections, including the Regional Archive of the Victoria University Library which preserves the records of individuals and organisations from Melbourne's west.
VU's Special Collections support our key research areas, and are worth a look. Artists and writers find inspiration in our rare and valuable books, journals, and unpublished social and historical documents. Prominent local artist Emily Floyd used the collection to inform her exhibition The Dawn.
We are proud to display books and refereed articles by women on the VU academic staff too. These cover the arts, education, health, science and more.
We also pay tribute to women's contribution to sport with recent VU-authored sport articles in The Conversation and books about women in sport. These celebrate top Australian athletes such as Cathy Freeman, and our partnership and connections with groups including:
The range of material on display is just a sample of what VU Library curates in the Special Collections, what is available in the general collection, and book publishing we assist.
Works on display
Special collections
Two display cabinets near Reserve/Hold Room, level 2, Building P, showcase books and articles by women or about women, including:
Works by VU academics
Victoria University staff whose book and bio are included in the display (located near the lift, opposite the stairs) include:
Sport
You'll also see the following sport-related titles: