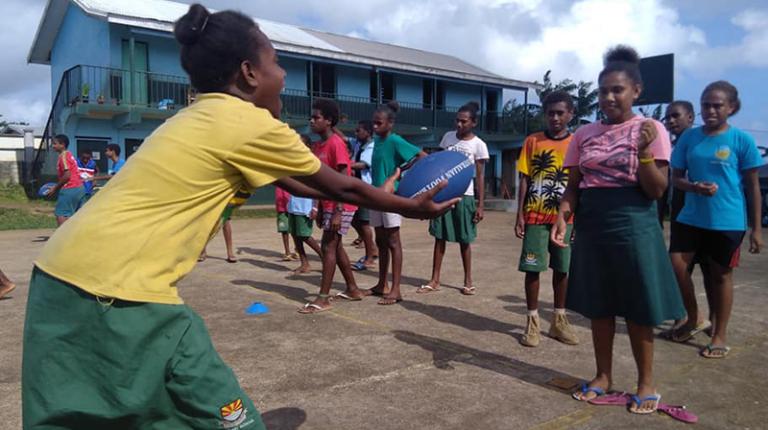 Removing the barriers to enable girls and women to play and lead in sport and physical activity, and study sport management, is at the heart of VU's curriculum design for sports courses. A group of students is working on a project to take this concept to Vanuatu.
"AFL Vanuatu is focused on the development of gender equality through the prevention of gender-based violence and development of positive health and physical activity habits of girls and women. This is a great opportunity for our students in this unit to identify strategies and good practice case studies specific to their culture, to further encourage girls and women," says Professor Clare Hanlon of the College of Sport and Exercise Science and the inaugural Susan Alberti Women in Sport Chair.
Professor Hanlon coordinates the unit 'Building and sustaining participation', an evidence-based practical unit where students study the enablers and challenges faced by different groups of people and how to overcome these. In this case the difficulties are those faced by girls and women in AFL in Vanuatu, and as a result an online Guide for AFL Vanuatu has been developed to help recruit and retain girls and women in AFL.
Working with Nancy Patterson, the AFL Vanuatu Program manager, and manager of the children's program Pikininikik, and Ben Drew, AFL South Pacific development manager, the students are addressing these difficulties from a number of perspectives – individual, social, organisational, community and policy.
"What we are doing will strengthen and help improve the program AFL already has in place," says student Katelyn Tucker, who is studying Youth Work and Sport Management and also coaches under-14 girls' cricket.
The Guide aims to help women improve their health and fitness and socialise more through playing AFL with the assistance of community organisations.
"It is also a way of using footy as a tool to educate people about gender-based violence," says student Anne Marise Sajorne, who is focusing on sport for development in her Bachelor of Sport Management, Sport and Fitness, Administration / Management.
Among the challenges girls and women face are the scattered geography of Vanuatu's islands and the distances between towns. Communication can be difficult; a high percentage of girls and women don't have phones and internet connections can be spasmodic. Cultural ideas about sport and gender can also discourage girls and women from participating, particularly as they get older.
"The opportunity our students have to listen, learn and create strategies to assist Pacific Island countries such as Vanuatu will enhance their employability upon graduation. This is a practical example they can provide in their job applications and during interviews. This opportunity would not have been possible without support from DFAT New Colombo Plan Mobility Program," says Professor Hanlon.
A further group of students who are enrolled in this unit in November will design a guide for AFL Fiji.