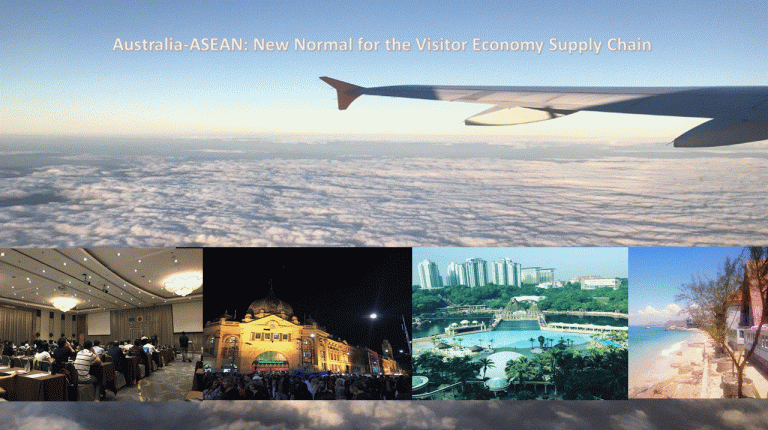 Victoria University's (VU) Institute for Sustainable Industries & Liveable Cities, Business School and School for the Visitor Economy recently held the first event for the 'Australia-ASEAN: New Normal for the Visitor Economy Supply Chain' project and webinar series, funded by the Department of Foreign Affairs and Trade Australia-ASEAN Council.
The webinar posed the question, 'How has the visitor economy supply chain been impacted by COVID-19?' and was attended by over 420 guests across industry, academia, government, community leaders, students and stakeholders from Australia, ASEAN countries and around the globe.
Introduced by VU's Dianne Semmens, Deputy Vice-Chancellor for Vocational Education, the discussion included speakers:
Carla Giuca, Head of the Visitor Economy Capability and Workforce Branch at the Australian Trade and Investment Commission (Austrade)
Professor Diena Mutiara Lemy, Dean of the Faculty of Tourism at Pelita Harapan University and Secretary General of the Association of the Indonesian Tourism Tertiary Education Institutions
Suan See Tan, Founder and Director Eagle Horizon Sdn Bhd
Dr Pairach Piboonrungroj, Associate Dean of Faculty of Economics and Founding Director of the Supply Chain Economics Research Centre at Chiang Mai University
Michel Koopman, Chief Operating Officer at Nova Hospitality.
In total, 25 speakers, including industry and government leaders and academic experts, shared insights on the impacts of COVID-19 and recovery strategies to support visitor economy supply chain resilience.
The webinar concluded with a networking session where participants were able to connect and discuss potential collaborative opportunities, with over 250 participants from across ASEAN countries. Closing remarks were presented by Professor Andy Hill, Victoria University's Deputy Vice-Chancellor for Research and Impact.
Networking groups on Facebook and LinkedIn  have been established to sustain connections, develop future communications and enhance collaborations. A report compiling the findings and recommendations from the project will be released in 2023.
The project is being led by Dr Catherine Lou and  Dr Joanne Pyke from VU, together with Prof Terry De Lacy, Dr Thu-Huong Nguyen and Dr Madelene Blaer. In partnership with collaborators from Thailand, Malaysia, Vietnam and Indonesia. The team includes: 
Assistant Professor Dr Wanamina Bostan Ali from Prince of Songkla University
Maheswary Subramani from Victoria University Sunway Malaysia
Dr Le Minh Thanh from Van Lang University
Belinda Rimbo from Study Melbourne, Victorian Government.
The project received support and engagement by industry partners, including:
the Chartered Institute of Logistics and Transport Australia (CILTA)
Victoria Tourism Industry Council (VTIC)
Melbourne Convention and Exhibition Centre (MCEC)
Executive Wealth Circle
Women in Logistics and Transport (WiLAT) Australia
Australia Food Export Company Pty Ltd
Thailand Convention & Exhibition Bureau
Songkhla Convention and Exhibition Bureau
Malaysia Sunway Education Group
Wisdom Woods Training Centre
Association of Tourism Attractions Penang
AME Training Academy
Indonesia Association of the Indonesian Tourism Tertiary Education Institutions
Vietnam Southern Airport Services Company.
Future webinars
The project will deliver another two webinars, focusing on how stronger leadership and digital transformation can support supply chain resilience. Webinar details will be circulated soon and participation from across related disciplines is welcomed.
To join the Australia-ASEAN Visitor Economy Supply Chain Network, please go to: