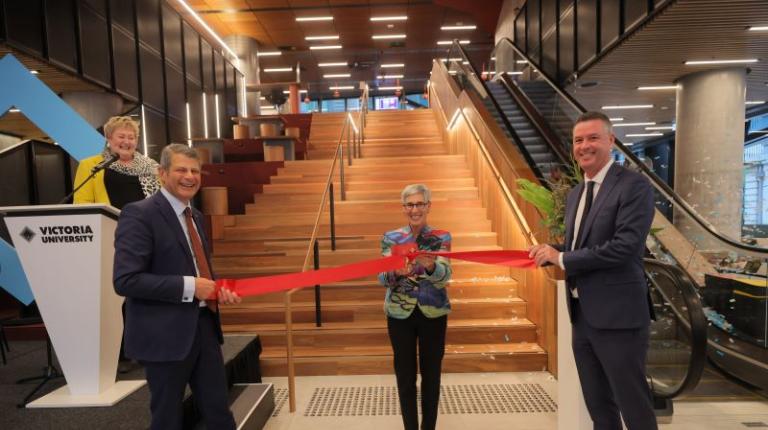 Victoria University (VU) today officially opened its commanding 32-storey VU City Tower, with the Governor of Victoria, Her Excellency the Honourable Linda Dessau AC, formally cutting a ribbon and welcoming thousands of students and staff to Melbourne's newest educational landmark.
Located in the heart of Melbourne's legal and commercial district, the VU City Tower consolidates VU's distinguished business and law degrees with vocational training programs on one campus, showcasing the University's unique approach to dual-sector learning.
VU City Tower also hosts strategic partners and real-world training that enhance students' skills, knowledge and employability through industry-focused learning and clinical experiences.
Immersive, purpose-built spaces occupy the top nine levels, enhancing interactions between students, industry and the public.
Offering a range of professional personal services to the public, students can perfect their skills as they provide low-cost or even free treatments in realistic settings under the supervision of experienced and qualified teachers.
Personal services for public at VU City Tower
The building also hosts industry partners and partnerships, demonstrating VU's 'flipped campus' approach that embeds complementary industries into VU campuses to enhance employment prospects for students.
Partners & partnerships in VU City Tower
VU City Tower also has 47 general-purpose teaching spaces for up to 1600 students, and a student social hub on Level 10 with kitchen amenities and an external balcony maximising outdoor space and city views.
VU Chancellor the Honourable Steve Bracks AC said "with community and industry connections at its core, the VU City Tower brings the University's flipped campus model to life.
"It offers students outstanding opportunities to work with leading businesses and immerse themselves in their chosen professions well before graduating. This is the campus of the future – reimagined now."
PHOTOS OF THE OPENING CEREMONY featuring Victorian Governor Linda Dessau and VU Chancellor Steve Bracks available upon request.