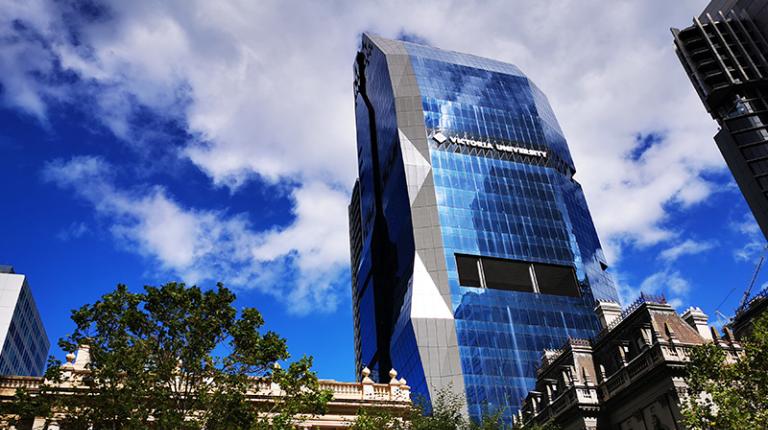 Victoria University (VU) has confirmed almost 100 of its courses in both higher education and vocational training will move to its new 32-storey VU City Tower in the heart of Melbourne's CBD from the end of April 2022.
Vice-Chancellor Professor Adam Shoemaker said VU City Tower formed the striking centrepiece of the new City Campus on Queen and Little Lonsdale Streets for courses in business, osteopathy, dermal sciences, hairdressing, beauty, early childhood education, sport management, law, English language, and research.
"By consolidating courses from three of our former campuses on Flinders Street, Flinders Lane and King Street, we have created an innovative, sustainable, digitally-enabled and industry-focused precinct where higher education and TAFE courses are offered together," Professor Shoemaker said.
"Even more, it brings industry partners right onto the campus itself, opening up a wealth of student placement and internship opportunities in the same building.
"This is the future of education. It reflects our ambitious vision to become a global leader in dual-sector learning and research," Professor Shoemaker said.
Opening on Tuesday 26 April 2022, the VU City Tower has been designed to support and complement the VU Block Model – a revolutionary, award-winning model of teaching and learning that VU introduced to Australia's higher education sector in 2018.
"Students will thrive at this campus, which encourages dynamic and interactive learning in purpose-built practical classrooms and clinics for smaller groups," Professor Shoemaker said.
"With industry connections at its core, the VU City Tower offers students and staff outstanding opportunities to partner and work with leading businesses and professionals, both on campus and at its CBD doorstep," Professor Shoemaker said.
VU City Tower will accommodate a full range of student services including a library, IT support, and a social hub on Level 10 with a student lounge, external balcony, and a café. Practice clinics for osteopathy, dermal therapy, hairdressing and make-up will also be open to the public.
Students currently enrolled in courses to be transferred to the VU City Tower will continue studying at their current campus until they move to the new building from 26 April. See the list of courses offered at VU City Campus.