A Coughlan Family Affair - VU students & elite athletes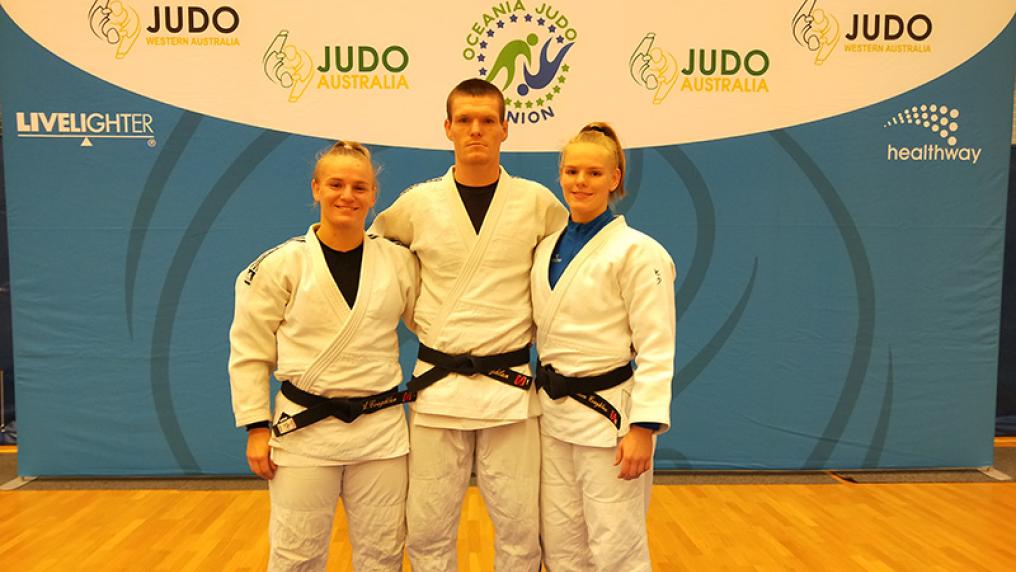 VU Sport caught up online with three of VU's Elite Student-Athletes who amazingly are all members of the same close-knit family.
Tuesday 27 October 2020
Recently, VU Sport had an early evening catch-up with three of VU's Elite Student-Athletes who amazingly are all members of the same close-knit family (not to mention their shared residence)! Packed into an office in Footscray's Resilience Training Centre (a hub for elite combat sports training), Eoin, Aoife and Maeve Coughlan gave us an update via Zoom on how they have been travelling throughout these challenging times.
While the chat centred around the new look of their daily lives and study commitments, we also received further insight into their Judo careers and memorable highlights from them thus far.
As each of them have earned a spot on Judo Australia's categorised (high-performance) athletes list, the siblings have decided to make the best out of a bad situation through intensive training. Falling under the 'Professional Sport' banner as elite athletes, they have all been granted worker permits and thus have been able to continue their conditioning as a select group. Maeve said "this has been huge in making sure we are all physically and mentally prepared for a return to competition, whenever that may be" when explaining their situation.
Practising COVID-safe Judo
Continued access to their high-performance training centre is something the Coughlans are extremely grateful for. This appreciation clearly manifests in their actions, symbolising how much both their sport and training space mean to them. For instance, they each spend time outside of their own rigorous training schedules either passing on wisdom to the next generation of Australian judo talent or staffing the centre.
Significant changes to both national and international ranking systems consistently contribute to Judo's ever-changing landscape, and this year these changes have fortuitously coincided with substantial alterations to normal life in light of the current pandemic. As the trio are now so familiar with the skill of adaption, they have made "COVID-safe" Judo a thing, however impossible this may seem.
Focus on study during downtime
Throughout a period marred by competition cancellations, the siblings have also taken the opportunity to increase their focus on study. The youngest of the bunch, Maeve, is in the middle of her Bachelor of Exercise Science (Clinical Practice) , older sister Aoife is finalising a double degree in Bachelor of Sport Science (Human Movement)/Sport & Recreation Management while eldest brother Eoin is balancing a Certificate III in Electrotechnology Electrician UEE30811 (now offered as Certificate III in Electrotechnology Electrician UEE30820 ) with an apprenticeship through the Victoria University Polytechnic.
All three of them praised the flexibility of their studies, which they believe has assisted them in managing their academic and elite sporting commitments concurrently. In particular, they singled out VU's Block Model as a pivotal factor in both helping them keep up with their coursework and the ease of their transition into digitally-supported remote learning . When discussing study, Maeve mentioned:
"I'm actually really liking the online classes because it means I can take advantage of the lack of competitions and travel this year to get some extra block units done." 
Olympics on the cards
Despite having garnered an incredible array of achievements, from Eoin's appearance at the 2016 Rio Olympics to Maeve's top-10 finish at the 2019 World University Games and Aoife's 5th place finish at the Perth Oceania Open in the same year, the last thing that these three are going to do is dwell on these feats. Although Eoin unfortunately missed out on a spot in the squad for next year's rescheduled Tokyo Games, Aoife finds herself both extremely close to qualification and presented with a golden opportunity to complete her double degree before the Games come around.
We would not be surprised to see the Coughlan name showing up on our screens sometime soon.
In spite of their relentless hunger for success, each of the siblings have taken moments to stop and smell the roses along the way. While the luxurious Paradise Island in the Bahamas still stands as one of Maeve's favourite competition locales, Aoife was intrigued by the uniqueness of Uzbekistan. When prompted, Eoin recalled a memorable training camp in the Austrian Alps which was attended by many fellow Olympians and involved a homestay with a local family.
Though the current climate has also kept them away from their parents and family home in Traralgon for a number of months, the Coughlans embody true optimism as they train the week away (sometimes involving a bit of friendly fire), hit the books in between and tune in to the footy on the weekends. They look forward to getting back on the road and we are equally excited to see what the future holds for each of them.
---
Conor O'Farrell is an AFL SportsReady trainee in the VU Sport team, gaining valuable experience across a range of programs. With a keen interest in journalism, he joined our Sport Services Manager to meet the Coughlan siblings and write up this story.
Contact us
Scott Cashmere
Sport Services Manager, Sport and Health Department (VU Sport)
[email protected]