Overview
Gain high-level skills and become a trusted beauty expert with a Diploma of Beauty Therapy SHB50121 at Victoria University Polytechnic.
This beauty-therapy course will advance your beauty-treatment skills and prepare you for management positions in salons and spas.
Develop your knowledge of the theory and science behind beauty treatments and techniques, and gain extensive hands-on experience. You will complete a practical placement in a salon of your choice, as well as learning in our beauty salon and the classroom.
This course provides training in basic and advanced beauty therapy techniques and services including:
facial treatments
lash and brow treatments
manicures and pedicures
make-up
waxing
body massage and treatments
spa treatments
advice on and selling of retail skin care and cosmetic products.
You will also learn valuable and transferable business and management skills for running a beauty salon.
Everything you learn at Victoria University Polytechnic has direct links to the real world. You'll develop practical skills through hands-on learning so you're job-ready when you graduate.
In addition to your practical placement, you'll get real-life work experience at Aura at VU, our City Campus student-run hair, beauty and massage salon.
This salon provides the ideal training environment, where you can practise your skills while providing a wide range of beauty services to the public. You'll also gain valuable experience arranging bookings and greeting clients.
You'll learn from expert trainers and work under their guidance.
VU's Learning Hubs are welcoming spaces where you can improve your study and employability skills.
Our students can attend Learning Hubs at one of five VU campuses. We offer maths, writing, careers and English-language advice, and show you effective ways to study and manage your time.
Our programs include:
workshops
drop-in sessions
peer mentoring
maths and writing resources
resume and career guidance.
We also have accessibility support services and counselling services available for all students.
The Diploma of Beauty Therapy is offered at the VU City Campus, in the brand-new, sustainably-built, 32-level VU City Tower in the heart of the city.
Melbourne's latest educational landmark showcases VU's unique approach to learning: a single entrance opens the doors to opportunities across a range of emerging professional areas.
On the 19th floor, the student beauticians practise their skills, fully supervised in our clinic that is open to staff, students and the general public.
Need some advice?
Request a call back from one of our experienced Victoria University Polytechnic course advisers to get your questions answered.
Request a call back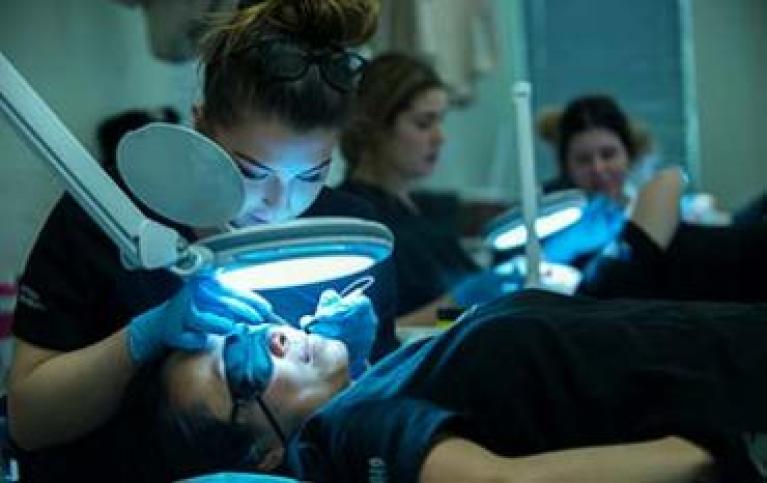 Students develop hands-on beauty therapy techniques at our City Campus.
Careers in beauty therapy
The beauty, massage and make-up industry is growing. The Diploma of Beauty Therapy SHB50121 is the highest level of qualification in the beauty industry. Job prospects are good, with employment for beauty therapists expected to grow (see Labour Market Insights).
As a qualified beauty therapist, you could find employment in spas and salons here or overseas. This qualification prepares you to manage your own beauty salon and employ staff. You could also work from home as a freelance beauty consultant.
Potential career options include:
salon beauty therapist
salon manager or owner
department store or pharmacy cosmetic consultant
spa therapist
health spa or resort manager
spa therapist on a cruise ship
beauty consultant for international cosmetic companies
freelance therapist or beauty consultant
cosmetic or beauty equipment sales representative
beauty editor or journalist
beauty educator.
Course structure
To be awarded SHB50121 Diploma of Beauty Therapy, a student must complete a total of Twenty-nine (29) units of competency, consisting of:
Twenty (20) core units, and;
Nine (9) elective units, of which:
One (1) unit from Group A: Infection control
all units from any one of Group B, C, or D:
Group B: Electrolysis/Diathermy
Group C: Relaxation Massage
Group D: Spa Treatments
remaining units from the list below, elsewhere in the SHB Training Package, or any other current training package or accredited course.  
Victoria University Polytechnic offers the following specialisations:
All units from Group D electives must be selected for award of the Diploma of Beauty Therapy (Spa Treatments).
VU Polytechnic delivers the electives listed in the 'course structure and units' below. These electives have been selected based on industry needs, graduate pathways and/or student and teacher feedback.
VU Polytechnic delivers the electives listed in the 'course structure and units' below. These electives have been selected based on industry needs, graduate pathways and/or student and teacher feedback. Alternative suitable electives are only available via Recognition of Prior Learning (RPL) and Credit Transfer (CT).
Unit code

SHBBBOS008

Unit code

SHBBCCS005

Unit code

SHBBFAS004

Unit code

SHBBFAS005

Unit code

SHBBFAS006

Unit code

SHBBHRS010

Unit code

SHBBMUP009

Unit code

SHBBNLS007

Unit code

SHBBNLS011

Unit code

SHBBRES003

Unit code

SHBBSSC001

Unit code

SHBBSSC002

Unit code

SHBXCCS005

Unit code

SHBXCCS006

Unit code

SHBXCCS007

Unit code

SHBXCCS008

Unit code

SHBXIND003

Unit code

SHBXWHS003

Unit code

SIRXOSM002

Unit code

SIRXSLS001
Group A: Infection Control:
Group B: Electrolysis/Diathermy:
Electives of this group is not currently offered by VU Polytechnic.
Group C: Relaxation Massage:
Unit SHBBBOS009 and SHBBSPA007 are the only Elective of this group offered by VU Polytechnic.
Note, this unit is list below in Group D
Group D: Spa Treatments:
Unit code

SHBBBOS009

Unit code

SHBBSPA005

Unit code

SHBBSPA006

Unit code

SHBBSPA007
Group E: General Elective Units:
Unit code

BSBESB401

Unit code

SHBBCCS007

Unit code

SHBBSKS009
Alternate Elective Unit (domestic only):
Students who complete this course work relatively autonomously, and are accountable for personal outputs. Their work involves the self-directed application of knowledge and skills with substantial depth in some areas where judgement is required in planning and selecting appropriate equipment, services and techniques. Elective units allow specialisation in areas such as electrolysis/diathermy, relaxation massage or spa treatments.
Fees & scholarships
Fee type for this course: VET
Fee type definitions
The amount you pay for your course depends on whether you're offered a government subsidised place or a full fee-paying place.
Students who enrol in a:
government subsidised place pay subsidised tuition fees (the government contributes the rest), and may be required to pay a Student Services and Amenities Fee along with any material fees
full fee-paying place pay the full fee tuition rate (which includes Student Services and Amenities Fee and any material fees).
Calculate your VET course fees.
Find out more about:
Scholarships & assistance
Apply for a scholarship to help with your study costs.
We can help with fee assistance and advice.
Admission & pathways
Meeting the minimum admission requirements does not guarantee you entry into this course. Some courses receive more applications than the number of places available. In this situation we will also assess your education, work and other relevant experience.
If you do not meet the minimum requirements you may be eligible for one of our special admission programs.
Find out more about how to apply for our courses, and our commitment to admissions transparency.
Entry requirements
There are no formal entry requirements for this course.
As part of the application process, applicants must complete a Pre-training Review (PTR) and undertake a literacy and numeracy (LN) assessment to determine suitability for admission and to identify support needs.
There are many ways you can start your education journey at VU. Pathways offer an easy transition between courses at different levels, so that you can start with a certificate and progress right through to postgraduate study.
Find out more about pathways and credits.
Use our credit calculator to find out how much credit you could get towards your course, based on your previous study.
You may be able to complete your qualification sooner through formal recognition of your existing skills. This is known as Recognition of Prior Learning (RPL).
To receive RPL, we assess your previous work, education and life experiences against recognised qualifications. Applications for RPL can be made prior to enrolling.
Call us on 1300 TAFE VP (1300 823 387) to discuss RPL options with the course manager.
On completion of this course you will be guaranteed entry into the following degree and in some cases receive credit for your study:
You will be credited for up to 96 credit points of study.
Find out more about our study pathways to VU
How to apply
Prior to enrolment, all applicants will be required to complete a literacy and numeracy assessment to assist with determining eligibility and to identify learning support needs.
Before you apply
Before starting your application, please read through the step-by-step VU Polytechnic application process to make sure you have all the necessary documents and information ready to successfully complete your application.
Before applying, you should consider whether you also want to apply for:
Apply direct to VU
Apply direct to VU using our admission centre, submit applications for one or more courses, track and save your progress and upload additional information.
---
Already a VU student?
If you are already a VU student, apply direct to VU using our Admissions centre to transfer into this course. Remember it's best to be accepted into your new course before withdrawing from your current one.
After you apply
It's important to check for emails from us (which may go to your spam/junk folder).
Complete any requests for information by the given dates, otherwise your application may not be considered
Enquire now – TAFE
Please fill out the form below, and we'll get back to you shortly.
Information marked with an asterisk "
*
" is required.
Please note that if changes to this course occur, VU will notify students as soon as possible.
At Victoria University, we aim to display accurate and complete course information online. However, we are unable to guarantee that every course change is currently displayed. You may contact the University directly on +61 3 9919 6100 to confirm the most up-to-date course fees, pathways and credit transfer, recognition of prior learning, admission and enrolment procedures, examinations and services available to our students.