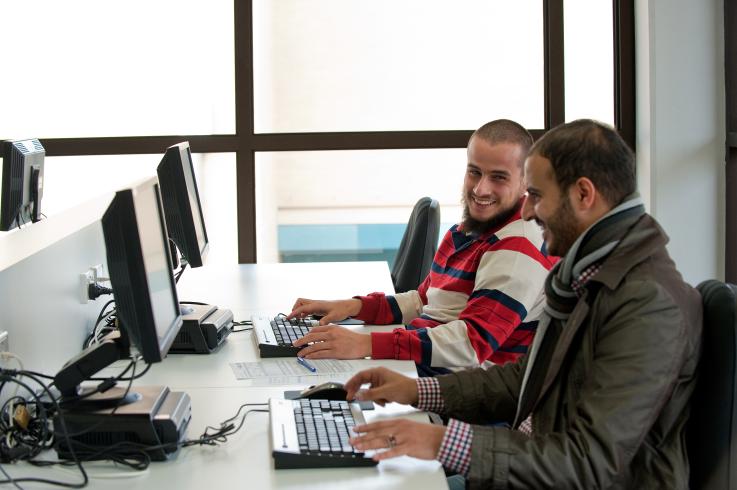 As you progress through your candidature, you can access Library's research study spaces, resources and services.
Research study spaces
Library's research study spaces provide a place and the required facilities (PCs connected to the VU network, power points for laptops and other devices, WiFi access, storage lockers) for working on your thesis.
All VU research students – Doctor of Philosophy (PhD), Doctor of Business Administration (DBA), Masters by Research and Honours – from any campus can request access to one of these research study spaces:
Entry to these spaces is during library service hours.
Getting access
Complete and submit a Fob Access form to obtain an access fob (electronic key) for the Footscray Park Research Student Lounge and Werribee Research Room. The form is available at the Footscray Park and Werribee Library Service Desks, and it can be emailed to you if you send a request to [email protected]. For more information, see Research Study Spaces.
To access the St Albans Research Study Rooms, ask for the keys at the St Albans Library Service Desk. Keys are issued for one day, and a $10 fee will apply for a lost key.
Research support
The Library provides a range of resources and services as you gather information and data throughout the research process.
Literature review 
To conduct the literature review, get advice on how to develop a search strategy to find the literature on your research topic. See Library Guide Literature Review for tips about using Library search to identify relevant databases, guidelines to write a systematic literature review and tools to organise information.
To locate research materials, you can:
When using material created by someone else to write your thesis, you need to consider your right to use that material. See Copyright for researchers for information about using copyright material, internet and social media and presenting at conferences. To request permission to reproduce copyright protected material, use the template available .
To organise and manage information, you can download the bibliographic software Endnote available via MyVU portal. See the Library Guide EndNote.
Research data collection 
Having a data management plan to organise, store and secure your research data can help you save time and avoid data loss. Refer to the Library Guide Research Data Management for guidelines for data management and access to VU R: Drive (research data storage), and  tips on how to use data visualisation. 
If you are working with sports science data, complete the self-paced learning program in the Library Guide 10 Sports Science Data Things to help you manage your data and find Sport Science Data Repositories.