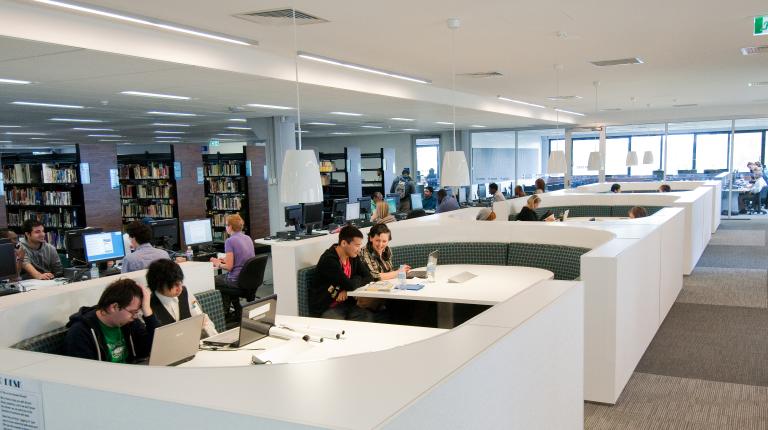 Welcome to all new and continuing students. Here's a quick guide for VU Library online resources and services, and on campus facilities for your studies.
New to the library
Come along to VU Library Start, a short session to help you find the library service or resource you require for being successful at university.
You can also view the Library Guide VU Library: Start for basic information and approaches to find what you are looking for.
Access library resources and services:
Online resources
On the library homepage, you can look for library resources in the following ways.
Library search box
Use the Library search box to search and find:
books to borrow – you may borrow as many print books as you need
e-books to read entirely online, or download to your PC or mobile device
journal articles
videos.
A-Z databases
Use the link A-Z databases (external link) to access some 300 online databases including Lynda.com (external link) (video) courses for work and study skills.
Getting help
You can also find advice and help on the library website, within VU Collaborate and Victoria University App.
New academic integrity modules
To help you understand what's expected when you submit academic work, complete Module 1: What is academic integrity? in the Student Induction Space, within VU Collaborate.
More modules will soon be available to build your academic integrity skills.
Online Library guides
Access various Library Guides (available on the library website):
Library course and unit guides provide library resources for a specific course or unit.
How to Guides explain common library tasks: finding resources, using e-books, evaluating information, and conducting a literature review.
Referencing Guides explain how to reference, or list, the resources used in assignments.
Chat
Chat, part of the 'Ask a Librarian' service, is online assistance available via the Library website and within VU Collaborate.
Research & referencing drop-ins
For a face-to-face session with a librarian, just drop in at the Learning Hubs (external link) or a campus library. See workshops & drop-in sessions.
VU EasyRef
Access VU EasyRef via the Victoria University App downloaded on your smartphone. VU EasyRef (external link) is an easy-to-use interactive referencing tool accessible on mobile for referencing styles:
IEEE (Institute of Electrical & Electronics Engineers referencing style)
VU Harvard (Harvard or author - date style)
APA (American Psychological Association referencing system).
On campus facilities
Visit a campus library for assistance, WIFI and PC access, quiet study, printing and borrowing.
Our Library service desk staff can assist with:
computing and printing facilities
setting up MyVU access
student email and other essential online tools
accessing the library's range of online resources.
When borrowing books, you can use your digital ID student card within the Victoria University App to check out your books at a self-service borrowing machine at Footscray Park and St Albans campus libraries.