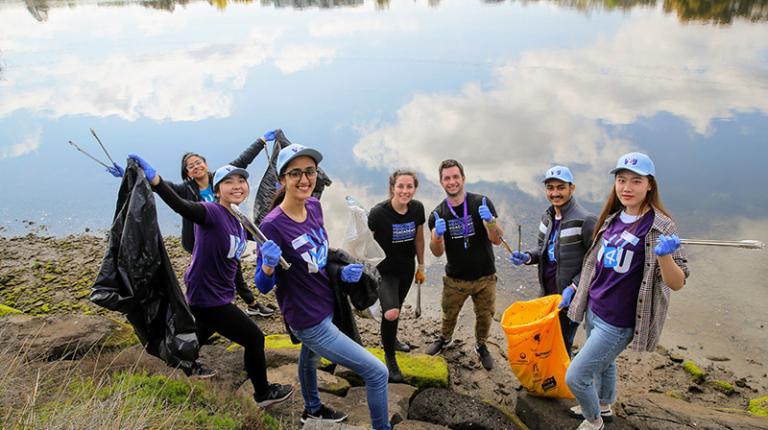 Victoria University held its largest annual volunteering event on Friday, with hundreds of students, staff and alumni helping out 22 community organisations across Melbourne's west.
Now in its ninth year, this year's V4U Day saw more than 300 students and 40 staff volunteer at 21 community projects, as well as at at the All Abilities Sports Day project at the Footscray Park Campus.
First year international student, Manya Sachdeva, 18, gave her time to Footscray's Women's Circus, a not-for profit organisation that provides training and creative opportunities for women.
"I moved here from Dehli so I thought the day would give me a chance to make some new friends while helping out at the same time," the psychology student said.
"I think V4U Day is a good opportunity to get out into the community and meet people you wouldn't normally meet."
"I've spent the day painting and doing a general clean up to make way for the [Women's Circus'] upcoming show."
Women's Circus Executive Director Devon Taylor said it was a great initiative by Victoria University.
"It's been a fantastic turn out. We've got around 20 students doing painting, gardening and general tidying, and we've even got some students doing Christmas wrapping," Ms Taylor said.
"This day is essential for us and I'm so appreciative of the students for donating their time to such a good cause."
Victoria University Pro Vice-Chancellor Students Naomi Dempsey said V4U Day had gone from strength to strength.
"Victoria University is proud to promote such an inclusive day," Ms Dempsey said.
"V4U Day is a great example of students, staff and alumni coming together to give back to the local community."