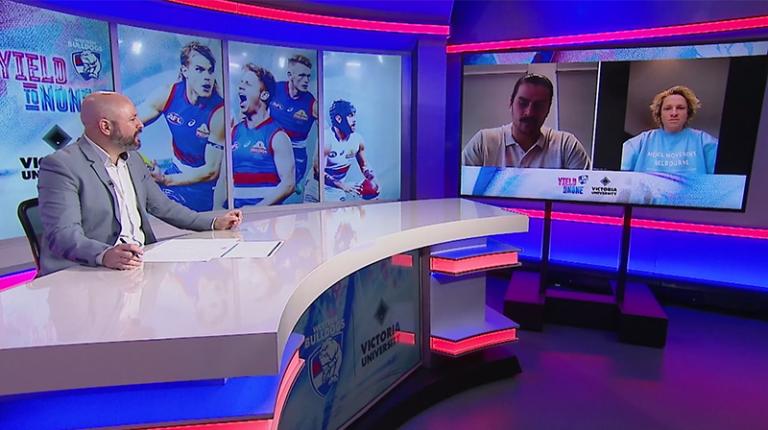 The VU Data Lab look's into the performance of players using the AFL Player Rating, thanks to Victoria University and Western Bulldog's List and recruitment Analyst, Sam McIntosh, PhD.
The Western Bulldogs once again continued their exceptional finals' form with an impressive win over Port Adelaide. Over the past two finals, there has been a focus on the Western Bulldogs' second-half performances, with a second-half surge against Essendon, and a hard-fought second-half close win over Brisbane.
However, this week we'll take a deeper look into their first-half performance, and the areas where the Western Bulldogs outclassed Port Adelaide in order to put the preliminary final to bed by half time.
How the team made an impact in the first half
From a team perspective, there were two main areas where the Bulldogs saw a significant improvement in comparison to other first halves this season: the mid-chain and shots at goal.
Ratings scored from the mid-chain are those which occur from any possession excluding those from a stoppage or an intercept. A high rating in the mid-chain is usually conducive to successfully possessing the ball after receiving it from a teammate in highly contested situation. A prime example of this is a contested mark from a long kick down the line, or inside 50.
Some of the major contributors to rating in this category from the first half are highlighted in the figure below.
The second area where the Bulldogs were exceptional at was their shots at goal.
They scored their second highest first-half rating for shots at goal this season, and did so at a high rating point per shot at goal ratio.
This highlights that not only were the Bulldogs scoring often, but they were also scoring at a rate above the expectation for the shots which were taken.
Top performing players
There were many players instrumental in getting the Bulldogs to a 58-point lead at the halftime break. However, three players were particularly influential.
While many were worried about Marcus Bontempelli's condition coming into this week's game after a late knock to his knee in the semi-final, Marcus came out and had his highest-rated first half since prior to their Round 13. His ability to win the ball at stoppages, link up with teammates in transition from defence to attack, as well as two goals were all major contributors to this first half rating.
The below figure outlines his ball use ratings in first halves this season. To put the Preliminary Final first half rating into perspective, Marcus doubled his average first half rating in a category which he is already the #2 averaging midfielder in the league.
Mitch Hannan was another who was dominant in the first half, scoring a 13.2 rating points of his season high total of 14.1 rating points in the first half. Almost all of Mitch's points came from either pressure or being involved in a chain of play leading to a score by either himself or another Western Bulldogs player.
It would be remiss not to mention Bailey Smith once again. He picked up where he left off last week, and went one step further to improve on last week's season high performance.
Last week, we highlighted that his fourth quarter against Brisbane was the most influential quarter of football he's played this season. However, this week Bailey was able to surpass the rating he had in that fourth quarter in both his first and fourth quarters against Port Adelaide. His first quarter was particularly impactful, with his link up play and two goals helping to break the game apart.
Tune in for the VU Data Lab segment in the Grand Final special show
Fans will be able to tune into a special pre-game Grand Final Show, delivered by Western Bulldogs on Friday 24 September. Please visit Western Bulldogs website to find out more details on how to watch the show.
Hosts will share more insight from the VU Data Lab and analyse the last two times the Bulldogs and Demons met in the lead up to the 2021 AFL Grand Final.
Good luck to the Bulldogs!
Watch the VU Data Lab Segment: 2021 WB Finals Countdown Show - Preliminary Final.