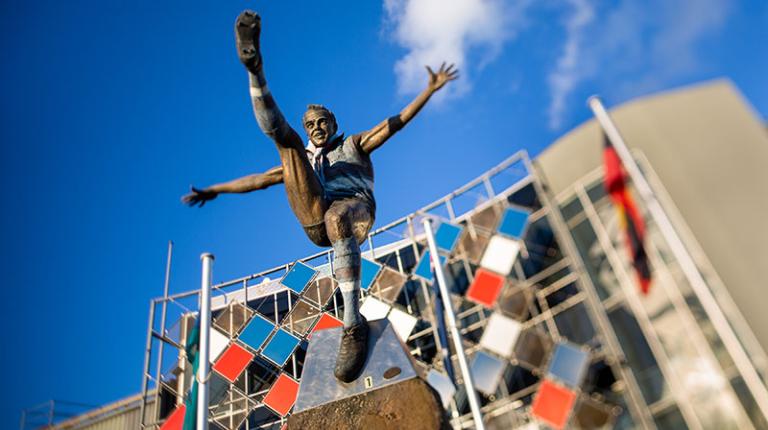 With the 2022 AFL season hitting its midpoint, Victoria University and Western Bulldog's analyst Sam McIntosh, PhD has put together a summary of the Western Bulldogs season so far, as well as some insight into what the stats are saying for their run towards finals.
The VU Data Lab looks into the performance of players using concepts outlined by the AFL Player Ratings. The main components we investigate are centred around the nature in which each player takes possession of the ball, the improved equity which results from their disposal of the ball, as well as their defensive actions and the impact this has on their opponent's ability to effectively possess and dispose of the ball.
Season so far
Following on from last season, we've seen the Bulldogs again cement their game around excelling at winning the ball from stoppages, and elite ball use in general play.
As it stands at their bye round, they're rated the #1 team in the league for both areas, with the combined effect contributing to them also being the #1 team at scoring from stoppages.
The main contributors to this likely come as no surprise, with Marcus Bontempelli, Jack Macrae, Tom Liberatore, Josh Dunkley and Adam Treloar leading the way at stoppages as they've done in previous years.
However, in they've had an increased contribution to stoppage wins by both Tim English and Bailey Smith. Elite ball use in general play has also been a pillar of their game off half-back with Bailey Dale, Caleb Daniel and Ed Richards all featuring within the top 15 general defenders from cumulative ball use in general play up until the bye rounds.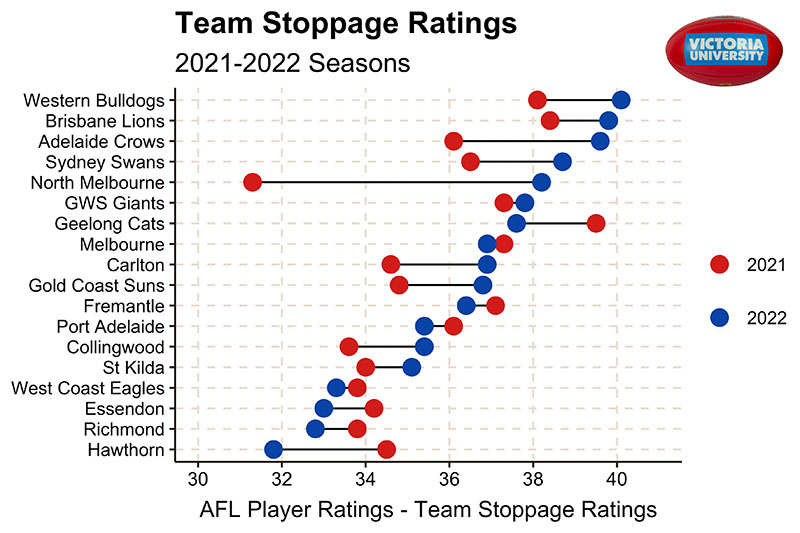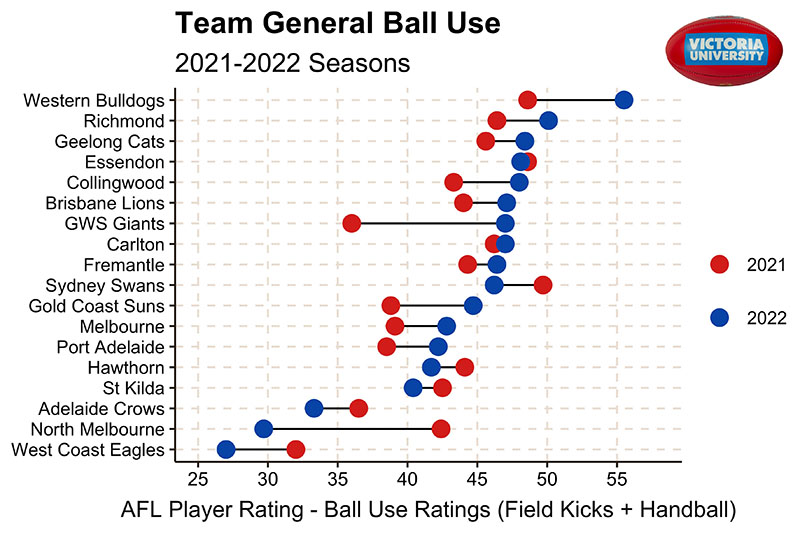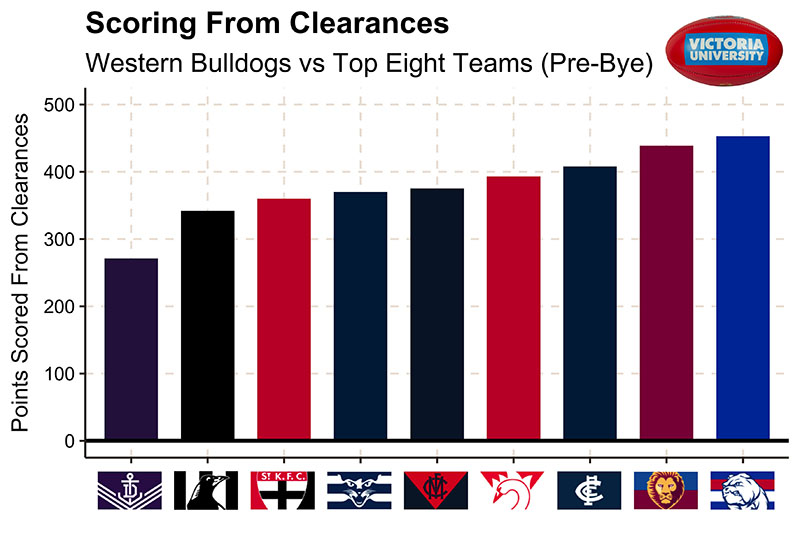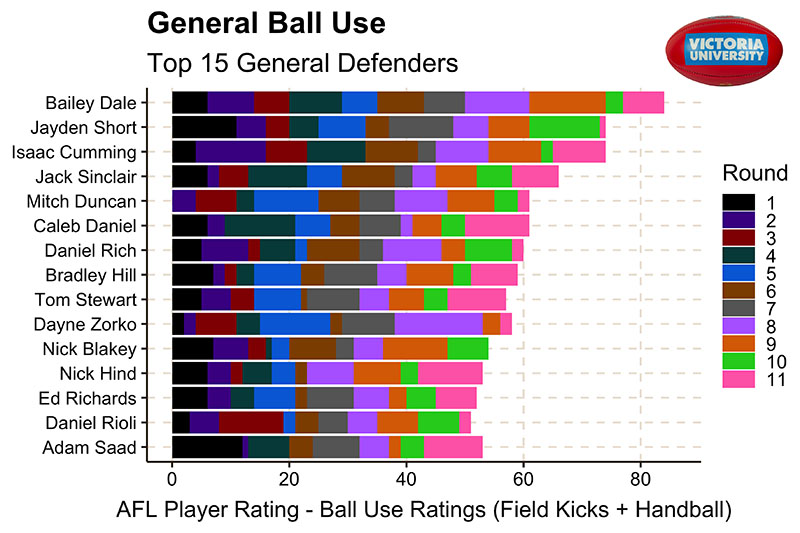 Players on the rise
Western Bulldogs have again been on the higher end of players used, with 36 different players partaking across the first 12 rounds (second most, only team with more is West Coast). Like last year, this has seen an increased use of younger and less experienced players.
After starting the season with three games in the VFL, mature aged recruit Robbie McComb made his debut in round six and has managed to cement himself as a valuable contributor on the wing and up forward. His performance has improved across his first six matches and has managed to outperform his expected range of performance twice so far.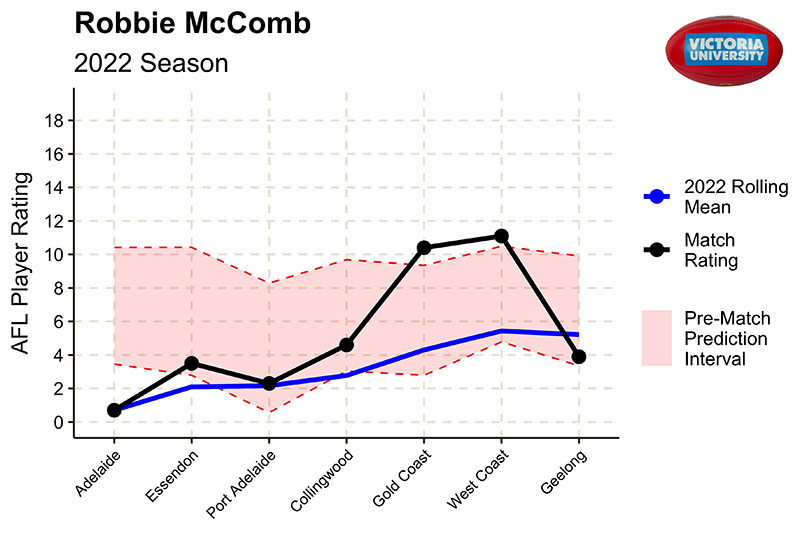 After just five matches in 2021, and spending most of 2020 on either a wing or as a half forward, Ed Richards has settled himself back into a rebounding defensive role like that of which he was drafted. His elite ball use in general play has been excellent leading him to be one of Western Bulldog's most improved players this year.
His performance has been consistent across the first twelve matches, where he has exceeded his expected range of performance in five matches and is yet to put together a performance that doesn't reach his expected range.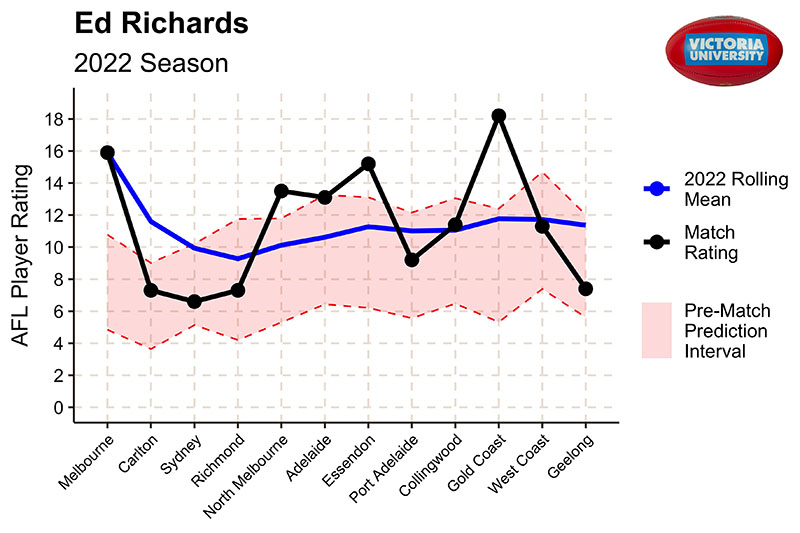 The run home
With one of the hardest schedules in the back half of the year, the Bulldogs will have their backs against the wall to make a play for finals.
One aspect of their game which will need to lift on the run home is their defensive pressure, which was a pillar of their performance in 2021 (particularly in big matches). Whilst they still rank mid-table for pressure, it is currently below that of their 2021 levels, as well as that of many of the current in-form teams.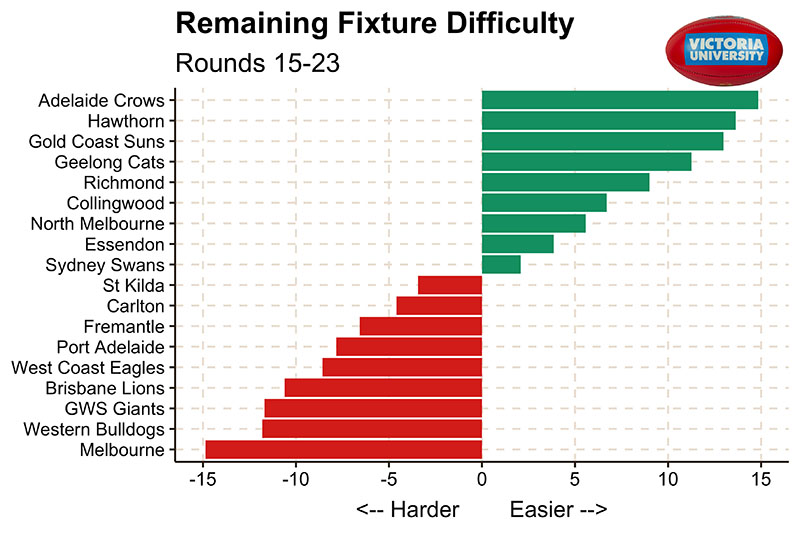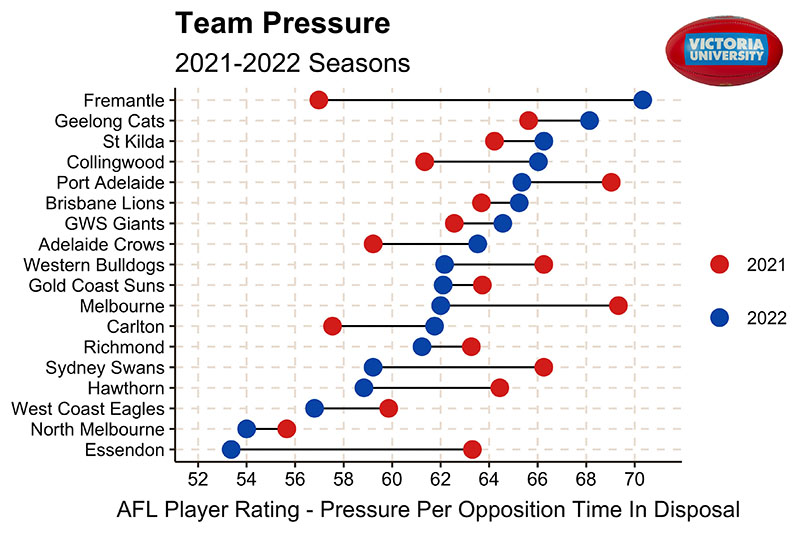 One player who has missed a large part of the season thus far and can have a large impact on results going forward is Tim English.
Tim made a notable return from injury and illness against West Coast in round 11, recording Western Bulldog's highest rated individual performance so far this season.
He has elevated himself this season, and sits as the #1 ruckman for score involvements, metres gained (both effective and assisted) as well as overall ball use. 
If Tim can continue to contribute towards Western Bulldog's dominance from stoppages, and the team can combine that with elite ball use in general play and a lift in defensive pressure, they'll give themselves every opportunity to be playing in September for a fourth consecutive season.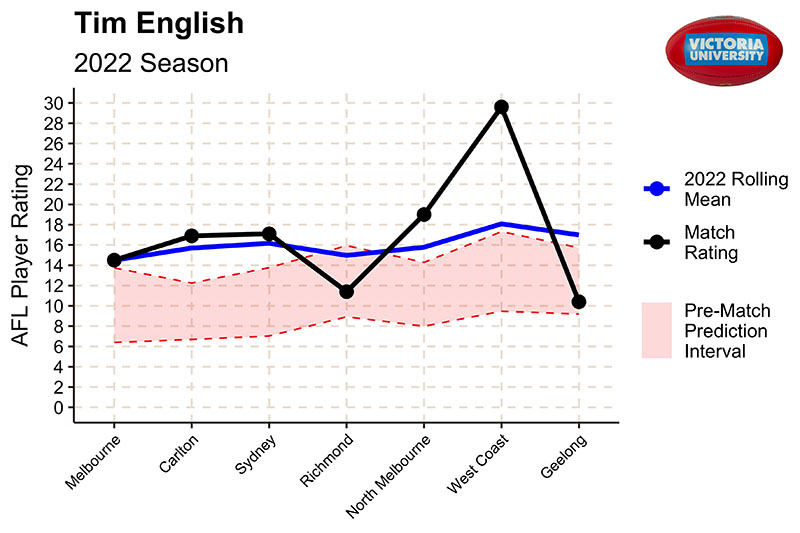 Sam McIntosh currently works for the Western Bulldogs as a List and Recruitment analyst where he analyses and interprets data on both AFL and talent pathways players. Sam is also a researcher with Victoria University where he analyses player performance data in various team sports to assist sporting organisations improve their decision-making process.
---
A modified version of this article was originally published on the Western Bulldogs website.