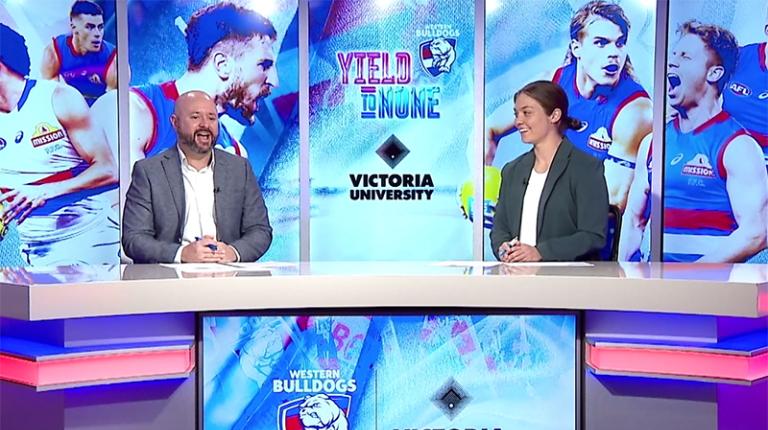 With the 2021 AFL finals well and truly upon us, Victoria University and Western Bulldog's PhD Candidate Sam McIntosh, PhD provides a summary of the Western Bulldogs season so far, as well as some insight into what the stats are saying for their upcoming challenge.
The VU Data Lab looks into the performance of players using the AFL Player Ratings. In Sam's opinion, "it's the best objective indicator of a player's overall performance available to the AFL". Some of you may have heard of it, but most of you that have won't have seen how it's put together. Every action falls into one of the five main categories (refer to infographic):
Ball Winning (Stoppages, Mid-Chain and Intercepts)
Ball Use (Kicks, Handballs and Shots at Goal)
Defensive (Pressure and Spoils)
Hitouts
Negatives (Frees against, Debits and 50m Penalties).
The amount of points is relative to how much it improves their team's likelihood of scoring next.
Season so far
Overall, Western Bulldogs have three amongst the top eight rated players in the league this season. It probably doesn't come as a surprise that these three are Marcus Bontempelli (second), Jack Macrae (fourth) and Tom Liberatore (eighth). Bailey Dale is also the highest rated General Defender in the league, and has been Western Bulldogs' most improved player this year. His average performance has improved as the season has gone, as has the level at which he's been expected to perform, and has only once performed below this expectation, whilst exceeding it frequently (blue line in the figure below indicates his season rolling mean, and the red band indicates a pre-match prediction interval).
In addition to the overall AFL Player Rating, there are various players which rank highly in certain categories. Bailey Dale leads the competition for field kicks, as well as overall ball use. Aaron Naughton is second for actions relating to the Mid-Chain (linking up play from teammates), and Tom Liberatore is both fourth for ball winning at stoppages, and fifth for defensive pressure.
Watch the VU Data Lab segment in the Western Bulldogs Finals Countdown Show where hosts Sam Hargreaves and AFLW premiership Bulldog Ellie Blackburn provide analysis on the players before the Elimination game.
The Elimination Final
Last weekend's Elimination Final saw the Western Bulldogs bounce back from three consecutive losses. In particular, their capacity to gain possession in all three subcategories of ball winning was a vast improvement over the previous three weeks, so much so that it was their highest team rating for ball winning this season. In addition to this, it was their second highest rated match for overall defensive actions. Coming into this week's semi-final against Brisbane it will be vital to maintain these improvements as Brisbane are rated within the top three team across the season for ball winning at stoppages and intercepts, defensive actions, as well as fifth for actions relating to the Mid-Chain.
A look at this week's Semi Final
Both teams (Bulldogs and Lions) come into this week's finals with a fairly similar accumulation of rating points in most areas. However, over the past six weeks there has been a fair discrepancy in rating point scored from shots as goal, with Brisbane leading the remaining six finalists, and Bulldogs trialling the pack. Hopefully the Bulldogs can put together a similar second half to last week to stifle Brisbane attack and get the Doggies through to next weekend Preliminary Final again Port Adelaide.
Tune in for the VU Data Lab on Saturday 4 September
Fans will be able to tune into a special online pre-game show, The Finals Countdown, hosted by Sam Hargreaves and former Bulldogs Captain Bob Murphy on Saturday before the game.
Hosts will share more insight from the VU Data Lab and how the team might approach the Semi Finals game.
Please visit the Western Bulldogs website to catch the Semi Final edition of the Western Bulldogs Finals Countdown show featuring the VU Data Lab.
Watch the VU Data Lab Segment: 2021 WB Finals Countdown Show – Week 1.