How Catherine is improving access in the law & on campus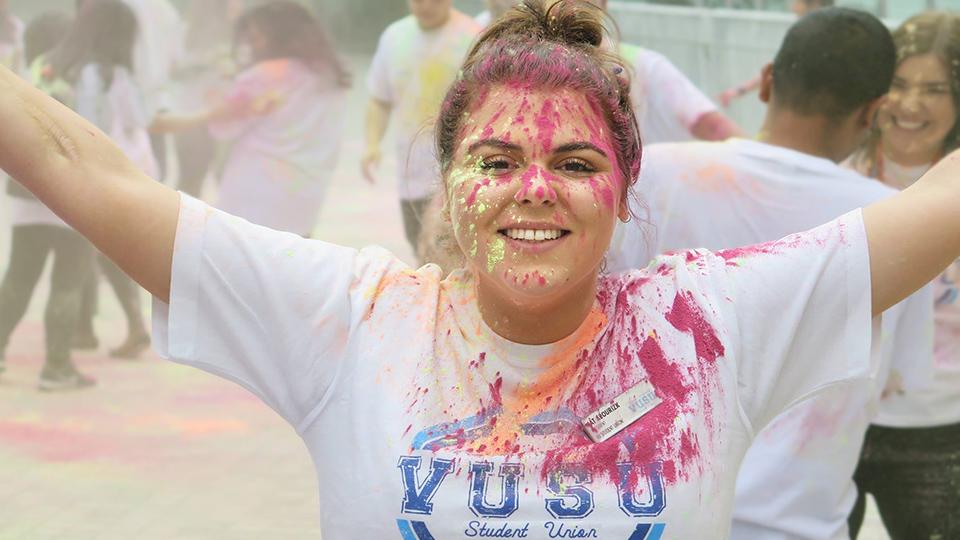 I have fought for so much in my own life, and I hope to continue to fight for others who need it in my career.
Catherine Abourizk
Bachelor of Laws/Bachelor of Business
When law and business student Catherine Abourizk reflects on the challenges she's faced in her life, it only makes her more determined. After recovering from a major trauma during high school, Catherine is motivated not only by her own achievements, but by advocating for others.
Catherine has led University Council and the Student Union, where she represented students in the development of the new VU City Tower campus, due to open in 2022. She sat down with us to share her story.
Turning adversity into achievement
"I completed my VCE over three years, as I was recovering from a life-changing car accident at 16 that left me with permanent injuries.
At the time I was told I would never complete my schooling – that I wouldn't even be able to care for myself, drive a car or live out of home. But there was no way I was going to accept that.
I finished Year 12 with a Certificate IV in Special Education, thinking I may pursue teaching. But I really enjoyed the legal subjects.
A passion for justice and human rights was just in me.
So I applied for VU's Bachelor of Laws/Bachelor of Business (Accounting) and then changed into the Human Resource Management major, and was successful in getting a partnership scholarship too.
During my studies I've used VU's disability support services . I have an access plan which includes adjustments the university can make for students with disabilities, to help us all have a positive experience and get the best possible results."
Growth in leadership
"In my third year I became president of the VU Student Union .
As part of my Union role I led on the student contributions for the new VU City Tower . Accessibility and inclusivity were crucial elements. Some of the facilities we committed to were multi-faith rooms, safe spaces for LGBTQIA+ students and gender neutral bathrooms.
In this role I also initiated the 'Be a Better Human' campaign focusing on consent, respect and empathy, and many other student-focused campaigns.
Now I'm the student member elected to University Council , and among those responsibilities I've had the privilege to work with VU's Respect and Responsibility team on their strategy towards gender equality and the prevention of gender-based violence."
From practical experience to impacting the legal world
"I also completed a clerkship at a legal firm, RHM Law, which subsequently led to an ongoing position. This hands-on experience is the best way for employers to see you're the best candidate.
Last year I was accepted into Honours for Law. My thesis focuses on legislation reform around accessible justice for people under 28 in transport accidents.
I have fought for so much in my own life, and I hope to continue to fight for others who need it in my career."