Biomechanics laboratories
Our biomechanics labs are designed to perform technique analysis and understand the mechanical factors that affect human movement.
Research in the biomechanics lab
The Biomechanics Laboratory forms part of the world-class sport and exercise science research infrastructure at Footscray Park Campus in Melbourne's western suburbs.
The laboratory is recognised as a leading biomechanics-research facility in Australia and conducts world-class research in sport and gait biomechanics.
It is extensively equipped for data collection with human participants using:
three 3-D movement analysis systems
an AMTI force-plate embedded motorised treadmill
8 stationary AMTI force plates.
Other apparatus includes:
a Noraxon EMG telemetry system
Pedar and F-scan in-shoe pressure measurement
body-mounted inertial sensor system
high-speed cameras
a virtual-reality environment for movement simulations.
Data processing is undertaken using Visual3D, Vicon Nexus and MATLAB platforms running on a dedicated computer network.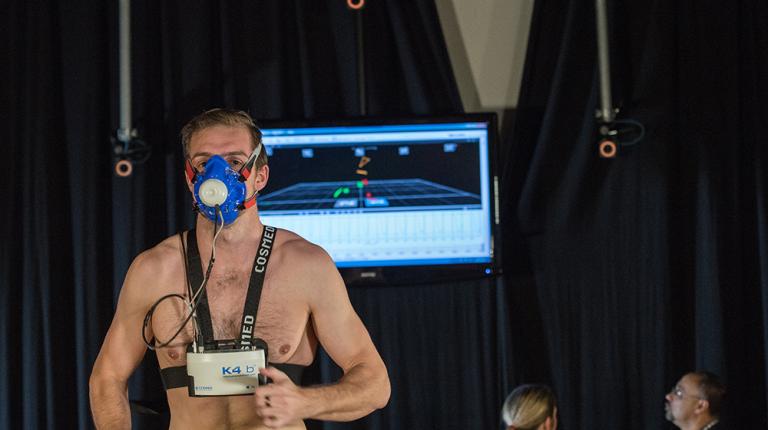 Laboratory facilities
The Victoria University Biomechanics laboratory was purpose-built to undertake state-of-art biomechanics research with applications to Sport, Gait and Balance.
The Laboratory occupies 436m2 with 11-metre high ceiling to accommodate high-jump athletics and overhead filming.
There is a 12m door incorporating an external runway with embedded force plates.
The facility has: impact resistant walls three 4m-by-4m data projection screens an equipment control room. The lab can be sub-divided into four spaces for concurrent use.
Laboratory staff
The Laboratory has:
four full-time academic staff
a technical manager and technician
four postdoctoral research fellows
20 higher degree research students (PhD/Masters/Honours).