Victoria University (VU) has a long and proud tradition of sporting excellence. Some of our students have represented Australia at the Olympic and Commonwealth Games. Many have competed at the World University Games and Championships.
The great sporting achievements of our students are recognised through our annual VU Sport Awards.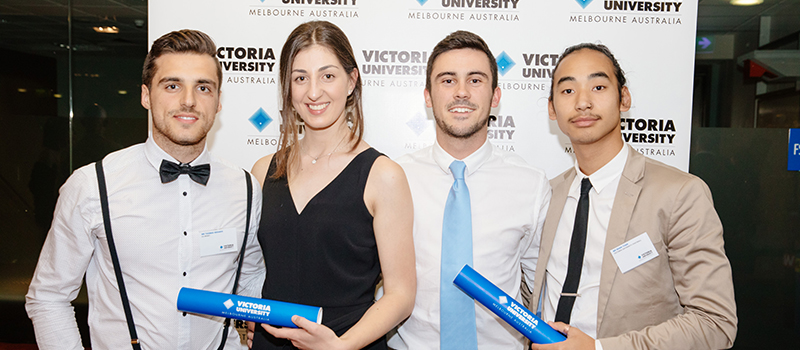 At the annual Victoria University Sport Awards we celebrate the achievements of past and present students.
The award categories recognise outstanding sporting performance and service by individuals, teams and clubs across VU.
Congratulations to all the 2017 nominees and recipients.
Individual award categories
Full Blue (Individual Awardees)
Blues recognise outstanding sporting performance representing University, country and or state.
Alpine skiing
Harry Laidlaw
Artistic roller skating
Paige Hill
Basketball
Sarah-Rae Slater
Judo
Maeve Coughlan
Netball
Monique Clark
Synchronised swimming
Emily Rogers
Taekwondo
Bailey Lewis
Tenpin bowling
Shereden Hesketh
Half Blue Awardees
Blues recognise outstanding sporting performance representing University, country and or state.
Cross-country skiing
Thomas McMahon
Netball
Cameron Allum
Volleyball
Chelsea Alderman
Sport Person of the Year
Awarded to the best performing student (male and female)
Lauren Scherf – basketball
Azizul Awang – track cycling.
Jacinta Carroll – Academic and Sporting Excellence
Where a student has achieved outstanding performance both sporting and academically.
Basketball
Liam McInerney
Club & team award categories
Team/Club Service
Recognising outstanding service to the development and maintenance of sporting clubs and representative teams (students and non-students).
Kaitlyn Wakartschuk – basketball
Nikki Spencer – basketball
Liam McInerney – basketball
Jarrod Hill – football
Monika Dimovski – netball
Luke Marko Rawlings – netball
Sport Club of the Year
Awarded to club competing in community sporting association that has achieved significant success and improvement from previous year.
Football
UHS-VU Football Club
Team of the Year
Awarded for outstanding team achievement at the Australian University Games or an Australian University Championship.
Basketball
Basketball - men
Victoria University Sport Hall of Fame
Inductees into the VU sport hall of fame are retired elite sport players who are VU graduates and recognises that they have achieved outstanding, sustained performance in an elite sport.

| Year of induction | Athlete's name | Sport |
| --- | --- | --- |
| 2017 | Mel Jones | Cricket |
| 2016 | Kelvin Templeton | AFL |
| 2015 | Julie Corletto | Netball |
| 2014 | John Butkiewicz | Lacrosse |
| 2013 | Luke Doerner | Hockey |
| 2012 | Tony Dodemaide | Cricket |
| 2011 | Brad Johnson | Australian Rules |
| 2010 | Peter Thomson AO CBE | Golf |
| 2008 | Rachael Dacy | Pole Vault |
| 2007 | Danny Morseu | Basketball |
| 2006 | Campbell Rose | Sailing |
| 2005 | Larry Sengstock | Basketball |
| 2004 | Rebecca Sullivan | Judo |
| 2003 | Mike McKay | Rowing |
| 2002 | Andrew Gaze | Basketball |
Contact us
For further information on VU's sport awards contact:
Scott Cashmere, Sport Services Manager
Phone: + 61 3 9919 4433
Email: scott.cashmere@vu.edu.au