How to create a positive work environment
What is a positive work environment?
The values within every workplace are different, so there are different definitions of what makes a great workplace environment.
Employees want to feel like they're a valued member of the business they work for.
A positive work environment will make them feel good about coming to the office or settling down at their computer for the day. They'll feel engaged and motivated, which will be reflected in their output.
It's crucial to gauge the workplace environment of any role you are considering – whether you're a recent graduate or seasoned professional.
You are, after all, going to spend a considerable amount of your week at this place and you want to enjoy your time there.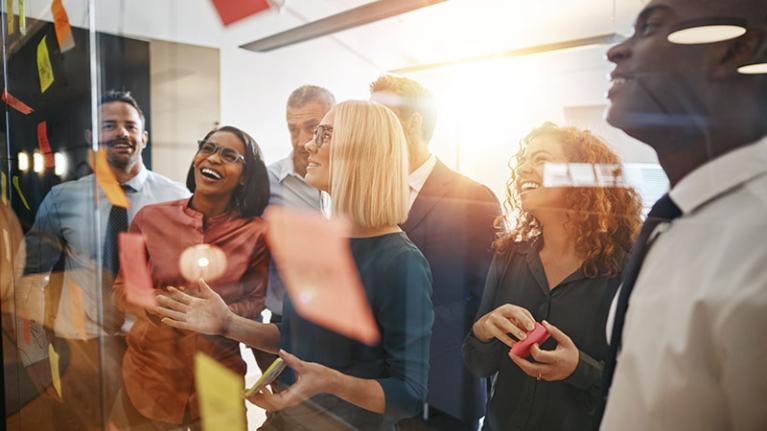 The benefits of a positive work environment
A positive working environment is critical for workplace culture and the employee experience.
No one wants to work somewhere they feel their work is undervalued, they are treated unfairly or are unable to show their true self.
Can I create a positive work environment in small & large businesses?
Yes, it's possible to create and maintain a great work environment, no matter what the size of the business.
If you work in management for a small business, you can establish practices to create a great company culture that cascade across the organisation.
It is possible to create a great work environment in a large business. As a manager of a team or division you can set departmental goals and priotise work-life balance, respect, diversity and humour.
As an HR representative or as part of the leadership team, you can guide the businesses' core values, beliefs and attitudes – to inspire employees and help your company thrive.
Read on to discover what it takes to cultivate a positive work environment.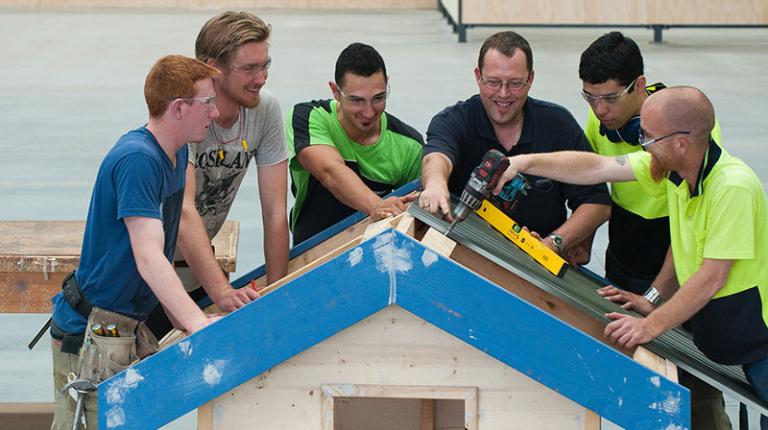 Create a great onboarding experience
Are you looking to develop your skills in management and wondering what is needed to help your employees feel at home in the workplace from day one?
A great onboarding experience can improve new hire retention by 82% and productivity by over 70%.
Consider having a scheduled plan for new hires for their first two weeks, which can help them feel at home. It also gives them a first taste of your company's culture and can help them figure out whether it's a good fit for them.
During on-boarding, include time for:
office-wide introductions
a clear walk through of the role
a tour of the workplace
shadowing co-workers
sitting in on meetings
reading through important company files and process documents
completing training modules for either their role or as set by HR.
As an employee, you can help foster a great workplace environment by reaching out to new hires and assisting where you can.
It can be little gestures, such as inviting them to sit with you during lunch, taking them to after work drinks or showing them how the coffee machine in the kitchen functions. Or you can help with training and answer questions as needed. It makes all the difference!
Promote a good work–life balance
A good balance between work and personal life leads to greater job satisfaction among employees.
Through fulfilling their different needs and life goals such as family, friends and self-growth, employees feel a greater sense of confidence. They typically perform better in their role, as these activities promote out of the box thinking.
Hard work should, after all, be rewarded. It is the company and manager's responsibility to encourage and educate about the benefits of a good work–life balance and discourage their employees from constantly working overtime.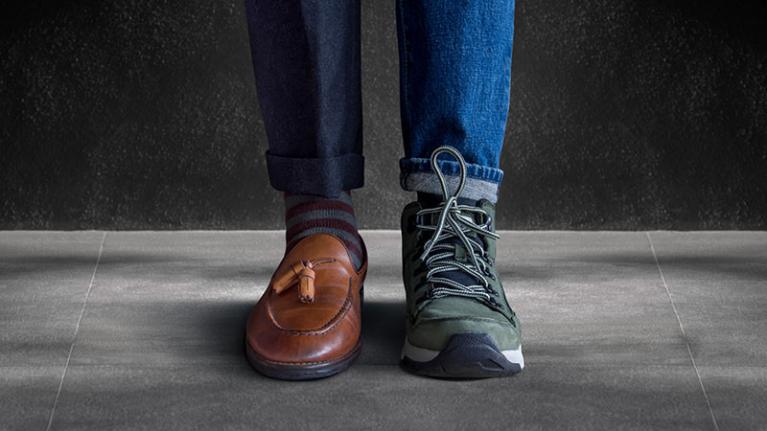 Maintain transparent & open communication
To cultivate a great work environment, it is important to keep communication open and honest. Managers and workplaces should have an open ear for employees and take the time to engage in meaningful dialogues.
Examples of this include:
being open to feedback and suggestions from employees
having a system set up where employees can anonymously record any problems or concerns.
I don't feel like the environment in my workplace is very positive, how can I address this to my manager?
Your boss may be unaware of the issue, so it is always good to start a conversation and gauge how it goes from there.
You can email them to set up a meeting and suggest a time.
If you feel comfortable doing so, you can use the email to drop a hint at the subject matter for your meeting.
Try to be honest with your boss in the discussion. Many managers do want to support their employees in their roles and help them flourish.
Gain skills to cultivate a good work environment
Give recognition for hard work
A positive workplace environment is one where employees feel their hard work is valued and recognised.
Rewards are necessary to encourage certain behaviours in individuals. This is also known as positive reinforcement.
These rewards don't necessarily have to be monetary. Sometimes it is as simple as thanking an employee for a job well done.
By recognising and rewarding hard work appropriately, your employees will feel valued by the organisation.
This in turn will motivate them to put their best effort in every task they undertake and cultivate a better workplace environment overall.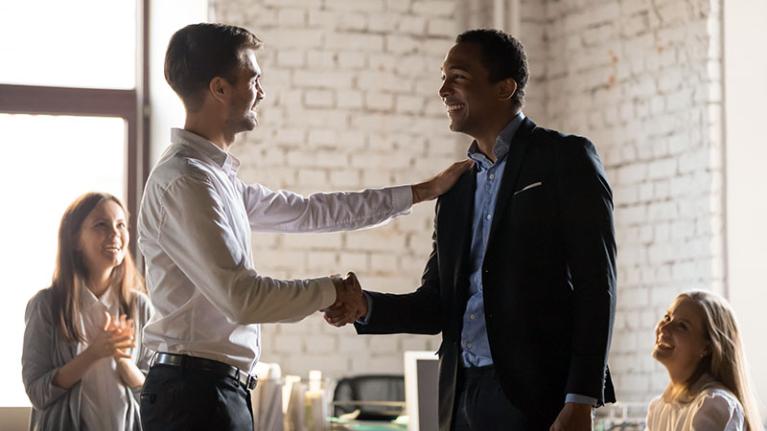 Facilitate opportunities for learning & development
As a manager or employer, it's easy to get caught up in focusing on short-term productivity. However learning, and personal and professional development in employees is equally important for success.
Why is this so important? It leads to greater performance, which, in turn, brings long-term benefits to the business.
Learning and development opportunities come in many forms, such as seminars, many of which are now live streamed from around the world.
Your company may offer study leave which you can use to attend classes, or work on assessments.
Short courses are perfect for employees, as they can be completed within months – and sometimes days. Online and self-paced courses are of particular benefit for those trying to juggle study around full-time work.
Read more about the short courses offered at Victoria University.
Employees will also benefit from informal learning. This differs from traditional, structured learning, as it is often self-directed.
This type of learning can be encouraged through the sharing of resources on company channels, like a monthly newsletter, on Microsoft Team or Slack. It is also helpful to schedule time teams can spend sharing knowledge with each other, during informal 'show and tell' meetings.
Create a comfortable work environment
Even the design of a physical workplace can make a big difference to employee output and overall satisfaction.
Imagine working in an area that is dank, dark, or flooded with artificial lighting. The furniture is clunky and uncomfortable, and the temperature is always running a few degrees too warm or too cold.
Compare this with a workplace that has:
plenty of windows, or lighting that is not harsh
ergonomic furniture
temperature regulated interiors.
It is also important to design spaces for collaborative working and downtime, to encourage employees to build social connections and take care of their mental well-being.
Encourage collaboration & team spirit
A team with strong bonds will be able to deal with any problems that arise within the company.
A good team spirit creates a sense of unity. Employees understand that they are not working by themselves but are striving towards a common goal.
Facilitating a strong team spirit can be a challenge. It requires the acceptance of differences among team members.
You can use team-bonding activities, which help foster connections by letting employees focus on each team member's strengths.
It is important to deal with issues together – whatever it is you do, make sure you do it together, as a team.
There are plenty of ways you as an employer or manager can promote community and connection within your team:
celebrate birthdays
hold end of year lunches or parties
schedule team events.
Events can be as simple as drinks after work, or opportunities to learn a new skill together, such as painting with water-colours, or an informal cooking lesson.
You can even form a voluntary social or culture club, with a budget to organise team events.
Even these simple initiatives can have a big positive impact on the overall work environment within your company.
Encourage collaboration & team spirit
Encourage diversity & inclusion
Diverse, inclusive teams are the key to creating innovative, forward-thinking organisations – and a positive work environment.
Welcoming people of all ages, ethnicities, cultures, religions and genders not only benefits the company, but also positively influences the experience of diverse hires.
At VU, we believe diversity is a strength that benefits our working environment, research and educational experience.
As one of the most culturally diverse universities in Australia, we strive to create an environment where our students and staff are respected, valued and enabled to thrive – from the top, down.
Read more about how equality in the boardroom can benefit an organisation.
Offer flexible work options
The shift to working from home, caused by the COVID-19 pandemic, has proven that many employees thrive on flexible working arrangements.
It's not just employees who stand to benefit from these initiatives. Flexible working arrangements can result in:
improved work–life balance
reduced costs for businesses, particularly with the use of hot-desking schemes
increased productivity and creativity
improved well-being and employee morale.
Flexible working arrangements can also help retain current staff and attract talent who are looking for more flexibility at work.
This can often be a deciding factor in taking a job, which could allow your company to hire candidates who may have otherwise been out of reach.
Discover the range of benefits VU staff have, on and off campus.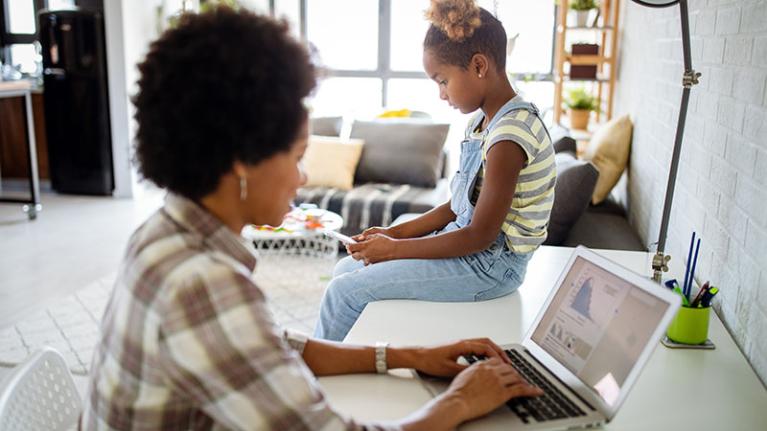 How will you contribute to a great work environment?
You may wonder how you can create a positive work environment within small and large businesses.
If you're a manager, HR representatuive or part of the leadership team, the work you put into instilling great values can have a cascading effect across the business.
What can I do as an employee to create a positive work environment?
You don't have to be a manager to help cultivate a positive workplace environment.
It's all about connecting with your fellow employees and fostering great relationships with them.
Perhaps you'll volunteer to organise social outings once a month or so, to build camaderie between your team.
Or it can be as simple as inviting all team members out for the morning coffee run, checking in with people working remotely, or washing your dishes after lunch, rather than leaving them in the communcal kitchen for someone else to take care of.
All acts great and small help foster a positive work environmental.
You may be interested in a career in management and looking to upskill. For more about postgraduate business courses at VU, visit Victoria Graduate School of Business.