Young people drive COVID-19 information sharing in Melton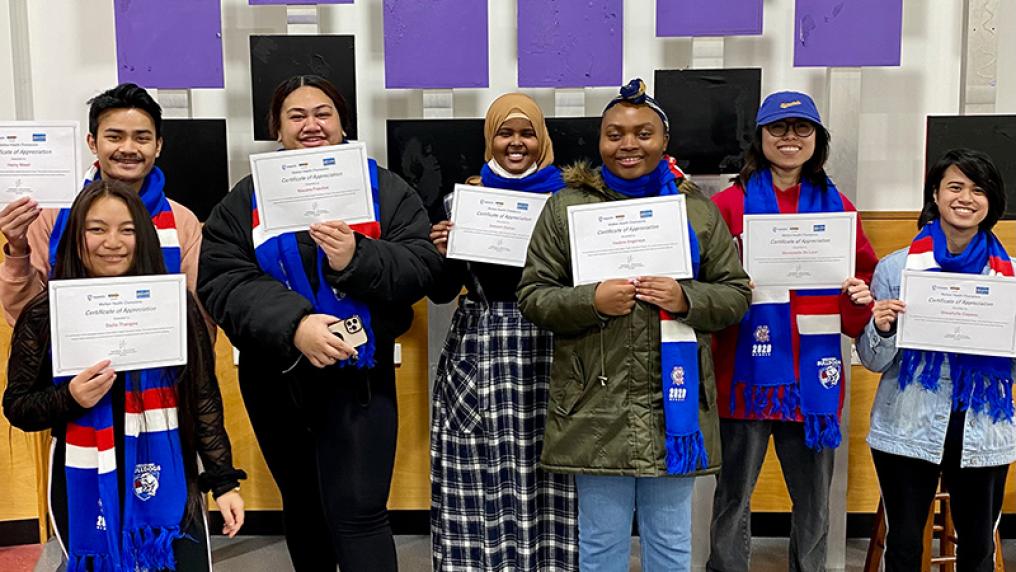 Three Victoria University students were a group of young people from the City of Melton region recruited by the Western Bulldogs Community Foundation to help inform their peers about COVID-19.
Friday 4 June 2021
Three Victoria University students were among 47 young people from the City of Melton region recruited by the Western Bulldogs Community Foundation (WBCF) to help inform their peers about COVID-19.
The Foundation was engaged by Melton City Council, who received funding from the Department of Premier and Cabinet to run the program – called Melton Health Champions – in response to COVID-19 that supported culturally and linguistically diverse communities in Melbourne's west.
Over four months from 2020 to 2021, the participants met weekly and experienced the peaks and troughs of the pandemic first-hand with a mix of online and face-to-face sessions.
Featuring guest speakers and activities, the process offered young community leaders COVID-19 information from trusted sources and the chance to build new connections with their communities in the process.
The aims of the program resonated with participant and Bachelor of Psychological Studies student, Mauana Fepuleai.
"Identifying as a Polynesian youth and growing up in Australia I recognise the unique challenges that other youths just like me face on a regular basis. Feeling a sense of belonging, connection to a wider community and being an active member of society are just a few challenges we have endured during this pandemic due to being disconnected and isolated for such a long time." – Mauana
Sherphylle Clapano, a Diploma of Nursing student who also participated in the program, confirmed that forming new connections was an important part of the program, particularly after lockdown – "It just shows how much we needed social interaction because it's one way of finding people that we can connect with."
One component of the program was to learn about local community services and their primary functions, including health, wellbeing and youth services, which many young people weren't aware of.
"Networking and building connections within my local council was a huge takeaway from this project. I learnt more about my community, the services available and the individuals in positions who can influence necessary changes for the benefit of the youth." - Mauana.
Program participants also discovered the gaps that were present within their cultural communities when it came to knowledge of COVID-19, and worked towards addressing these through targeted messaging and the way information is disseminated.
"It was alarming the amount of individuals from my community who weren't aware of the services on offer that were made for them. Moving forward, I think it's important for our community to be intentional with the promotion and delivery of services." - Mauana
VU students Mauana and Sherphylle developed confidence to support themselves and their communities through the challenges presented by the pandemic. When reflecting on the program from the context of the current outbreak, they agreed that education and team work are vital.
"I think the biggest challenge COVID-19 brought forth is how much we fear the unknown. So in this case, education is key. Knowing what we're facing and how we can support each other, is what will give us the certainty and confidence to get through." - Mauana
"One thing I learnt from this experience is the teamwork we had. I believe that the output we have of our project won't happen without the help from others." - Sherphylle
Melton Health Champions helped foster the next generation of leaders, who – in the face of the current COVID-19 uncertainties in Melbourne – have an important knowledge-sharing role in their community.
What's next?
The success of the first phase sees the Western Bulldogs Community Foundation working closely with Government to see if funding can be extended to deliver another phase. There may be an opportunity for the three VU student participants, and other young students from a culturally diverse background living in the Melton region, to be part of the next phase of the program.
Find out more about the community programs run by the Foundation. 
Contact us
Katrina Gubbins
Manager, Strategic Communications, Office of the Vice-Chancellor
[email protected]